A couple of weeks ago I was sitting on the balcony, with my laptop working on a blogpost. Suddenly I heard somebody calling:
"Hello!"
"Hello!"
"Heeelllooooohooo!"
I sat still and looked around. There was nobody I could see from where I sat. So it sure wasn't for me. I wasn't expecting visitors and nobody could see me from down the street because we have an enclosed balcony.
So I ignored it.
But then, a week later it was the same voice:
"Hello!"
"Helloooohooo!"
"You, on the balcony!"
From where I sat I couldn't see any other neighbors on their balconies, so maybe this person wás calling me after all? But how could he see me? Strange!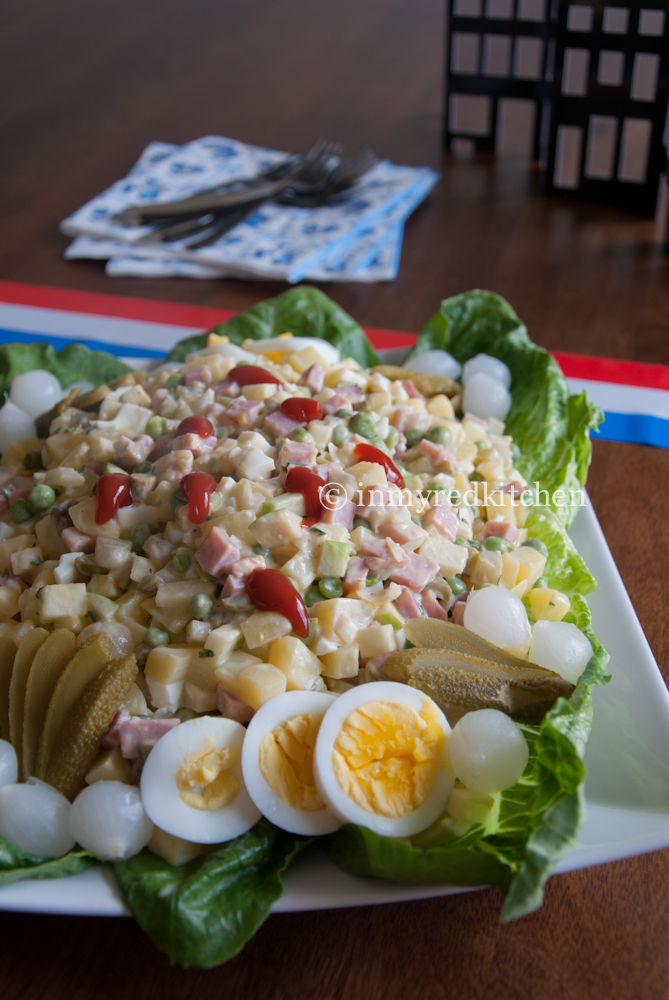 So I got up and looked down. The man introduced himself as our neighbor from the opposite building. And he told me our lights in the evening were bothering them. They go to bed early and leave the windows and curtains open because of the heat. And our lights are shining in their bedroom.
So if we could close our curtains in the evening.
"OK… uh… yeah of course! Sorry for the inconvenience!"
But that got me thinking. I really like open curtains and windows to catch the light and get some fresh air. Even in the evening. Closing the curtains (even at night!) feels so oppressive to me. And yeah, I know when it's dark you don't see a damn thing. But even then… and I don't know why.
I think it's typical Dutch to open the curtains and 'show' people your interior *  😉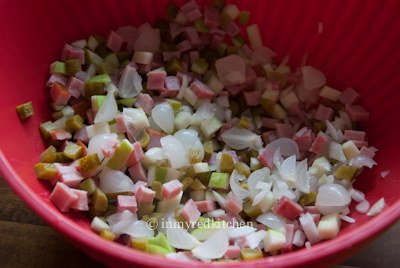 Also typical Dutch is this potato salad, it's called 'Huzarensalade' what can be translated to 'Hussars Salad'. And yes, this salad has a taste of Hungary in it 😉
On wikipedia I've read that this salad originally came from the Hussars, Hungarian men who were the light cavalry in the Austrian army. The Hussars had to explore the territory of the enemy (the Turks). They couldn't use fire to prepare their food because the Turks might discover them then. So they packed some prepared food that was already mixed together. I bet by their wives 😉 This is how this salad of potato, meat, apple and cornichons originated.
And so far this history lesson, back to the salad!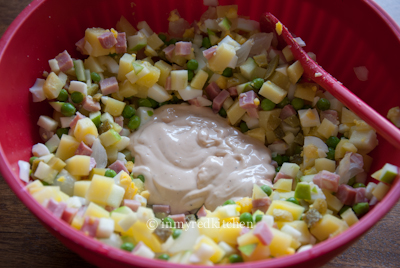 I made this salad for a beach picnic we had with friends at the 4th of July. It's perfect for a summer picnic. Or potluck, or barbecue! In Holland it's served at celebrations, like New Years and birthdays. You can buy it at the store in Holland but making it yourself is always better!
I really like the combination of the floury potato and the sourness of the apple and the cornichons.
And, most of all, it taste like the Netherlands!
Dutch Potato Salad – Huzarensalade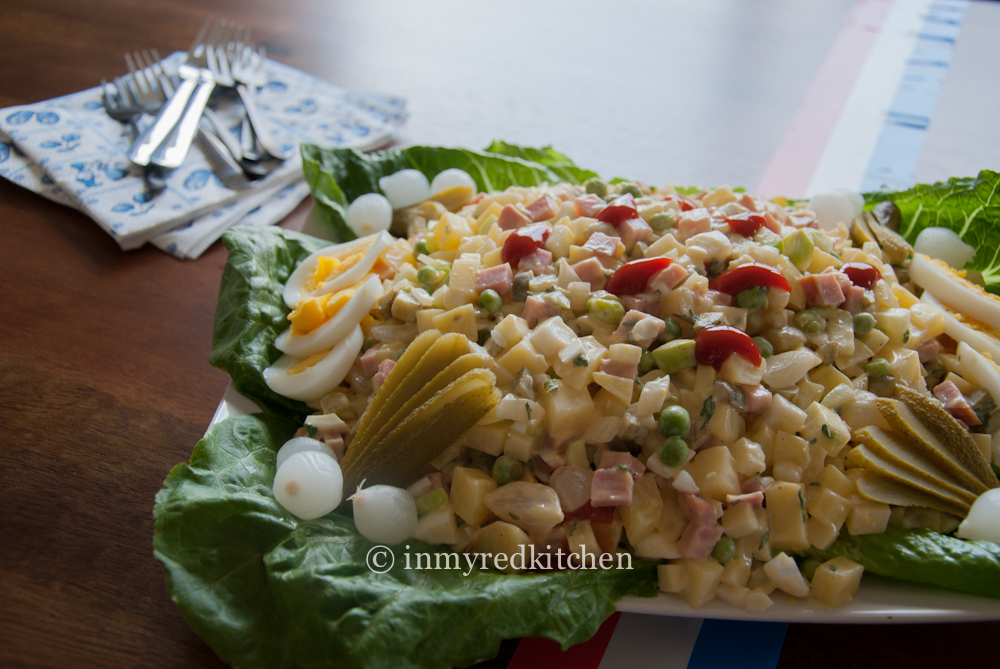 Floury potato, salty ham and sour apple and cornichons. This typically Dutch Potato Salad has it all! Bring it to a summer potluck and this salad will be the star!
Ingredients
3 cups potatoes, raw, skin removed and cut in 0.2" (about 1lb)
1 cup green peas
1 sour apple (like Granny Smith), skin on and in cubes of 0.2"
7 oz ham steak in cubes of 0.2"
½ cup cornichons, in pieces of 0.2"
¼ onion, thinly sliced and cut in small pieces
3 hard boiled eggs, cut in pieces of 0.2"
½ cup cocktail onions cut in halves
5 Tbsp mayonaise
1 Tbsp apple cider vinegar
1 tsp ketchup
½ tsp salt
¼ tsp pepper

extra cornichons, hard boiled eggs, ketchup for garnish
Instructions
Bring water with some salt to a boil and add the potato cubes and sweet peas.
Bring back to boil and turn off the gas. After 3 minutes the potato cubes and peas are done.
Discard the hot water and fill the pan with ice cold water to stop the cooking proces. Discard the water and allow the potato cubes and peas to cool down.
Mix the potato cubes and peas with the other cubes: apple, ham, pickles and with the onion, eggs and pickled onions in a large bowl.
In a smaller bowl, add the mayonaise, the apple cider vinegar, the ketchup and salt & pepper and whisk until combined.
Add this mixture to the vegetables and stir until combined.
Now taste, does it need some extra salt & pepper? Or maybe a little more mayonaise, vinegar or ketchup? Do what you like! It's your salad!
Now transfer the salad to a plate. If you want to do it the old fashioned way first put some lettuce leafs on the plate. Make sure the salad gets a smooth surface. Decorate with slices of egg, cornichons and some ketchup. Google 'huzarensalade' to get some really old fashioned examples when you click on 'Images'.
Notes
Dutch pickles are sweet ánd sour. We didn't like the 'sweet pickles' we bought at Ralph's. In the end I found some cornichons at World Market that came close to the Dutch 'augurken'. For this dish, make sure you use sour (and slightly sweet) cornichons.
http://www.inmyredkitchen.com/dutch-potato-salad-huzarensalade/
Copyright Ellen Bannink- in my Red Kitchen
Enjoy!
* And to continue: yes, from then on we partly close our curtains in the evening so the lights aren't bothering the neighbors.
But then to find out the neighbors are still awake and watching tv by the time we go to bed around midnight. Every night!!
We are also bothered by the sunlight early in the morning, it woke us up.
So what did we do? We bought some curtains to complement the shades (they came with the house). Problem solved…
note: OMG this is soooo freaky!
Right at this moment -I've just finished writing this blog post- our neighbor comes out to his balcony, looks down and calls: "Hello!" "Hellohoo" (with that same voice!!) to his girlfriend who just came home.
(my desk at our office at home is opposite to his balcony)
IS HE CLAIRVOYANT?
Brrrrr….