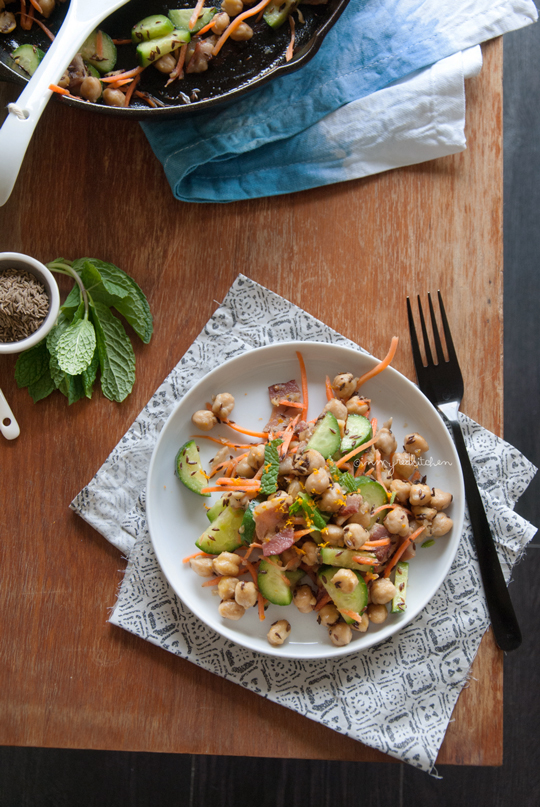 – Click here for this recipe in Dutch -> Kikkererwten komijn salade met bacon –
Chickpea cumin salad with bacon
Nowadays there is a lot needed to get me into blogging again. Life with a 9 month old baby is very busy, our week is filled with swimming lessons, mommy & me class, playdates, physical therapy and of course just housekeeping, grocery shopping and cooking. I am especially keeping myself occupied to create recipes for a baby which I prefer to serve unprocessed foods, rather than to create recipes for adults. Let alone testing, writing and photographing such a recipe.
In other words: it's not so easy to get me to get working again. But Simone, of Simone's Kitchen, succeeded! With not such a good reason actually, because 3 months ago Simone got into an accident during a sleigh trip in Norway, and ever since then she's out of the running. She's slowly recovering, but it's also hard and it will probably never go back the way it was. And since I have a lot to thank Simone for, the least I could do was to work out a new recipe for her. Or well, working out… I have made this chickpea cumin salad with bacon several times before, in the time I was still breastfeeding Stella.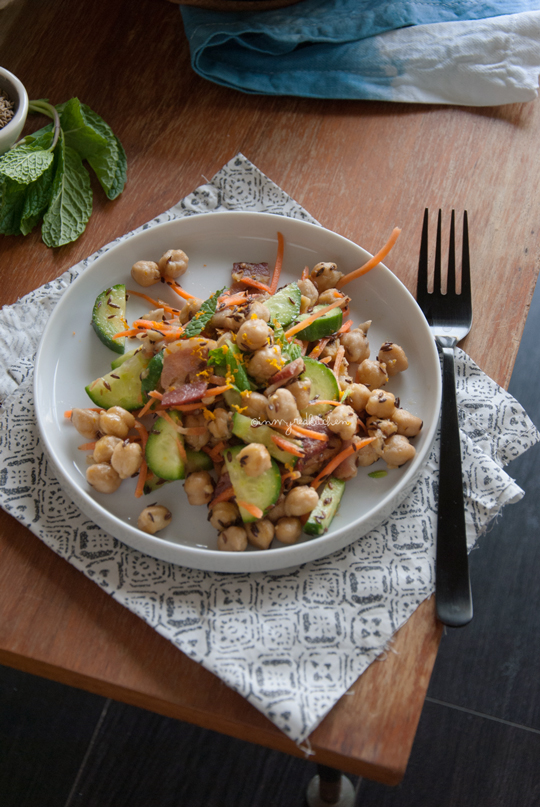 That's because chickpeas and cumin are on the list of 'galactagogue' boosters, and galactagogue are substances that promote lactation. Because breastfeeding didn't go well out of several reasons, I did everything possible to help my milk supply increase. I ate special cookies with brewers yeast, oatmeal and flaxseed, I drank special tea, took special pills. And I ate this salad.
Which incidentally is also very tasty and delicious if you have nothing to do with breastfeeding. And I still eat it! This delicious salad is amazing, so head to your kitchen and make this!
Chickpea cumin salad with bacon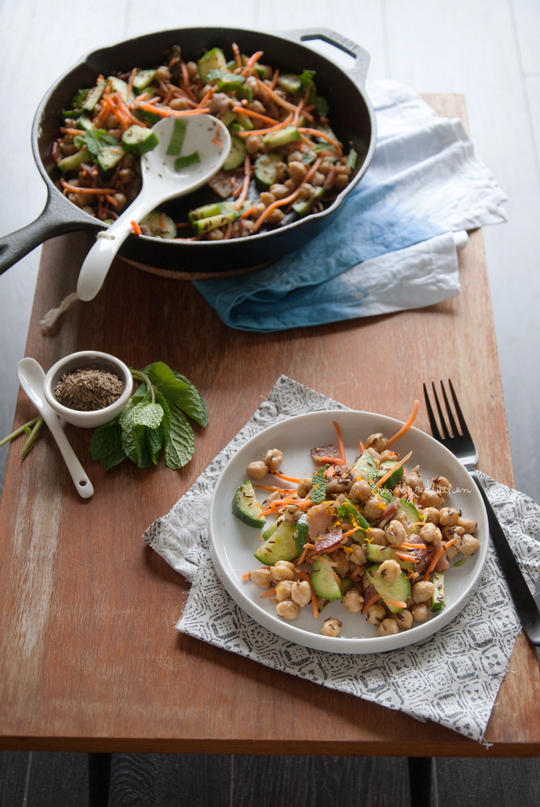 An amazing lukewarm chickpea and cumin salad with bacon, for rain or shine or just whenever you want it!
Ingredients
1 Tbsp olive oil
1 heaping Tbsp cumin seeds
pinch of chili flakes
2 garlic cloves, finely chopped
3-5 thick slices of bacon
1 can chickpeas (garbanzo beans), rinsed
3 persian cucumbers, halved and sliced
a handful of grated carrots
½ orange, zest and juice
optional: mint or parsley leaves, sliced and to taste
Maldon sea salt, to taste
Instructions
Heat the olive oil in a skillet over medium high heat. Add cumin and chili flakes and toast for 1 minute.
Over medium low heat, add the garlic and stir for 3 minutes, until the garlic is golden brown, but make sure to not burn it!
Add the bacon and chickpeas and change to medium high heat.
Stir constantly to cook the bacon, for about 3-5 minutes.
Transfer the chickpeas and bacon to a bowl and add the orange juice & zest. Stir to combine and add the cucumber and grated carrots and the mint or parsley leaves.
Add salt to taste and eat lukewarm.
http://www.inmyredkitchen.com/chickpea-cumin-salad-bacon/
Copyright Ellen Bannink- in my Red Kitchen
Enjoy!