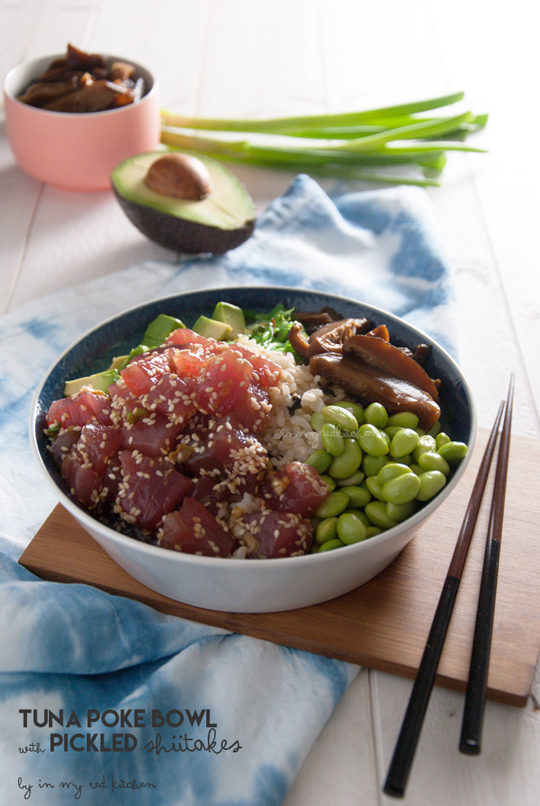 – Click here for this recipe in Dutch -> Poke bowl met tonijn –
Lately I am trying hard to catch up on all the raw fish I couldn't eat for nine months. I eat pounds of raw fish weekly, in the form of sushi but preferably in the form of a poke bowl.
Poke is pronounced as Poh-kee, and it's a Hawaiian raw fish salad. Add some rice and vegetables and you have a poke bowl, or better to say: dinner! Quite healthy (if you're using more vegetables than rice of course) and also extremely tasty. So of course this is my new favorite!
During my pregnancy all those poke bars popped up in Los Angeles. That was so mean! I was craving raw fish so badly and that was just something that I couldn't eat. After giving birth I therefore had a poke bowl delivered as soon as possible. And I also had it two days in a row 😉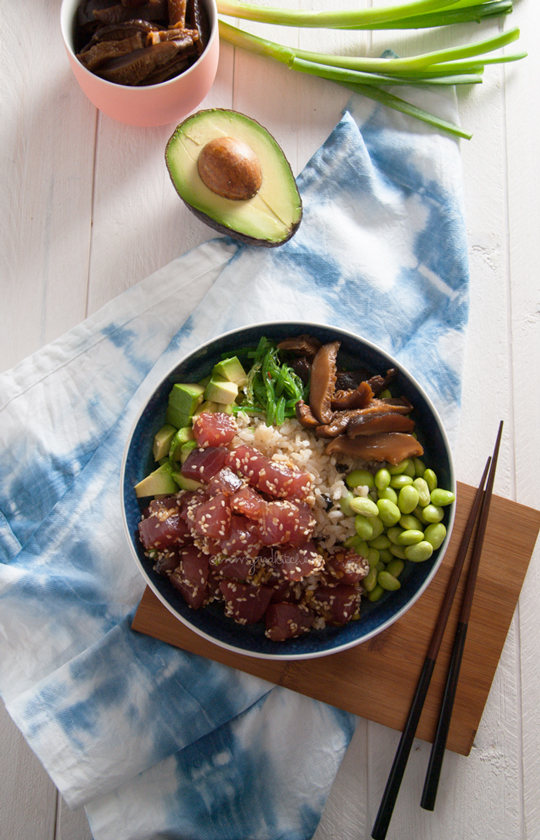 After three months I still eat a poke bowl weekly, so it was about time to make a poke bowl with pickled shiitakes myself.
And of course, a poke bowl is Hawaiian but it is heavily influenced by Japanese and other Asian cuisines. I have mine preferably with avocado, seaweed, soy beans (edamame) and pickled shiitake mushrooms. The pickled shiitake mushrooms give a delicious sweet and sour taste and it combines perfect with the freshness of the raw fish.
Tuna poke bowl with pickled shiitakes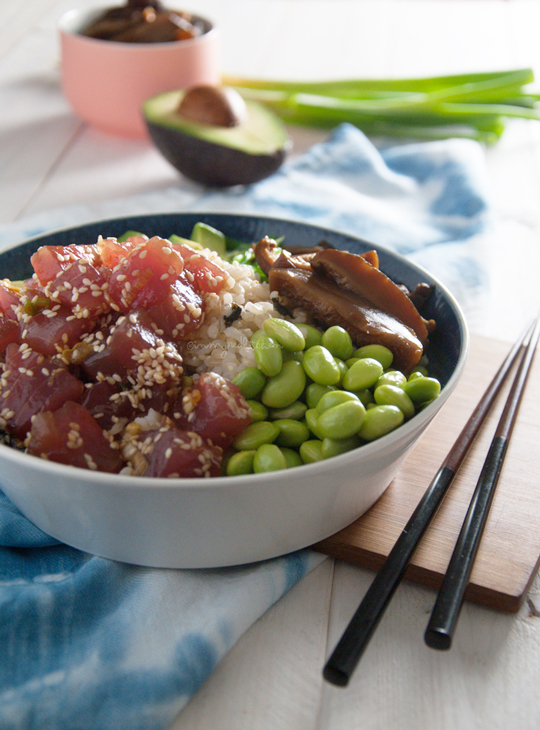 I eat this weekly so I might be a little biased to say this is AMAZING! Tuna poke bowl, don't forget the pickled shiitakes!
Ingredients
for the pickled shiitakes:

2 oz dried shiitake mushrooms
2/3 cup sugar
2/3 cup soy sauce
2/3 cup sushi vinegar
2 inch piece of ginger, peeled and sliced

For the rice:

1 cup sushi rice
1 Tbsp rice vinegar
2 Tbsp furikake seasoning

for the tuna:

2 Tbsp soy sauce
2 Tbsp ponzu sauce
1 green onion, thinly sliced
1 Tbsp roasted sesame seeds
0.7lbs tuna, sushi grade (11 oz)
pinch of Hawaiian sea salt, or other course sea salt

for the toppings:

avocado, cubed
cooked and peeled edamame beans
seaweed salad
Instructions
Start with pickling the shiitakes.
Soak the shiitakes in hot water for 15 minutes, until they're soft. Take them out of the water and slice them in ¼ inch slices. Strain the soaking liquid using a fine mesh strainer or clean tea towel.
Put the shiitake slices in a pan and add 1 ½ cup of the soaking liquid, the sugar, soy sauce, sushi vinegar and ginger. Bring to a boil and let simmer for 30 minutes.
Remove the pan from the heat and let cool in the liquid.
Do the pickled shiitakes in a glass jar and add enough of the cooking liquid to cover. This keeps up for about a month in the fridge.
Cook the sushi rice according to the instructions on the box.
Add the rice vinegar and stir to combine. Sprinkle with the furikake seasoning. Set aside.
Get all the other toppings ready before starting with the tuna.
Combine the soy sauce, ponzu sauce, sliced green onion and roasted sesame seeds.
Cut the tuna in 0.5 – 1 inch slices, just what you prefer. Sprinkle with the hawaiian sea salt and add to the soy sauce marinade.
Stir until each cube of tuna is coated with the marinade.
Start the bowls: first layer is a scoop of rice, then a scoop of tuna and the other toppings like the pickled shiitakes, cubed avocado, edamame and seaweed salad goes on the side.
Sprinkle some extra furikake seasoning on top.
Notes
http://www.inmyredkitchen.com/tuna-poke-bowl-with-pickled-shiitakes/
Copyright Ellen Bannink- in my Red Kitchen
Enjoy!