– Click here for this recipe in Dutch -> Kerrie courgette koekjes met pittige garnalen –

Summer is still in full swing in California and to be honest I don't want to think of pumpkins, while the whole internet already filled with autumn food such as pumpkins, cranberries, apples and oh, pumpkins!
I really don't want to think about it just yet 😉 I embrace summer squash a bit as long as they are here in the store, so yay for zucchini! Last week we ate a whopping 6 courgettes just by the two of us. In one week! I made 'zoodles' because I'm avoiding refined carbohydrates (ie pasta) this month. That was yummy and I should do that more often! Maybe I should finally go buy a Spiralizer
to easily make noodles from vegetables.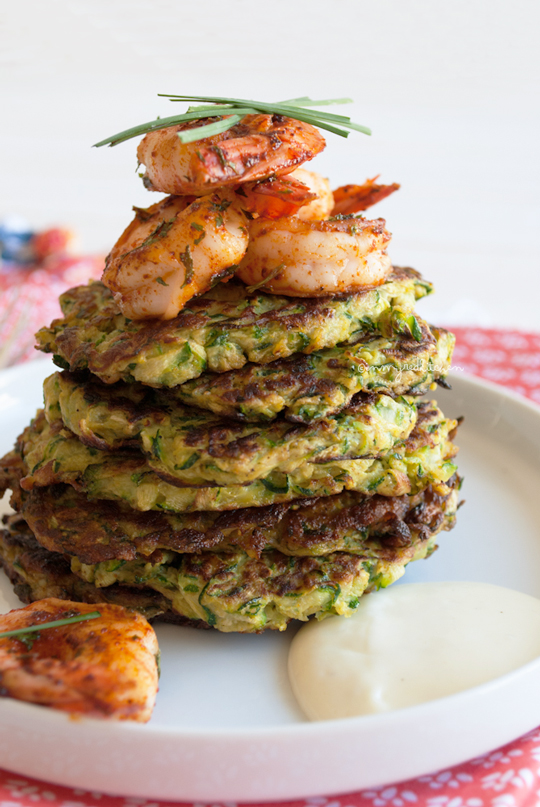 I still have two zucchini in the fridge and I'm doubting what I'll do with it. Shall I fill them with cheese, tomato and jalapeño as in my own recipe for Stuffed Zucchini or should I hide it in this Green Frittata? You already see it, I love zucchini and maybe that's also because they are very versatile.
But I can also make another batch of these curried zucchini fritters with spicy shrimp. Or better to say: 'zucchini omelettes'… I wanted to keep it simple so actually it has become a sort of zucchini omelettes because I didn't added any flour, not even whole wheat flour or coconut flour.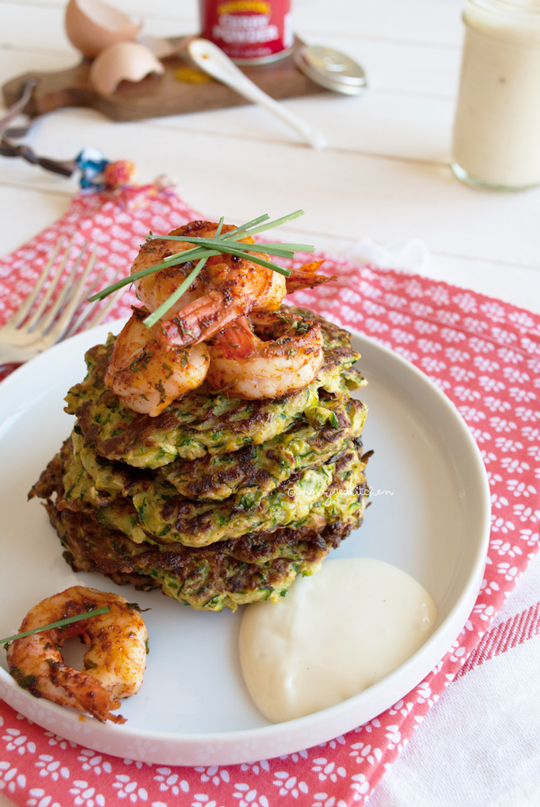 It often happens that I have an idea about what I'm going to make exactly, let alone what the end result will be. Same with these zucchini fritters. I bought zucchini and knew I wanted to make zucchini fritters with it, I made those for the first time a while ago and we both liked it very much so they had to go in the rerun.
So last week I popped into the kitchen, grated the zucchinis and while they rested to extract the moisture I turned arount to look in my spice cabinet. I set out different flavor combinations on the counter but the curry powder got my attention. Suddenly I knew: the soft flavor of curry had something spicy needed there. Anything with cheese perhaps? Oh no wait! I just bought a new bag of shrimp that was there in the freezer. In no time I thawed some shrimp* and fried them with some cayenne pepper to serve them on top of the curried zucchini fritters.
Mission accomplished, healthy and tasty food in a snap!
Curried zucchini fritters with spicy shrimp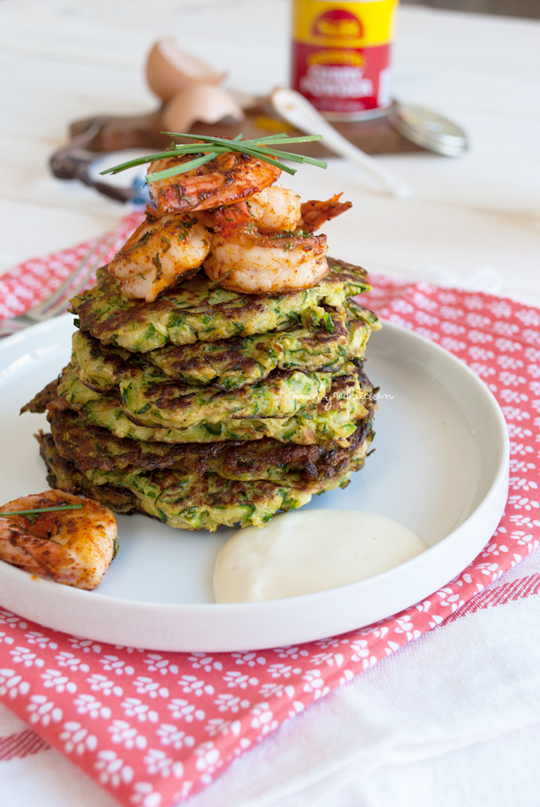 A healthy and balanced meal in no time, I could eat these curried zucchini fritters with spicy shrimp every week during zucchini season!
Ingredients
for the zucchini fritters:

1 ½ lbs zucchini (about 4 medium)
1 tsp salt
2 garlic cloves, pressed
1 tsp curry powder
¼ ground cumin
black pepper to taste
1 egg, beaten
2 Tbsp olive oil or ghee

for the spicy shrimp:

1 Tbsp ghee or olive oil
10 – 14 frozen shrimps, thawed
1 tsp paprika powder
½ tsp cayenne pepper
pinch of salt and pepper
Instructions
Use a coarse grate to grate the zucchinis, place in a bowl.
Add the salt and set aside for 10 minutes. The salt withdraws the water from the zucchini.
Get another bowl and line it with a clean tea towel. Add the grated zucchini and wrap the towel to squeeze out all the liquid. Make sure the zucchini is really dry, so squeeze again. You don't want soggy fritters!
Place the squeezed zucchini in a clean bowl and add the spices. Stir to combine and add the beaten egg. Stir again until combined.
Heat a skillet over medium-high heat, melt half of the olive oil or ghee and use a ¼ cup to scoop up some of the zucchini mixture. Place it in the skillet and flatten with a spatula. Fill up the skillet with zucchini fritters (I could fit 4 each time) and fry them for 4-5 until brown and solid. Carefully flip the fritters and fry them for another 3-4 minutes.
Place on a wire rack while you fry the remaining zucchini mixture.
Once the zucchini fritters are almost done you can prepare the shrimp: heat the ghee or olive oil in a clean skillet over medium-high heat.
Add the thawed shrimps and the spices. Stir for 2 minutes or until the shrimp are pink. Don't cook them too long as they will overcook and become rubbery easily.
Serve the shrimp on top of the curried zucchini fritters and add some salad on the side.
http://www.inmyredkitchen.com/curried-zucchini-fritters-spicy-shrimp/
Copyright Ellen Bannink- in my Red Kitchen
Enjoy!
* Did you know that you can easily defrost shrimp from the freezer by putting them in a colander and rinse off with lukewarm/cold-ish water? Do not use hot water, because then you have a chance that you cook the shrimp!