I never really liked vegetables. Growing up I remember I always picked out those tiny bits of onion in the pasta sauce. And vegetables always had to come with some kind of sauce for me to like them. Well 'like' them… I mean to eat them.
I also remember trying zucchini as a child. A friend of my mom had homegrown them so she gave some to us.
I didn't like it. Well in fact I didn't like them at all. I think they tasted like nothing and the texture was way to 'snotty'.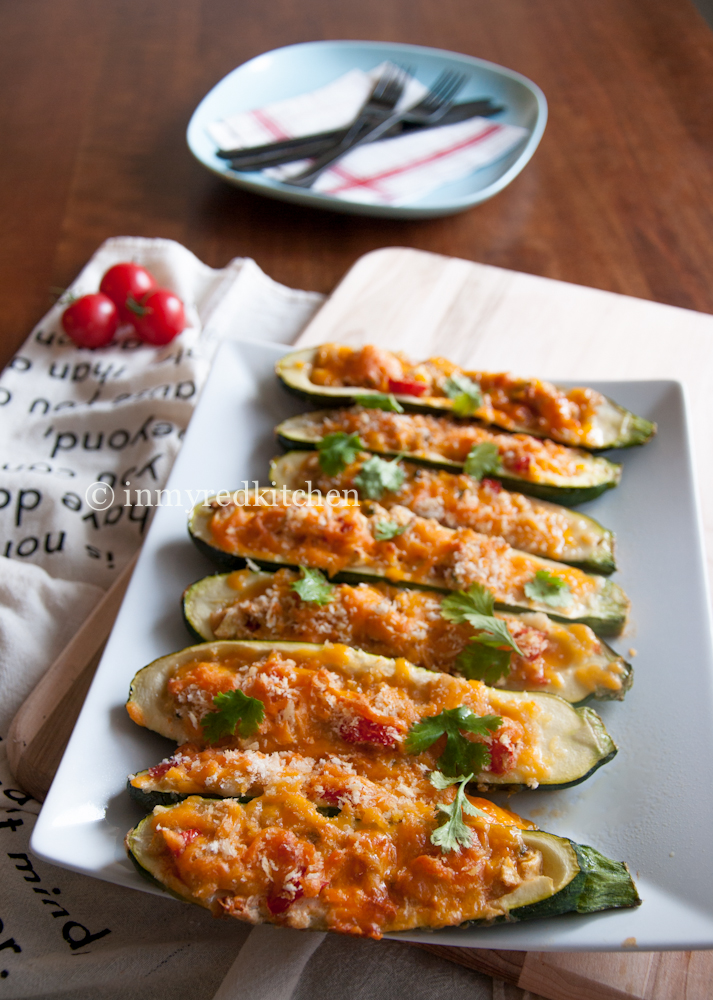 Oh my, I shouldn't be telling this to you. I'm trying to sell these Stuffed Zucchinis to you.
And I don't think that's hard because this recipe is so easy and more important: it's soooo good! I know, I say that about all my recipes but this one is actually a winner. You'll leave the skin on so it stays crunchy while the stuffing will be soft.
And spicy! Because I gave them a Mexican twist, like a jalapeño popper but then healthier!
So yes, I've changed and I like vegetables now! And those stuffed zucchinis: YUM!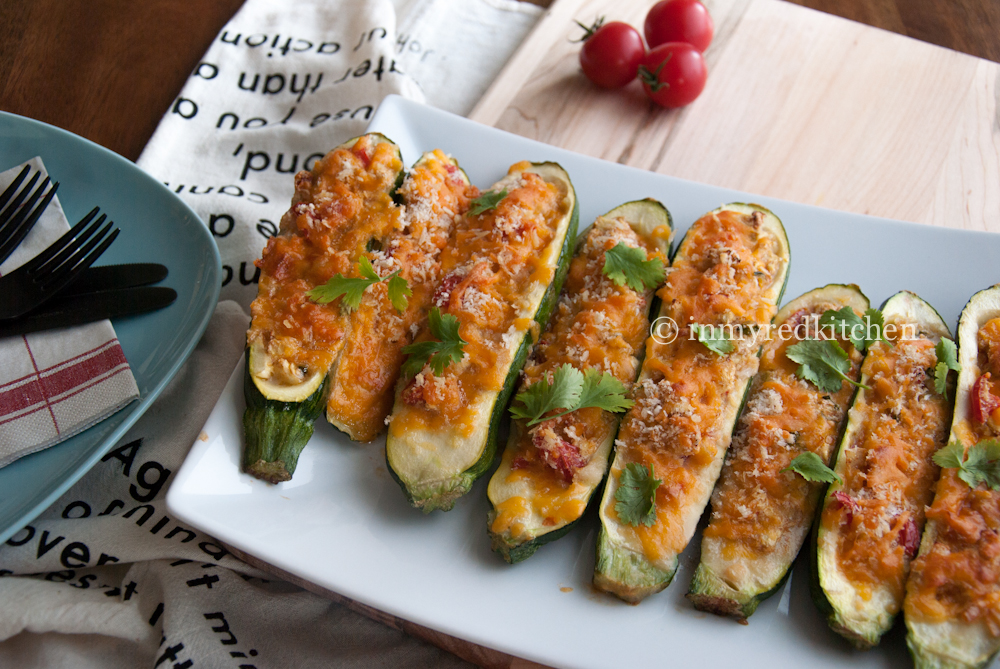 These stuffed zucchinis where so good I easily ate 4 of them. The jalapeños bring in some spice but the zucchini itself is nice and soft so they combine well with each other.
Ingredients
4 small zucchinis
1 tomato
1 or 2 jalapeño (how spicy do you like it?)
1Tbsp olive oil
1/2 onion
1 tsp kosher salt
1/2 tsp cumin
1/4 tsp garlic powder
1/4 tsp smoked paprika
1 pinch chili powder
1/4 cup ricotta cheese
1/2 cup grated cheddar
1/4 cup panko
Instructions
Preheat your oven to 400°F.
Wash the zucchinis and slice them in their lengths.
Get a spoon and scoop out the inside, don't throw away the pulp!
Chop the zucchini pulp, the tomato and the onion coarsely. Remove the seeds from the tomato.
Finely chop the jalapeño and transfer the jalapeños, zucchini pulp and tomato to a bowl.
Heat 1 tablespoon of oil in a skillet over medium heat and sautée the onion for 3 minutes.
Add the spices and sautée for a few seconds until you start to smell them.
Transfer the sautéed onion to the bowl with the pulp mixture.
Add the ricotta and mix well.
Line the zucchinis in a baking pan and fill them with the mixture.
Mix the cheddar cheese with the panko and sprinkle this on top of the zucchinis.
Bake them for 30 minutes so everything is perfectly done and the cheese has melted.
Serve with sweet potato fries, a green salad or with foccacia. The options are endless 😉
Notes
I don't think I have to tell you that you shouldn't eat the ends of the zucchini, right? 😉
http://www.inmyredkitchen.com/stuffed-zucchini/
Copyright Ellen Bannink- in my Red Kitchen
Enjoy!