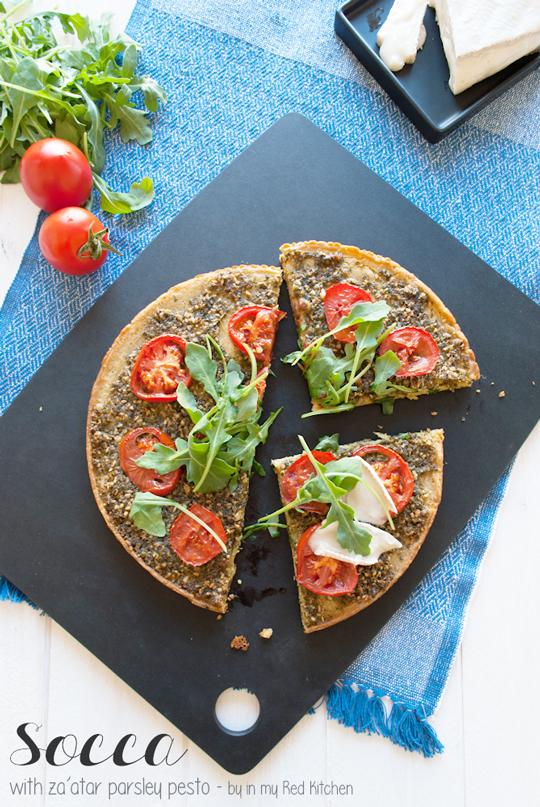 – Click here for this recipe in Dutch -> Socca met za'atar peterselie pesto –
If you're looking for me, I'm doing a happy dance in the kitchen next to the oven where I'm making this delicious socca. "Huh? Socca?" I hear you think!
A socca is a kind of pancake made of chickpea flour that you bake in the oven. The origin of the socca (or "farinata") is located in Italy, but is now available at several places and in different kinds. As a sort of focaccia, just plain and cut into strips for dipping or as pizza. Perfect if you so don't eat gluten (every now and then).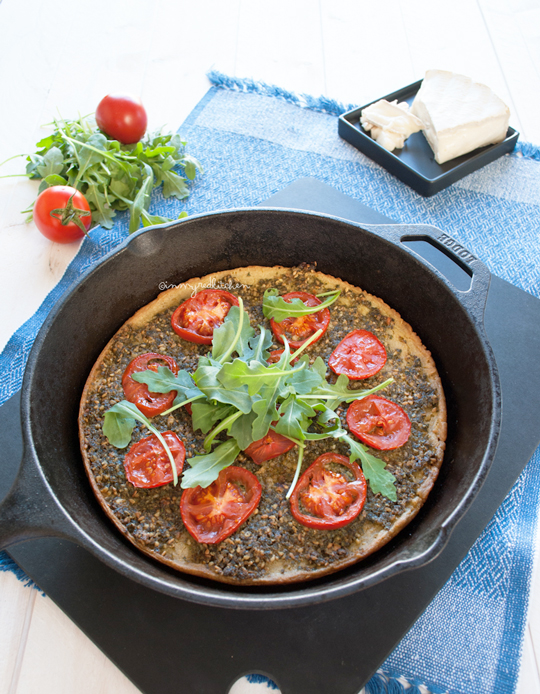 I discovered it last week via a photo on Instagram of Tasty Yummies, and I'm already sold! I read the recipe, made ​​it the next day for dinner and now I can't think of life without it. I mean… chickpeas! This funny shaped little bean (are chickpeas actually beans?) is so incredibly delicious and so versatile. I add them often to the Indian curry or I roast them in the oven for a crunchy snack. Mashed with garlic, olive oil and tahini and you have hummus; or completely chopped with herbs and some flour, then shaped into balls and fried they are a delicious crispy falafel.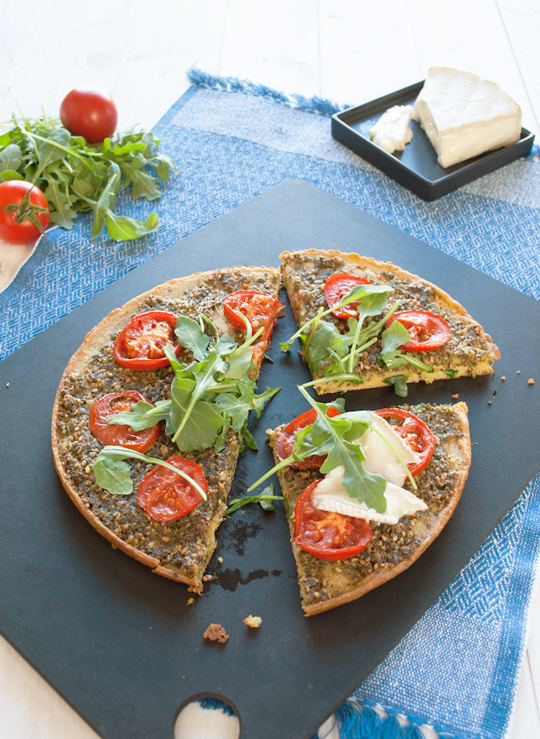 And we now have the socca! I'm so in love with it! The structure looks a bit like a Dutch baby pancake, crispy on the outside and soft inside. But then with that typical tasty chickpea flavor, delicious savory. For this occasion I made a pesto of parsley and za'atar, a Middle Eastern spice mixture. Thus perfect in combination with the chickpeas taste. Topped with sweet tomato and a handful of nutty arugula at the end and you have created the perfect gluten-free comfort food.
And to make it even better I put some slices of goat brie on top of my socca with zaatar parsley pesto. Well, P has been working overtime for over a week now and he doesn't like goat cheese so I like to cook something with goat cheese or blue cheese if he isn't eating at home. Don't look at me like that! 😉
Socca with za'atar parsley pesto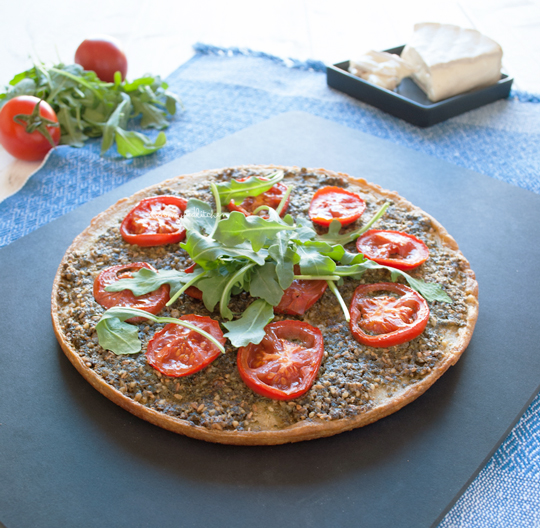 Socca is a great gluten-free substitute for pizza, but don't you really need the gluten-free label to eat this? No! It's delicious!
Ingredients
for the socca:

1 cup chickpea flour (garbanzo bean flour or besan)
1 cup water
3 Tbsp olive oil, divided
1 large clove garlic, minced
½ tsp sea salt

for the za'atar parsley pesto:

½ packed cup of parsley (leaves only)
2 Tbsp olive oil
1 Tbsp za'atar
1 Tbsp pine nuts
1 clove garlic, minced
¼ cup grated parmesan cheese
pinch of sea salt

for the toppings:

2 medium sized tomatoes, sliced
2 handfuls of arugula

optional:

cheese of choice, I like goat cheese or feta, but cheddar also works.
Instructions
Mix the chickpea flour with the water, 2 tablespoons olive oil, garlic and sea salt till a smooth batter. Cover and let sit for one hour.
Make the za'atar parsley pesto by combining the ingredients in a food processor. Pulse until combined.
Preheat the broiler and place a 10-inch oven proof skillet on a rack about 8 inch from the top. Carefully remove the skillet from the oven once it's hot. Add the remaining tablespoon of olive oil, swirl around and pour the socca batter in the skillet. Return to the oven and cook for 6 to 8 minutes until the edges are browning and the socca is set on top.
Carefully remove the skillet from the oven, and preheat the oven to 425 degrees F.
Spread the za'atar parsley pesto over the socca, and place the tomato slices on top. Place the skillet back in the hot oven and bake the socca for another 8 – 10 minutes, until the socca is crisp and the tomatoes are roasted.
Serve with cheese on top, sprinkle the arugula on top and serve immediately.
http://www.inmyredkitchen.com/socca-with-zaatar-parsley-pesto/
Copyright Ellen Bannink- in my Red Kitchen
Enjoy!
Recipe adapted from Tasty Yummies, 'How to make chickpea flour and socca pizza'. I don't have a high speed blender (yet!) so instead of making my own chickpea flour I used Bob's Red Mill – Garbanzo Bean Flour Stone Ground