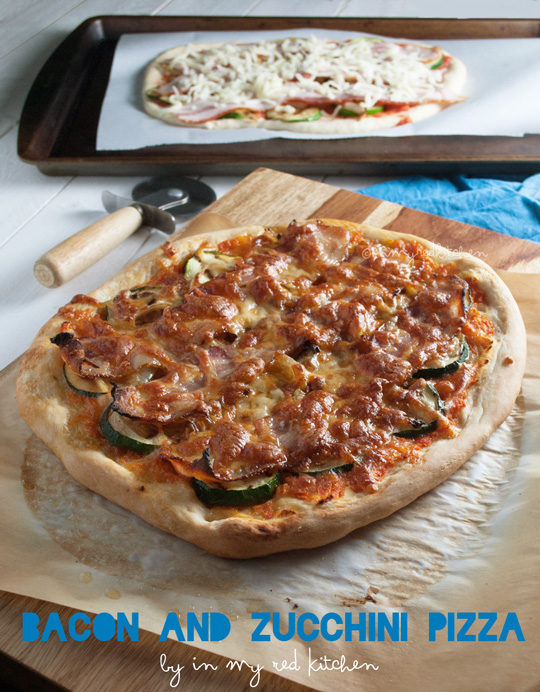 – Click here for this recipe in Dutch -> Pizza met courgette en spek –
Okay, I admit… I make this pizza every other week these last few months…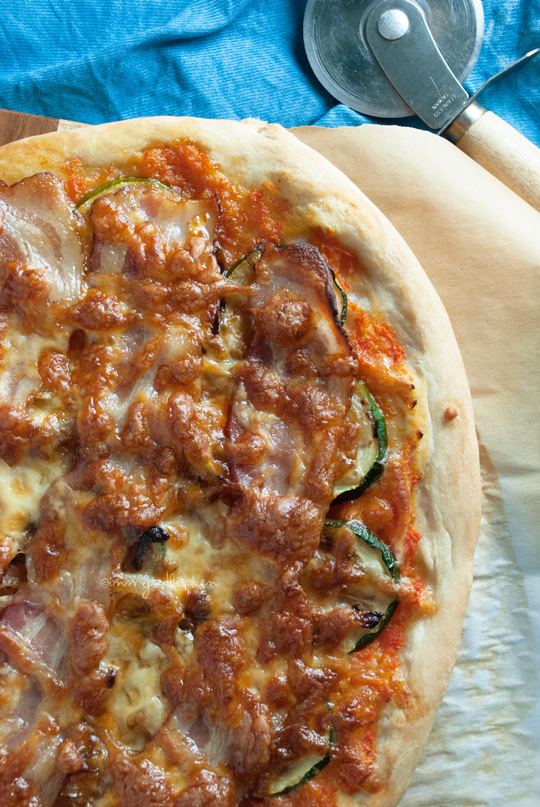 And although making my own pizza dough isn't a big deal for me, I have discovered that I can buy fresh pizza dough at the grocery store. Like if you made it yourself! So not those cans with dough that pop when you open them, but just a ball of dough which they make there at the store itself, wrapped in a plastic bag. It is not expensive, so nowadays the ease of buying dough instead of making it, wins.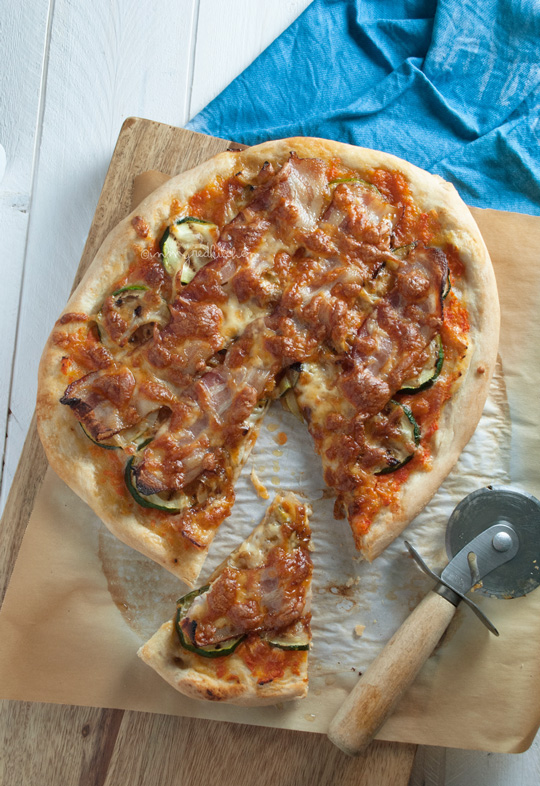 This pizza originated actually by chance, as the best recipes are made. We had a pizza night with friends a few months back so we made all sorts of pizzas with different toppings. Although all of them were very good, this bacon and zucchini pizza really popped out!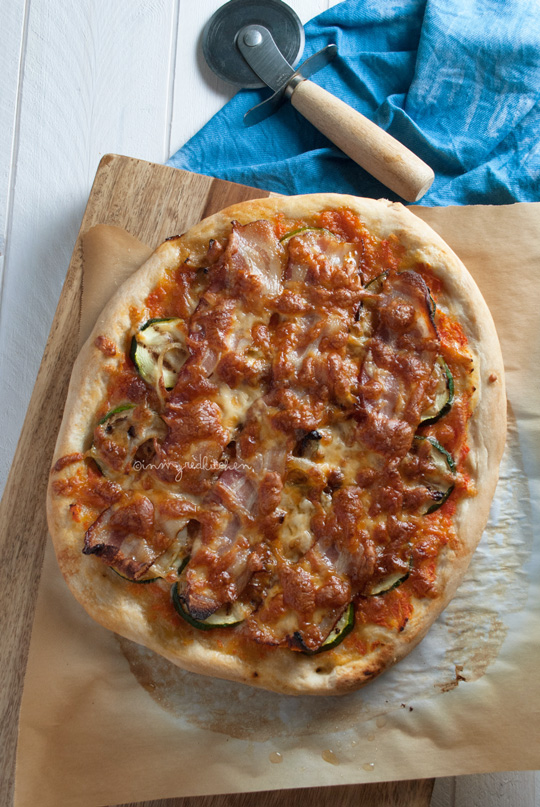 Because the bacon cooks in the oven, the fat drips all over the crust. Divine! It's actually a sweet and salty pizza, and those flavors are perfect together. Since that pizza night I make this bacon and zucchini pizza regularly, definitely every other week! I make the tomato sauce myself, and that's no big deal. It can be easily done while the oven preheats.
And because under normal (not pregnant) circumstances I make the dough myself, I hereby give you the full recipe: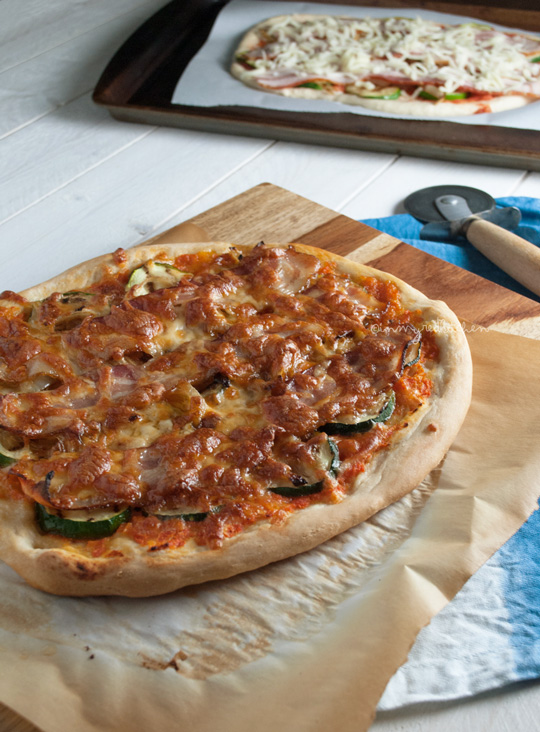 Sweet zucchini and salty bacon - who doesn't want a slice?!
Ingredients
for the dough:

1 envelope active dry yeast
1 cup warm water
½ tsp salt
2 tsp olive oil
3½ cups all purpose flour

for the tomato sauce:

2 big tomato
4 garlic cloves
1 Tbsp tomato paste
1 tsp salt + extra

for the toppings:

2 large zucchinis
1onion
8 - 12 slices of thick-cut bacon
2 big handfuls of grated mozzarella
Instructions
Dissolve yeast in warm water (105 – 115 degrees F) in warmed stand mixer bowl. Add salt, olive oil and 2½ cups flour.
Use the dough hook to mix on speed 2 for about 1 minute.
Continue to mix, add remaining flour with ½ cup at a time, and mix about 1 ½ minute until dough comes clean of the sides of the bowl. Keep kneading on speed 2 for 2 minutes.
Place the dough in a greased bowl, cover and let rise in a warm place for 1 hour or until doubled in size.
In the meantime, continue with the toppings.
Peel the tomatoes by dropping them in boiling water for a minute. Rinse under cold running water and peel off the skin. Remove the seeds.
Place the peeled tomatoes in a food processor or blender; add 4 peeled garlic cloves, the tomato paste and salt and blitz until fine. Set aside.
Cut the zucchini in even slices and cut the onion in rings.
Heat a griddle pan over high heat and grill the zucchini slices on both sides until dark stripes form. Set aside.
Add some olive oil or butter to the griddle pan (that is still hot) and add the onion rings. Cook until soft and light brown. Set aside.
Preheat the oven to 450 degrees F.
Push the dough down.
Brush a 14" pizza pan with oil or line with parchment paper. Roll and stretch out the dough in the desired shape. You can make two round pizzas or 1 big rectangular one.
Spread the tomato sauce over the dough with the back of a spoon. Sprinkle some extra salt if desired.
Add the onions and then the zucchini, top with the bacon slices and finish with the cheese.
Bake for 15 to 20 minutes in the preheated oven and serve immediately.
http://www.inmyredkitchen.com/bacon-and-zucchini-pizza/
Copyright Ellen Bannink- in my Red Kitchen
Enjoy!