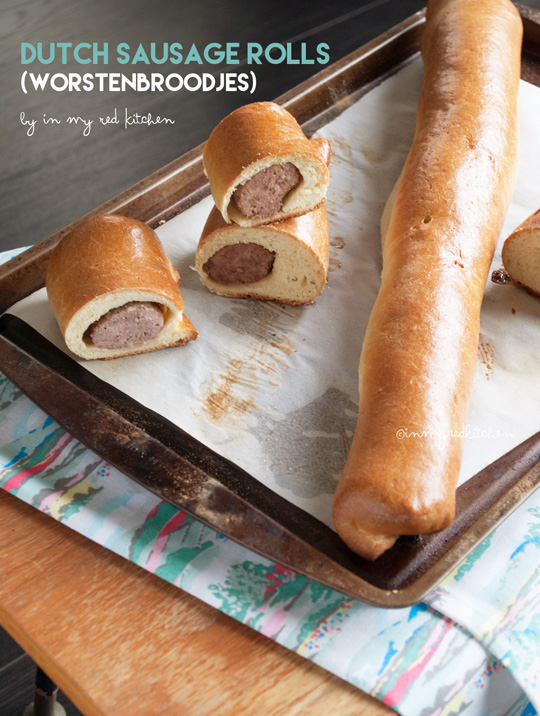 – Click here for this recipe in Dutch -> Worstenbroodjes –
I expect this will be my last recipe before I'm going to spend my time giving birth and caring for a baby 😉
You've probably noticed that it's a little quiet on in my Red Kitchen lately. I'm just not as adventurous in the kitchen anymore, and opt for something easy and fast, or something that I've made it before instead of creating new recipes. I also like to cook existing recipes from other blogs or cook books, because I just not feel like creating new recipes. But no worries, I know myself and the urge to create something new will probably come back when I'm feeling better in a little while.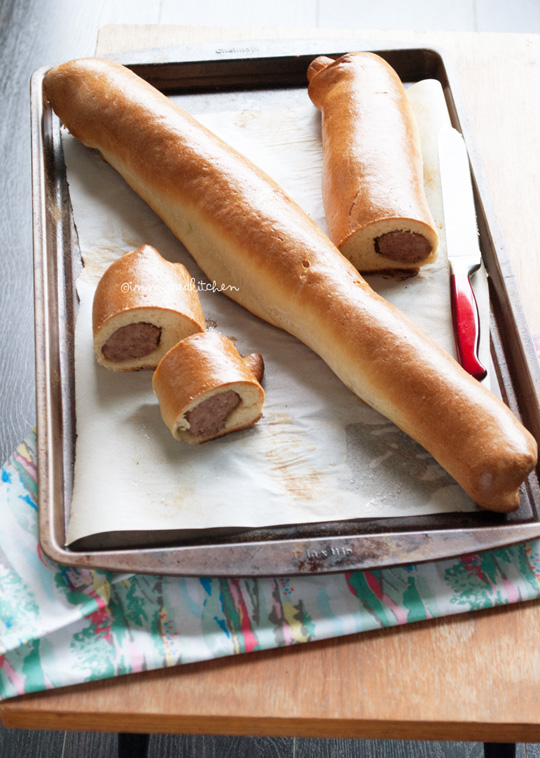 This recipe for Dutch sausage rolls is also not mine, but I thought it would be nice to share it. It is from the great book Home Baked by Yvette van Boven
.
Because I could not wait for the English version of this book to come out
(mark your calendars: October 13!!) I asked my mom to bring it when she recently came to LA. And I have not regretted it for a moment, what an amazing book it is!
And since I'm pregnant, you can make me very happy with Dutch food and food from when I was younger; such as toast with chocolate sprinkles, a sandwich with cheese, mashed potatoes, ragout with rice and chicken, 'ontbijtkoek' (which is a kind of gingerbread you eat for breakfast), Haribo candy etc. Never before I've been to the European store and bought so much! 😉 Through Facebook, I recently came across a recipe for 'croque Monseur pop tarts, but they seemed suspiciously like the gooey cheese sandwiches that you buy at the Hema or at the kiosk at the train station in the Netherlands. And oops, I was suddenly craving them even though I haven't had them in year, so I hád to make that recipe two weeks ago. And they were delicious!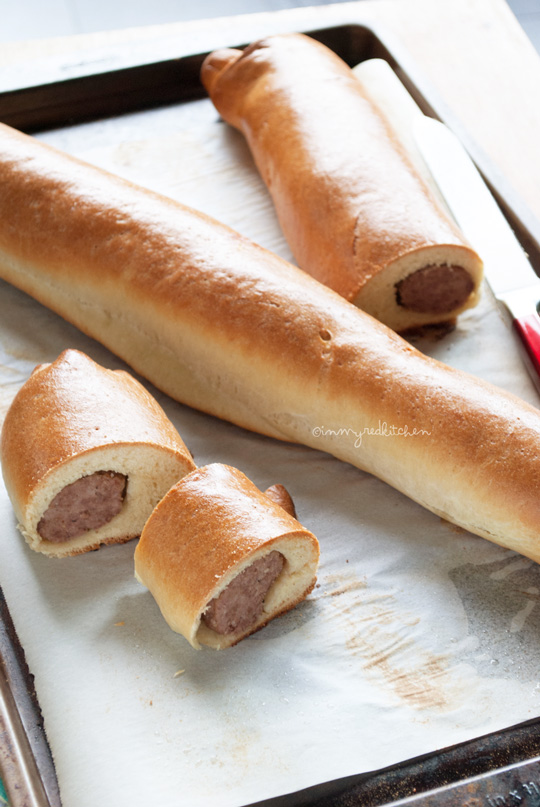 When I read the recipe for Dutch sausage rolls in Yvette van Boven's Home Baked, I knew it right away. That's what I wanted to eat! So it was the first recipe from the book I made and it will not be the last.
They are so much better than I remembered, because in the Netherlands I used to buy them pre-baked at the store. And home made is always better, right?
You can eat these as a snack or as a side dish with soup. They will also be great for game days!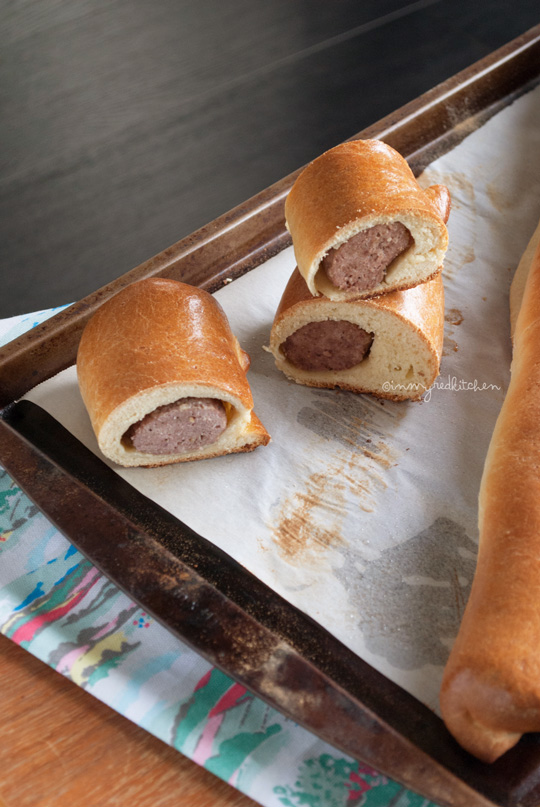 Dutch sausage rolls - perfect snack for game days!
Ingredients
for the dough:

4 tsp instant yeast
¾ cup + 2 Tbsp luke warm milk (200 ml)
2 ½ cup flour
2 tsp salt
2 oz soft butter
1 egg

for the filling:

0.55 lbs ground pork
0.55 lbs ground beef
¼ cup panko
1 egg
fresh cracker pepper & salt
pinch nutmeg
pinch ground cloves

for brushing:

1 egg, beaten
Instructions
Soak the yeast for 10 minutes in the luke warm milk.
Place the flour with the salt in the bowl of a stand mixer.
Add the yeast mixture to the flour while kneading, and also add the soft butter and egg. Knead until a soft and flexible dough forms, and add a little extra flour or milk if you think that's needed. Knead for about 5 minutes. Shape a ball and transfer to another bowl. Cover and let rise for about 1,5 hour or until doubled in size.
Make the filling: Place all the ingredients in a bowl and knead with your hands until everything is combined and it doesn't stick anymore.
Divide in two pieces and roll into two or three long sausage rolls that will fit on a baking sheet.
Get a baking sheet and grease with butter.
Roll out the dough into a rectangular shaped sheet of 0.2 inch thick. Cut the dough in two or three rectangular pieces that will fit on a baking sheet. Brush the dough lightly with the beaten egg and place the sausage rolls in the middle of each sheet.
Fold the short edges of the dough over the meat before wrapping the dough around the long edges. Brush some extra egg on the ends for sticking.
Place the sausage rolls on the baking sheet, with the seam down.
Cover with a clean towel and let rise for 30 minutes.
Preheat the oven to 395 degrees F and brush the sausage rolls with the beaten egg. Bake for 25 minutes until golden brown.
Cut in pieces and serve immediately.
Notes
Want to keep something for later? Let it cool completely after baking, cut in pieces and store them in an airtight bag in the freezer. Simply defrost them and heat them up in oven or microwave!
http://www.inmyredkitchen.com/dutch-sausage-rolls/
Copyright Ellen Bannink- in my Red Kitchen
Enjoy!