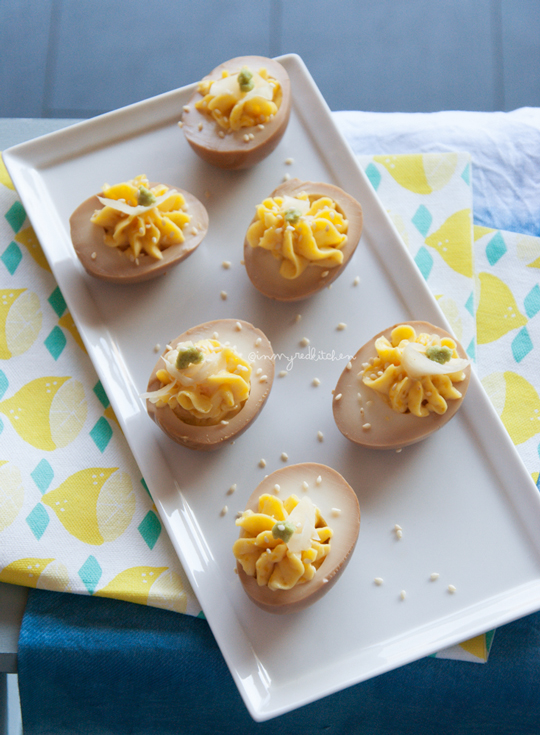 – Click here for this recipe in Dutch -> Gevulde sojasaus eieren –
Soy sauce deviled eggs
This recipe may or may not be accidentally on time for Easter 😉 Because who doesn't know them, the deviled eggs? In the Netherlands we call them 'filled eggs', just plain simple as it is.
Because that's what they are, really simple. But also great for different variations! I like to eat deviled eggs as an afternoon snack, just plain with some mustard into the filling. Or a drop of sriracha or black truffle salt.
But ever since I got the J
apanese Soul Cooking cookbook for Christmas, I like to eat a medium cooked soy sauce egg as a snack. I know they taste better when served in a big bowl of steaming hot ramen soup, but that seems a bit too much as an afternoon snack 😉
And why not combine my two favorites, into these amazing soy sauce deviled eggs? It's perfect for Easter if you ask me! I jazzed the filling up with a bit of wasabi, sesame oil and ground ginger. But not too much, because the soy sauce taste is already good enough!
I might or might not have eaten the whole batch of 8 soy sauce deviled eggs… Who will tell? Maybe the Easter bunny? 😉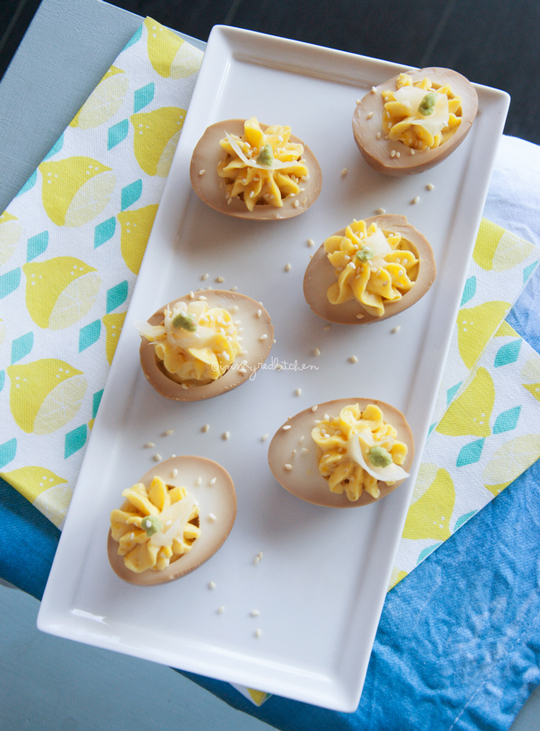 Deviled eggs with a Japanese twist!
Ingredients
for the soy sauce marinade:

1 cup water
1 cup soy sauce
½ cup sake
¼ cup mirin
2 cloves garlic, peeled and crushed
2 scallions, trimmed and coarsely chopped
1 ounce ginger, sliced

optional:

2 pieces star anise

for the deviled eggs

4 eggs
3 Tbsp mayonnaise
1 tsp wasabi
pinch of ground ginger
drop of sesame oil

for garnish:

pickled ginger, sesame seeds and small drops of wasabi
Instructions
Add all the ingredients for the soy sauce marinade to a saucepan. Bring to a boil over high heat. Remove from the heat and allow to come to room temperature. Transfer to an airtight container.
Boil the eggs until hard, give them an ice bath for 10 minutes. Peel the eggs and add them to the container with the soy sauce marinade. Marinate the eggs in the refrigerator for up to 12 hours. The longer they marinate, the more stronger the flavor is.
Slice the eggs and transfer the hardboiled yolks to a bowl. Add the mayonnaise, the wasabi, ground ginger and sesame oil and mash together with a fork. Place the soy sauce eggs on a serving plate.
Use a piping bag or just a spoon to fill the holes of the egg whites with the yolk mixture. Garnish with pickled ginger, sesame seeds and wasabi.
Refrigerate until serving.
Notes
The marinade can be kept in de fridge up until one month, so bring on the (medium boiled) eggs!
http://www.inmyredkitchen.com/soy-sauce-deviled-eggs/
Copyright Ellen Bannink- in my Red Kitchen
Enjoy!