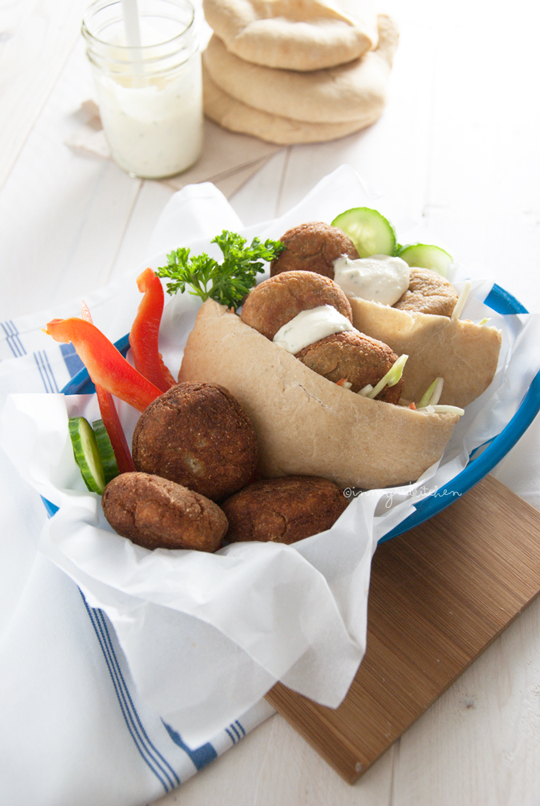 It's been three years ago since I posted this home made falafel recipe on my Dutch blog. But a lot can happen in three years, and I sure learned how to take better pictures! 😉
So it was definitely time to update the photos. Same camera, same recipe… but hours of photography lessons, some new equipment (an amazing daylight lamp!) and lots of experience later I present you with… this amazing vegetarian recipe!
Falafel is one of my favorite vegetarian fast food meals. It doesn't take a lot of time or skills to make this from scratch, and it's even better with home made pita bread and home made garlic sauce (dice up 2 cloves of garlic and mix it with yogurt and mayonnaise, add some parsley and you're ready to go!).
A food processor might come in handy with making falafel 😉 I bought this Hamilton Food Processor
 over a year ago and I still love it. I can also tell it makes the smoothest pureed baby foods 😉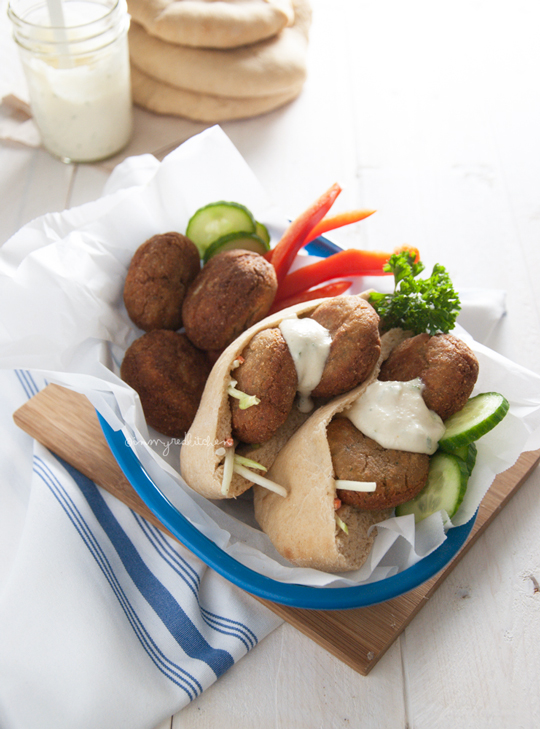 My favorite vegetarian fast food!
Ingredients
2 garlic cloves
1 medium onion
2 heaped Tbsp fresh parsley
1 can of garbanzo beans, drained
1 tsp crushed red pepper flakes
1 heaped tsp ground coriander
1 heaped tsp ground cumin
2 Tbsp flour + extra
1 tsp salt

for serving:

home made pita bread, lettuce, cucumber, garlic sauce etc.
Instructions
Peel the garlic and onion and coarsely cut up the onion. Add the garlic, onion and parsley to the bowl of the foodprocessor and pulse until fine.
Add the drained garbanzo beans, the spices, the salt and flour and pulse again until it is a course but firm puree.
Get a plate ready and cover it in flour. Use a spoon to make flat round balls of the puree. Place the balls on the flour covered plate.
Fry as soon as possible in 1-inch hot oil in a deep frying pan. Turn as needed, and fry them until golden brown.
Serve the falafel in pita bread with lettuce, pickles, cucumber, tomato, garlic sauce etc.
http://www.inmyredkitchen.com/falafel/
Copyright Ellen Bannink- in my Red Kitchen
Enjoy!