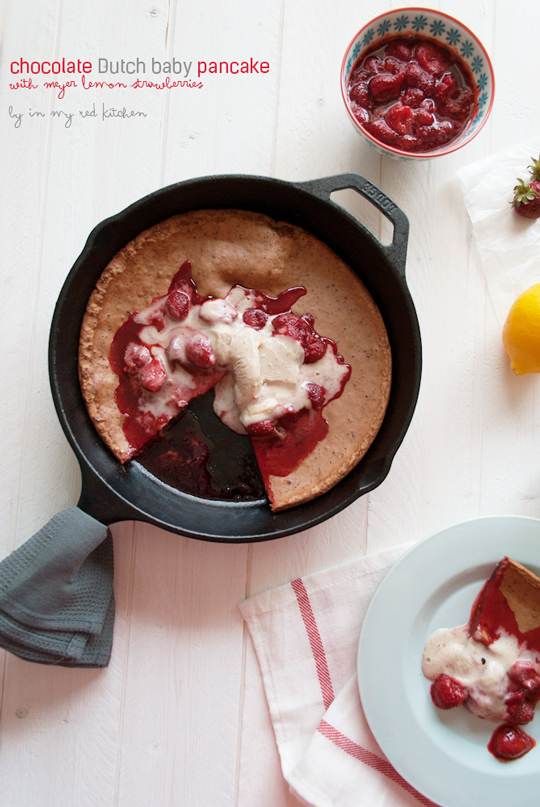 – Click here for this recipe in Dutch -> Chocolade Dutch baby pannenkoek met aardbeien –
Ever since making my own Dutch Baby Pancake I'm obsessed with these puffy and easy oven baked pancakes. I'm contantly thinking about other variations I could make.
I first learned about this pancake on the tv-show Diners, Drive-Ins and Dives. How could it be named 'Dutch' while I, a Dutch food-obsessed girl, never heard about it? No way that it is Dutch! I finally made a Dutch baby pancake my self and posted the recipe on my Dutch blog: Dutch baby pannenkoek.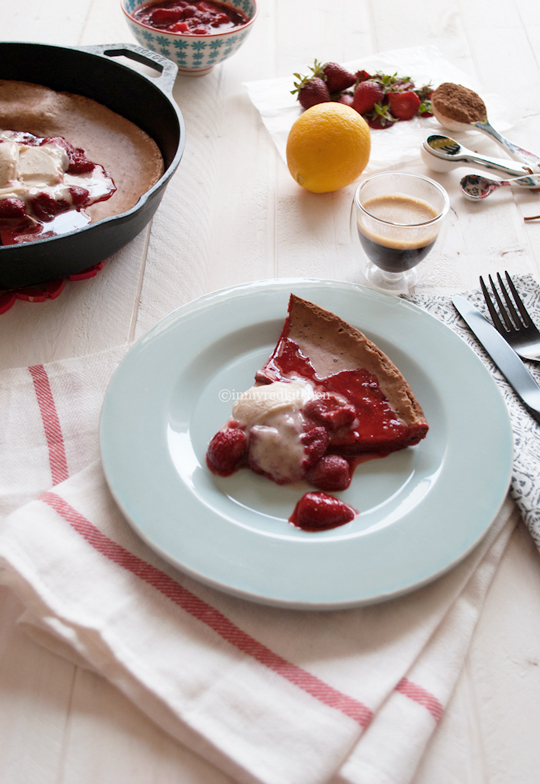 I've made a few others ever since and they all were delicious. It's so fluffy, easy and fun to make. I love to sit in front of the oven to see the pancake pop up!
I could make these pancakes every weekend if it was just for me 😉 We also easily share one pancake with the two of us. But if we needed to we could share with one extra person. Okay, maybe two if we really have to. But preferably not, haha!
I came up with this chocolate dutch baby pancake with strawberries after I had tons of strawberries in the fridge that were going to waste. You know what it is like, you go to the Farmers Market and you let yourself be tempted into buying too much strawberries, like three baskets instead of one. I swear, it happens to me everytime and I'm sure it's not my fault. This must happen to more people, am I right?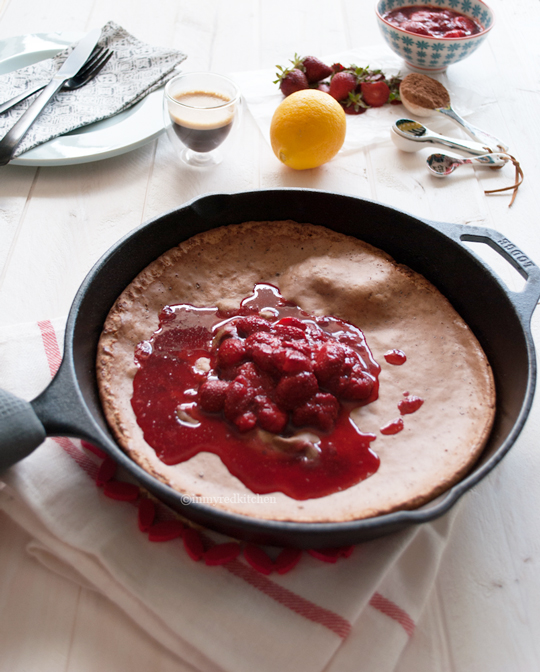 So I had too much strawberries in the fridge and they were getting soft. So what do you do with it? You add them with some Meyer lemon juice to a sauce pan and you bring them to a soft boil so you get a sour strawberry sauce. And then you need something to serve it with, so then you need a chocolate Dutch baby pancake.
I made this for myself on a Friday and it was so good that I made it again the next day so P could also enjoy it. Dutch baby pancakes for president! And why not serve them with ice cream, because yeah… it's totally okay to eat ice cream for breakfast 😛
Chocolate Dutch baby pancake with strawberries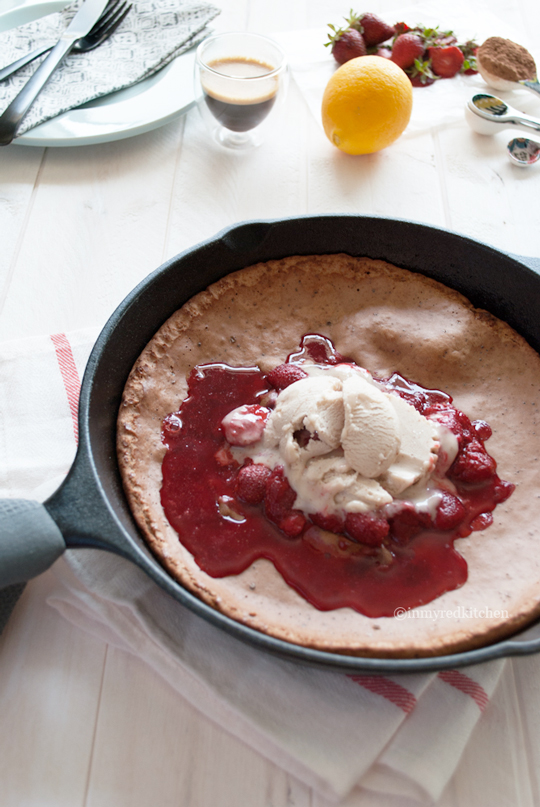 A soft and pillowy chocolate pancake topped with sour strawberries, yum! That's a nice way to start your day 🙂
Ingredients
2 eggs
½ cup all purpose flour
1/3 cup milk
6 Tbsp Meyer lemon juice (divided)
2 Tbsp maple syrup
3 Tbsp unsweetened cocoa powder
¼ tsp salt
1 Tbsp butter
9 oz strawberries, cleaned and halved
Instructions
Preheat the oven to 400 degrees F
Combine the eggs, flour, milk, 3 Tbsp Meyer lemon juice, maple syrup, cocoa powder and salt in a blender and pulse until combined.
Heat a 10" cast iron skillet over medium heat, melt the butter. Spread out the melted butter by swirling the pan and remove from the stove.
Pour in the batter and bake the pancake in the oven until brown and puffed, 20 to 25 minutes.
While the pancake is in the oven, take out a small saucepan and add the strawberries and the other halve of the Meyer lemon juice. Bring to a soft boil and cook for 2 minutes until the strawberries are soft.
Remove the pancake from the oven and top with the strawberries. Serve with extra maple syrup and whipped cream if desired.
http://www.inmyredkitchen.com/chocolate-dutch-baby-pancake-with-strawberries/
Copyright Ellen Bannink- in my Red Kitchen
Enjoy!