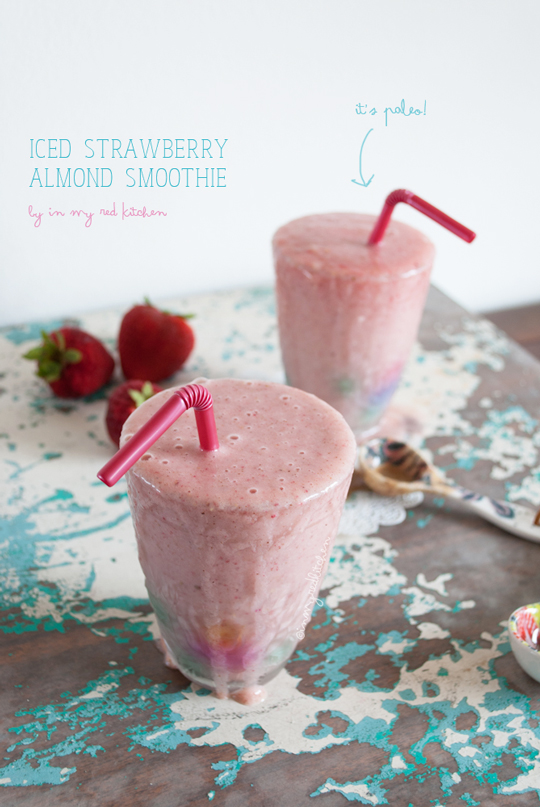 – Click here for this recipe in Dutch -> Aardbeien smoothie met amandelboter –
During my first juice cleanse in September last year, I learned that I don't need a big breakfast in the morning. During the cleanse you have to drink a breakfast juice of 18 floz, two hours later around 10am/11am yet another juice of 18 floz and two hours later it was time for another juice as lunch, again 18 floz. But I really didn't feel hungry after the breakfast juice, so I was reluctant to drink the 'in between' juice in the morning.
Before the cleanse, I often ate yogurt with fresh fruit and homemade maple pecan granola for breakfast, a big bowl around 10am in the morning and then I was only hungry for lunch at around 2.30pm. But now I switched to juices and smoothies, I still have breakfast around 10am but I often eat my lunch an hour earlier, so at 13h. Only on weekends I eat a huge breakfast in the form of a brunch, like chicken 'n ​​waffles, pancakes, breakfast burritos, French toast with fruit, huevos rancheros or an omelet. And as brunch also serves as lunch, the next thing we eat is dinner at the beginning of the evening.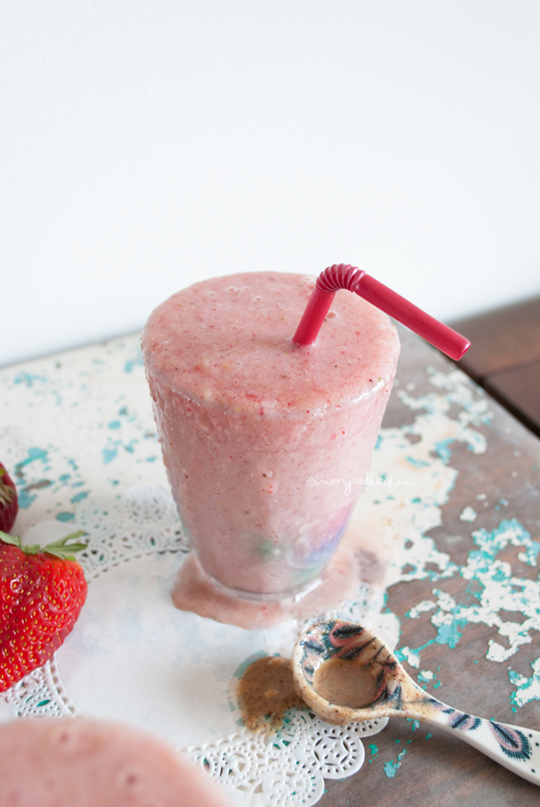 No worries, during the week it's time again for the normal three meals a day, eaten at normal times. This iced strawberry almond smoothie is by far my favorite right now. I'm sure that will be over in a few weeks again, because by then I've made ​​a new combination with fruit that is currently in season. I bet you know how that goes, for a few weeks you eat the same breakfast every day until you suddenly had enough of it and you want something different. It happens to me often 😉 I started out making ​​banana smoothie with soy milk or almond milk, but because coconut water has less calories and because it makes the smoothie a little lighter, I now always have a carton of coconut water in the fridge to use for my smoothies.
Only for smoothies and not for drinking it pure, though… yuck! I don't like the meaty taste of coconut water, even if it comes from a fresh coconut. But in a smoothie it suddenly gives a whole different flavor, how weird is that!
The banana could stay in this smoothie recipe though. I think banana is perfectly suited for blending into a smoothie. And maybe because I always buy a bunch of bananas that are browning too fast, and I have to keep them in the fridge before those nasty fruit flies start appearing again. And then again I forget that they're in the fridge and before you know it the bananas are almost black and not suitable to eat anymore 😉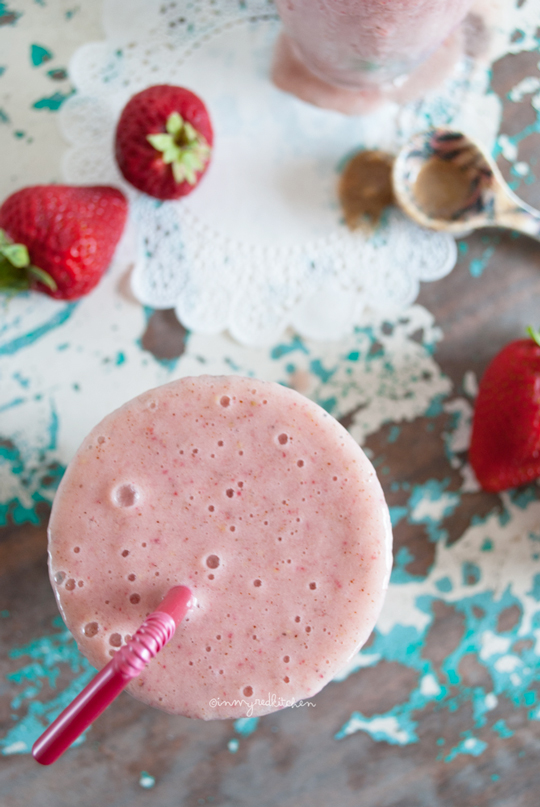 And for this strawberry smoothie I could use the big box of strawberries I bought recently along the PCH. I froze half of them, and using frozen strawberries in a smoothie makes a delicious iced smoothie. It's like drinking a milkshake for breakfast, love it!
So how do you freeze strawberries anyway? Start with rinsing them under running water before removing the stem. Pat them dry and spread out on a baking sheet. Place the sheet in the freezer without covering it. A few hours later –when the strawberries are frozen- you put them all in a resealable ziploc bag that you keep in the freezer, and of course you take out the baking sheet from the freezer. This way, the strawberries don't stick together, because that's what they would do if you're going to freeze them in a bag directly.
And once they are frozen… make this iced strawberry almond smoothie! I love it, it's a refreshing fruit smoothie with a nutty hint, yum!
Almond butter is the same idea as peanut butter, it's just ground almonds. So since I'm doing paleo onweekdays now and peanuts aren't entirely paleo (because apparantly they are beans instead of nuts), I use almond butter for this smoothie. If you can't find almond butter at the store now you can also use peanut butter or other nut butters, such as cashew butter.
Iced strawberry almond smoothie
An iced fruit smoothie with a hint of nuts, I love it!
Ingredients
4 strawberries, preferably frozen
2 ice cubes
1 banana
1/3 cup coconut water
1 tbsp almond butter
Instructions
Crush the frozen strawberries and ice cubes in the blender.
Add the banana, coconut water en almond butter en pulse until smooth.
Serve with a straw.
Notes
How to freeze strawberries: Rinse the strawberries under running water and remove the stems. Pat dry and spread out on a baking sheet. Place the baking sheet in the freezer, uncovered. The strawberries are frozen after a few hours, transfer them to a ziploc bag and keep them in the freezer.
http://www.inmyredkitchen.com/iced-strawberry-almond-smoothie/
Copyright Ellen Bannink- in my Red Kitchen
Enjoy!