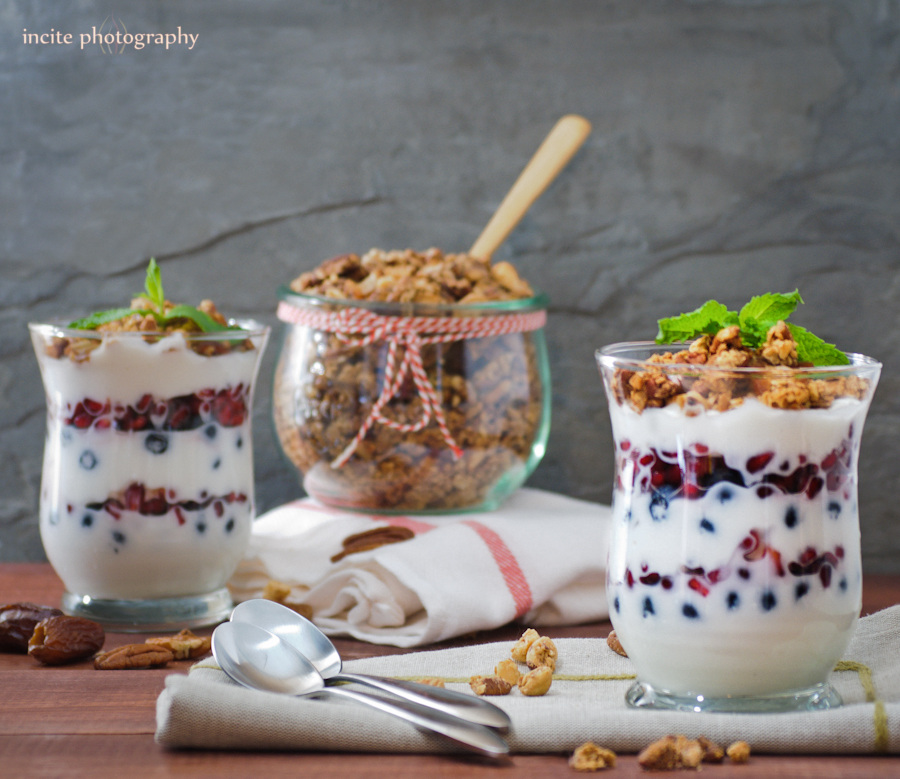 I just love some good granola in the morning. I know exactly how I like it: not too sweet, no dried cranberries and no big chunks.
But damn, it was hard for me to get hold on the right recipe, my granola was always too dry, too fine, too sticky or too burnt. So I stopped trying and bought my granola at the store.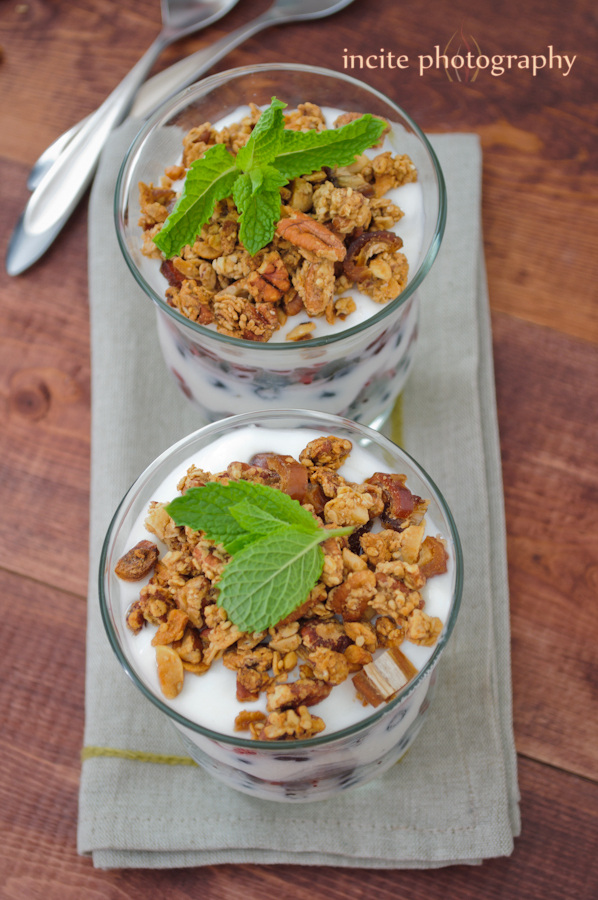 I really liked the maple pecan granola I bought at Trader Joe's but somehow I couldn't come to peace that I failed at making granola.
So I read lots and lots of recipes and started over.
I combined my favorite ingredients for this one and it worked!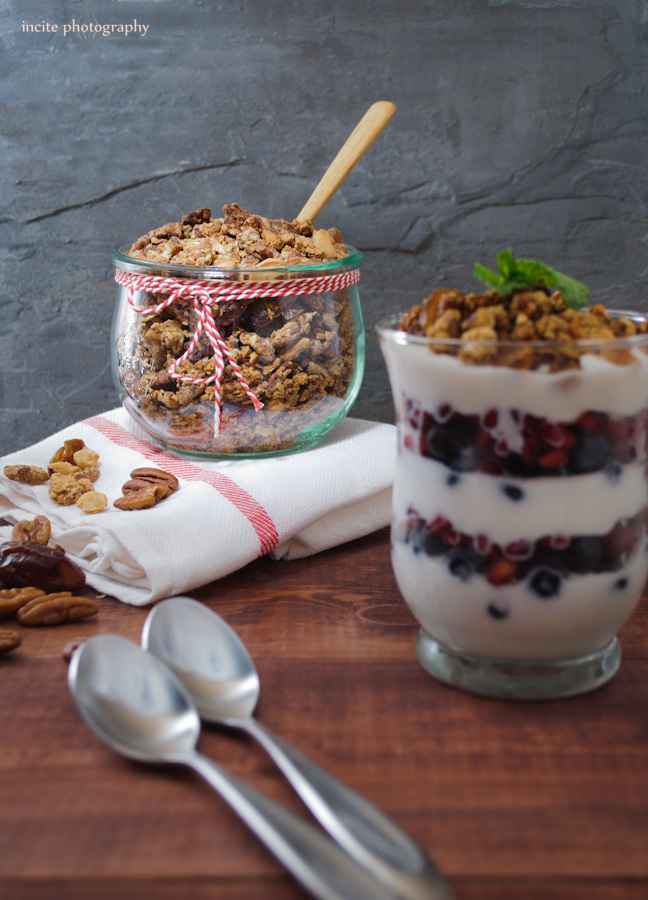 The secret? Well, there are three: Make sure you have the right balance between the wet mixture and the dry mixture. Add the dried fruits áfter baking the granola. And don't bake the granola too long, know when to take the baking sheet out of the oven.
Et voilà, this is my delicious granola recipe:
I will never buy granola again, this one is so good. No need to buy it anymore 😉
Maple pecan granola with dates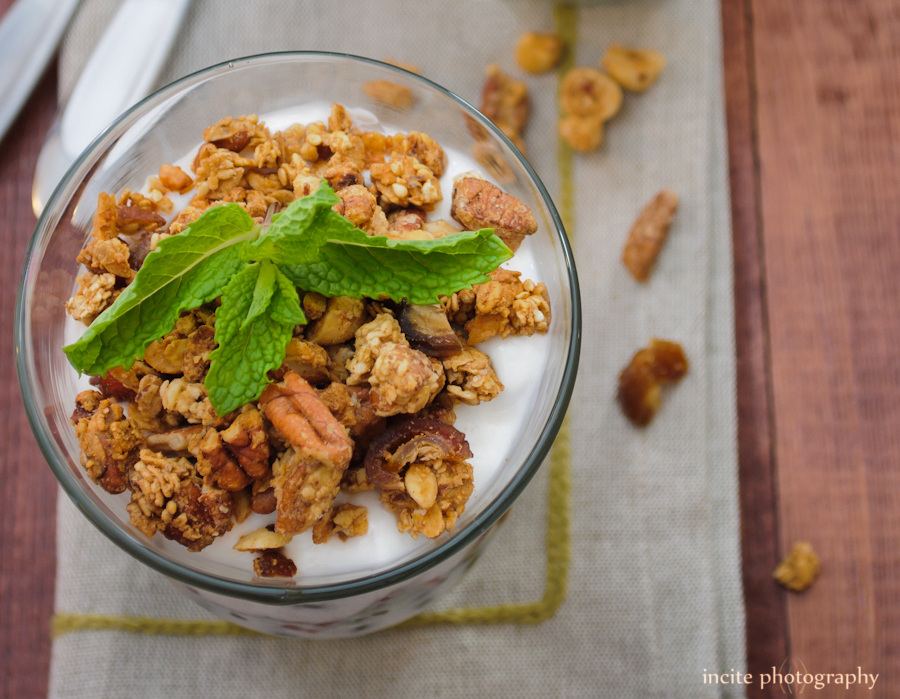 I love maple syrup, I love pecans and I love dates. All together this makes the best homemade granola in the world!
Ingredients
¼ cup peanut butter
1/3 cup maple syrup
1 tsp vanilla extract
2 cups chopped pecans
1 ½ cups oatmeal
1 cup chopped mixed nuts
½ cup sesame seeds
1/2 tsp cinnamon
pinch of salt
½ cup of chopped dates.
Instructions
Preheat the oven to 325 degrees.
In a small bowl: combine the peanut butter, maple syrup and vanilla extract and mix it with a fork. It smells like Snickers! Yum!
In a bigger bowl: mix the pecans, oatmeal, mixed nuts, sesame seeds with the cinnamon and salt.
Add the Snickers mixture to the pecan mixture and train your arm muscles to combine everything well. Make sure every piece of nut and oats is covered in the sticky Snickers mixture.
Cover a baking sheet with parchment paper and spread the pecan mixture out evenly.
Bake for about 20 minutes, but make sure to stir it after 10 minutes to break up big clumps.
Let it cool down and mix the dates in.
Your granola is now ready, keep it in a big glass jar.
Notes
You can also replace the dates with raisins
http://www.inmyredkitchen.com/maple-pecan-granola-dates/
Copyright Ellen Bannink- in my Red Kitchen
Enjoy!
note: photos are made at a brunch photoshoot I did with Ysa Adams of Incite Photography.