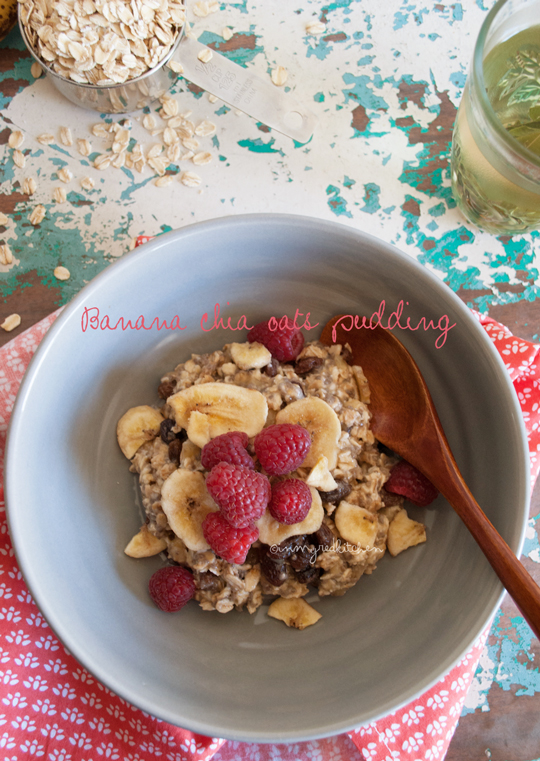 – Click here for this recipe in Dutch -> Havermoutpap met banaan en chiazaad –
I told you before that I like to go hiking every week in the Santa Monica Mountains. "Hiking" is nothing more than walking up and down the mountains as a workout. 'My' trail is a paved path that leads to a boy scouts camp. It takes me 45 minutes to walk there, so every week I spend 1.5 hours on hiking.
I love it! I enjoy the nature, it's peace and views over the city and sea. And it's also cheaper than going to a gym 😉
But… that nature also has a downside. A few weeks ago while I was back on the way down, I saw two coyotes! Waaaaah! That was always my biggest fear. Or no, to be honest, my biggest fear is encountering a mountain lion, then comes a rattlesnake and then came the coyote.
As soon as the coyotes saw me, they slowly walked back to the bushes where they came from. But still! My legs were shaking and as soon as I got home I starting googling to read what you should do if you encounter a coyote (nothing if they walk away, waving your arms and make noise when they come at you), if coyotes attack people (only if they are rabid) and how many coyotes live in the Santa Monica Mountains (lots, and 150 have a GPS collar).
And of course then I also read reports of a recent attack of a lynx (who also lives here) on a woman who just sat on her porch, and an attack by a mountain lion on a 6-year-old boy who was hiking with his parents. Ok… those cases didn't happen in the Santa Monica Mountains, but they did happen in California!
And I'd rather not be the person who made the news because I was attacked by a wild beast.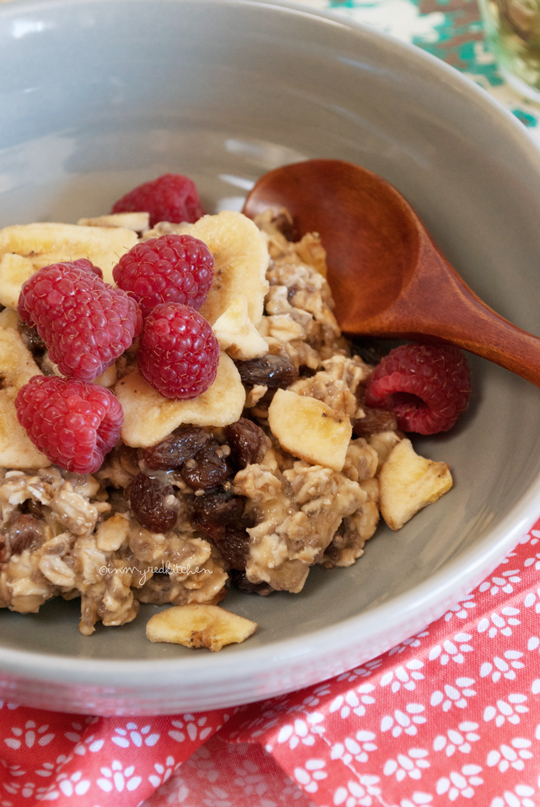 Since I've seen the coyotes I carry pepper spray the four times I went hiking. One time with a girlfriend, then we were so busy chatting that I wasn't even scared. Then I went hiking on my own, twice. But I was so scared to see another animal again that I couldn't even finish my hike, halfway I turned around to go back. The last time I went with P, it was a weekday and he had a few days off. I figured it was better to go on a weekday as it's not as busy on the trail as it is on weekends, so I could get used to it again. But still, I was so scared and I kept on looking around me to see if there were any animals.
I figured it isn't fun anymore to go hiking alone.
What is really ridiculous because I was hiking there for a year now and have never seen a big scary animal. And besides that, the coyotes walked away when they saw me. In addition, there are always plenty of people walking and cycling there and even sometimes some cars driving to the boy scouts camp.
But still I can't get myself to go hiking again… So now what? Instead I have to go for a big walk around the block, but I'm too lazy and keep on putting it off.
So I just eat healthy! This banana chia oatmeal pudding is a healthy start to the day. A breakfast that I made for the first time when I did the Pure Food Challenge (one month without refined sugar and carbs), and I used the banana as a natural sweetener. Before that I would stir in a large spoonful of maple syrup or honey to fullfill my sweettooth, plus some extra maple syrup on top. Actually I am very proud that I still make this delicious breakfast and eat it at least 2 times a week. Because living without sugar and refined carbs is pretty tough 😉
Banana chia oatmeal pudding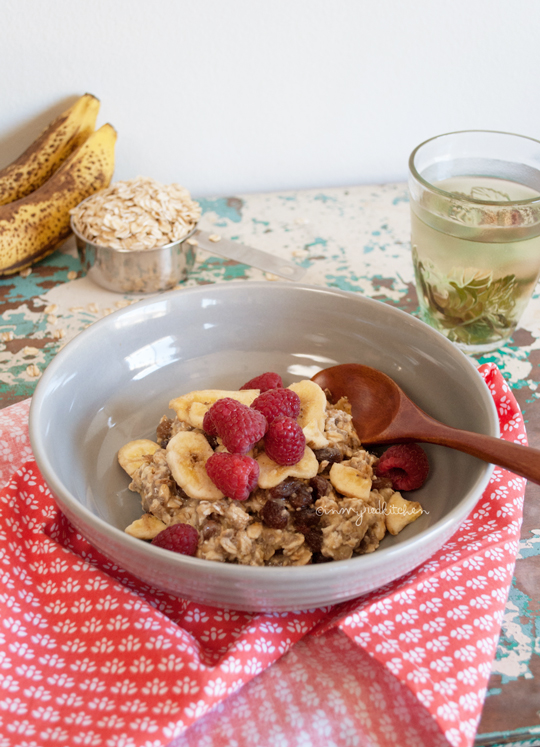 A healthy start of your day, without any added refined sugar!
Ingredients
1 ripe banana
½ cup oatmeal
2 Tbsp chia seeds
2 Tbsp raisins
¾ cup milk of choice
Instructions
In a bowl, mash the banana using a fork.
Add the oats, chia seeds and raisins and stir to combine.
Add the milk (my favorite: home made almond milk) and stir until every piece of oatmeal and every chia seed is covered in milk.
Cover and place in the fridge for 30 minutes but preferably overnight.
Serve with fresh fruit and maple syrup (optional).
http://www.inmyredkitchen.com/banana-chia-oatmeal-pudding/
Copyright Ellen Bannink- in my Red Kitchen
Enjoy!