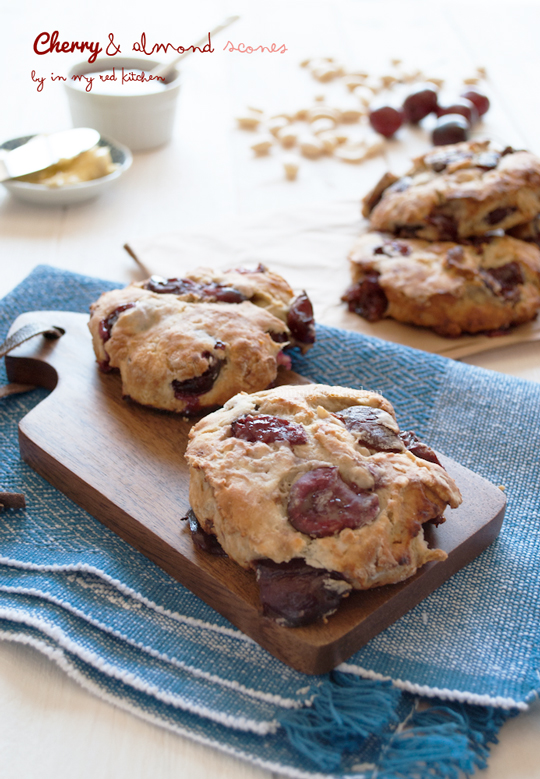 – Click here for this recipe in Dutch -> Scones met kersen en amandelen –
Last Sunday we took the Pacific Coast Highway to drive to Malibu, so we could have lunch at our favorite fish restaurant. Not just fish; no we had lobster with butter sauce, delicious grilled shrimp and a clam chowder bread bowl. The weather was lovely and sunny so we hád to go outside and enjoy it. June is in fact called "June Gloom" so in the morning you can expect gray, cloudy and chilly weather. In the afternoon, the sun comes out and it's warm until the end of the afternoon, when the fog from the sea rolls back into the city, gray clouds are gathering and the temperature drops rapidly.
I don't like the gray weather, it feels like the Netherlands! ;-)
No convertible for us though on this sunny Sunday in Malibu, P's cousin is visiting and the convertible is a two-seater. But to breathe in some fresh sea air, we also stopped at a parking lot on the side of the road. And coincidentally there was also a small truck parked were someone sold strawberries, cherries, peaches and fresh coconuts. Wow, luckily I had some cash on me so we drove home with a huge box of strawberries and cherries!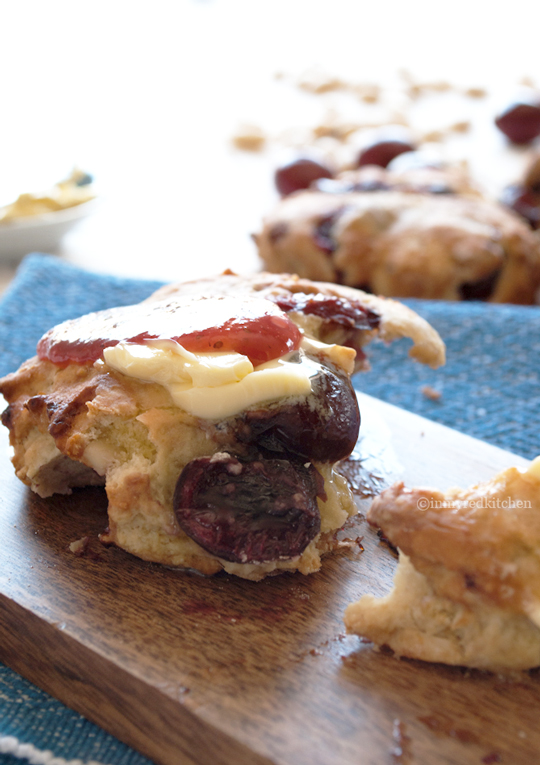 Half of the strawberries is now in the freezer, I will use it for my breakfast smoothies. But the cherries? What could I do with that … I really never liked cherries, too sour or something. But ever since we moved to LA I like fruits that I usually never liked. So this was the first time I bought cherries and they are really yummy! I bought a cherry pitter and walked around all day thinking of what to do with the cherries. Besides eating them 😉
A clafoutis was of course the first thing that came to mind. But that's too easy so I skipped that one. Hand pies then? Or shall I grill them and serve with gorgonzola on toast, or perhaps in a salad with burrata? Woah, so many options! But suddenly I knew, I had to make scones with cherries in them. Lots of cherries!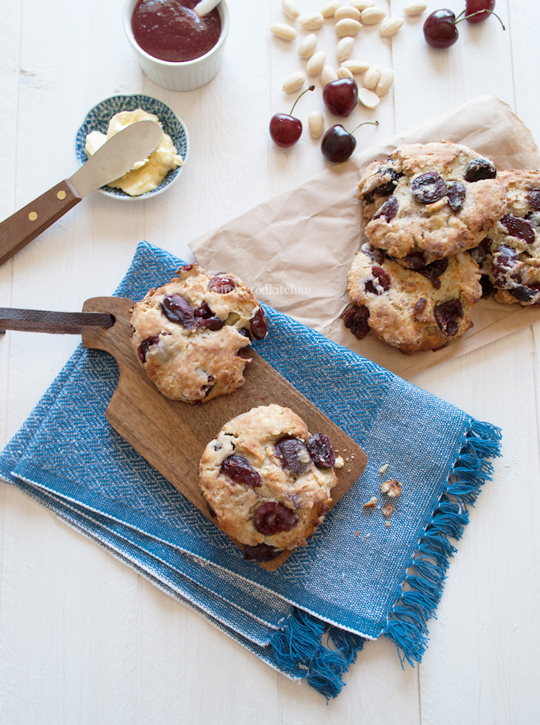 I really like scones, they are so delicious and also quick and easy to make. I used a Scones recipe from Jamie Oliver, a recipe I posted before on my Dutch blog. Scones are so crumbly and the sweet sour cherries pairs so well with it. To give it an extra bite I added almonds, a great addition! I might have eaten three of them for lunch, oops! They are not too sweet, really perfect!
Find out yourself how good these Cherry and almond scones are: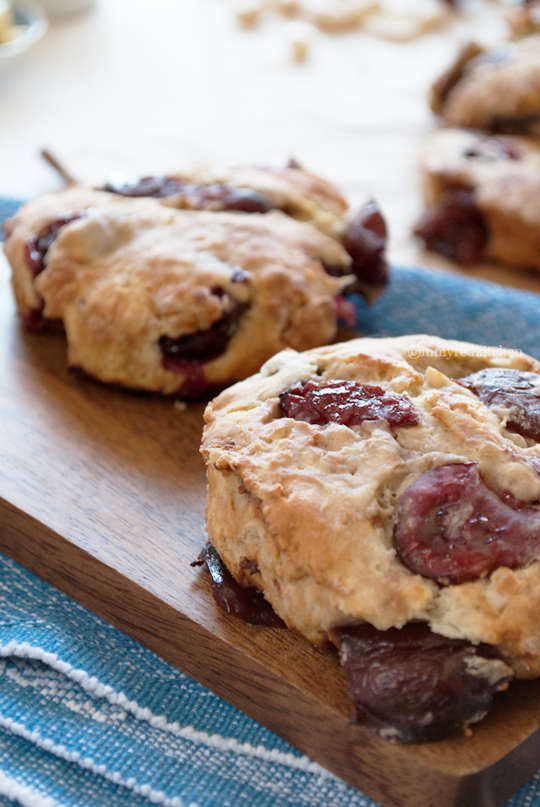 Crumbly and soft dough with sweet & sour cherries and crunchy almonds. Good morning!
Ingredients
1 ½ cup all purpose flour
1 Tbsp baking powder
1 heaped Tbsp sugar
pinch of salt
5 Tbsp cold butter, cubed
1 large egg, beaten
2 Tbsp (almond) milk + extra for brushing
13 oz pitted cherries, halved
2 oz almonds, chopped
Instructions
Take a large bowl and add the flour, baking powder, sugar and salt. Stir to combine and add the cold butter. Rub the butter into the flour, using your thumbs and forefingers until it looks like this:
Make a well in the middle, add the egg and milk and mix everything using a spatula.
Add the cherries and almonds and mix until combined and the dough is soft. Add a little extra milk if needed. Don't stir too much, you need a loose and messy dough:
Cover the bowl and put in the fridge for 15 minutes.
Preheat the oven to 400 degrees F and line a baking sheet with parchment paper.
Sprinkle some flour on the counter, take the dough out of the fridge and use you hands to spread out the dough till 1 inch thickness.
Cut out cirkles using a glass. Flip the scones over and place them on the lined baking sheet. You flip them over so they will rise better.
Brush them with some extra milk and bake 15 - 20 minutes in the preheated oven until golden brown.
Serve with butter and jam.
http://www.inmyredkitchen.com/cherry-and-almond-scones/
Copyright Ellen Bannink- in my Red Kitchen
Enjoy!