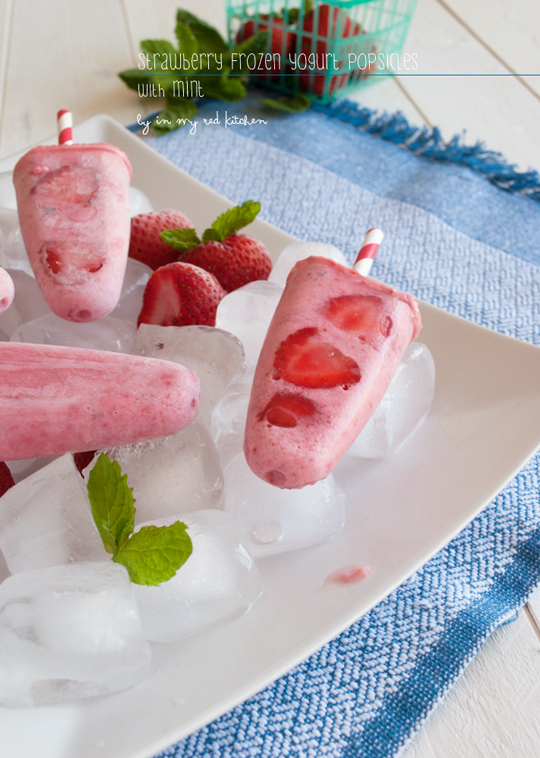 – Click here for this recipe in Dutch -> Aardbeien yoghurt ijsjes met munt –
These past two weeks I have been 'working hard' to empty out the freezer. My lunch was baozi with a small piece of lasagna on the side. That evening we ate the last leftovers of the slow cooker chicken tikka masala and the next morning my breakfast was a sugar-free banana muffin.
I really wanted to bake some bread again, with my new KitchenAid standmixer I got for my birthday. At least, that's what I told P. But secretly I had another reason, summer is coming and I wanted to make ice cream!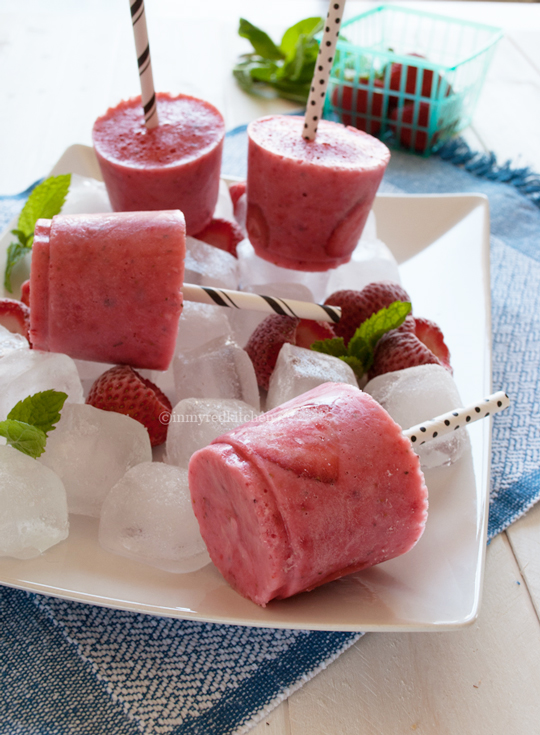 Out of self protection I don't own an ice cream maker, P isn't really fond of ice cream so you get one guess who has to eat all the ice cream I bring into this household 😉 A Zoku Quick Pop Maker
is high on my wishlist but it's also kinda pricey 🙁 So there is only one thing left to do: fill up popsicle molds! Nothing wrong with that, it just needs some good planning and a few hours of patience before you can eat your home made popsicles.
In LA we already had some nice hot days, I drink enormous amounts of water with mint and lime and iced tea. But sometimes I just want ice cream or a popsicle as a snack. In Amsterdam I used to fill up some molds with a thick strawberry quark I bought at the organic store. So delicious but also really easy to do!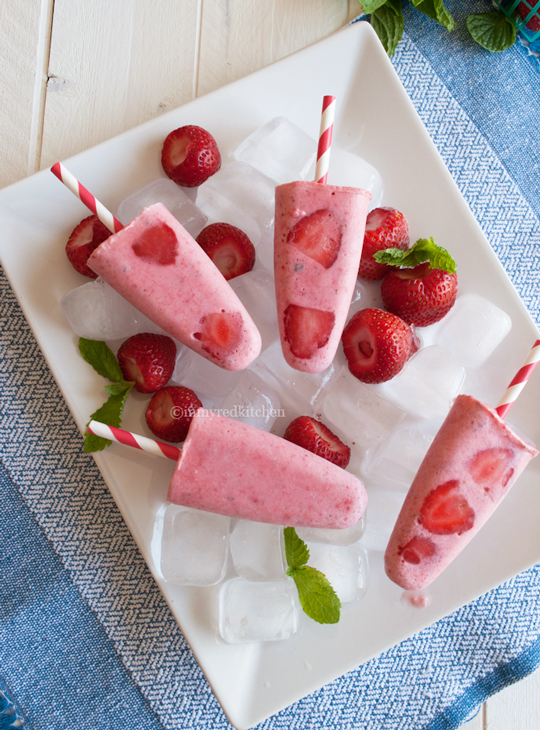 Last week I bought a big bowl of cherries along the PCH and I made cherry and almond scones with it. And I also bought a húge box of strawberries, so I could finally make the popsicles that I dreamed of for a while now. Strawberry frozen yogurt popsicles with mint… that sounds heavenly don't you think?
And I can tell you that not only does it sound great, they also taste excellent! I think this is my new favorite. Luckily I have a lot left in the freezer, yum yum!
First I made a mint syrup, which I didn't strain. Well mint is green and greens are healthy, right? 😉 And I pureed a huge amount of strawberries, the more the better, right?
I'm ready for summer!
Strawberry frozen yogurt popsicles with mint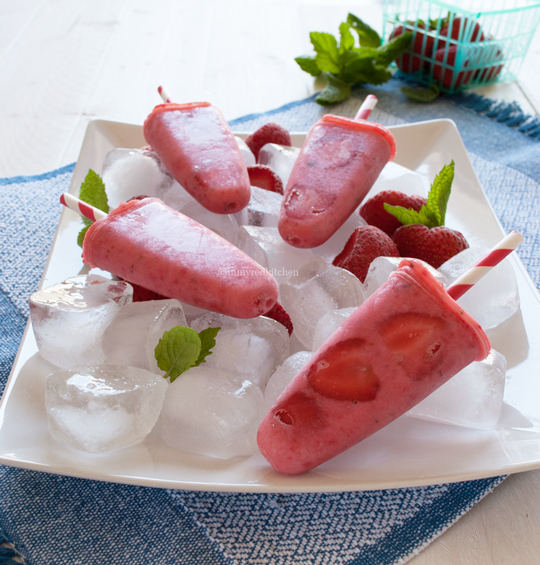 I'm ready for summer with these Strawberry frozen yogurt popsicles with mint!
Ingredients
¼ cup sugar
¼ cup water
8 mint leaves, finely chopped
13 oz strawberries, stems removed
1 cup plain yogurt
Instructions
Make a mint syrup: combine sugar and water in a medium saucepan. Bring to a boil and stir until sugar has dissolved. Add the mint and allow to cool.
Combine strawberries and yogurt in a blender and pulse until the strawberries are pureed. Add the mint syrup, pulse again until everything is combined.
Divide the strawberry yogurt over 6-8 popsicles molds. Place in the freezer until frozen, about 6 hours.
Run the molds under warm water for a few seconds to release the popsicles.
Notes
This recipes makes enough to fill up 6 to 8 popsicles molds, it all depends on the size of the molds. You can also use small paper cups if you don't have enough molds. Fill them up with the strawberry yogurt mixture, put them in the freezer and put an ice stick or paper straw in it after 30 minutes of freezing.
http://www.inmyredkitchen.com/strawberry-frozen-yogurt-popsicles-mint/
Copyright Ellen Bannink- in my Red Kitchen
Enjoy!