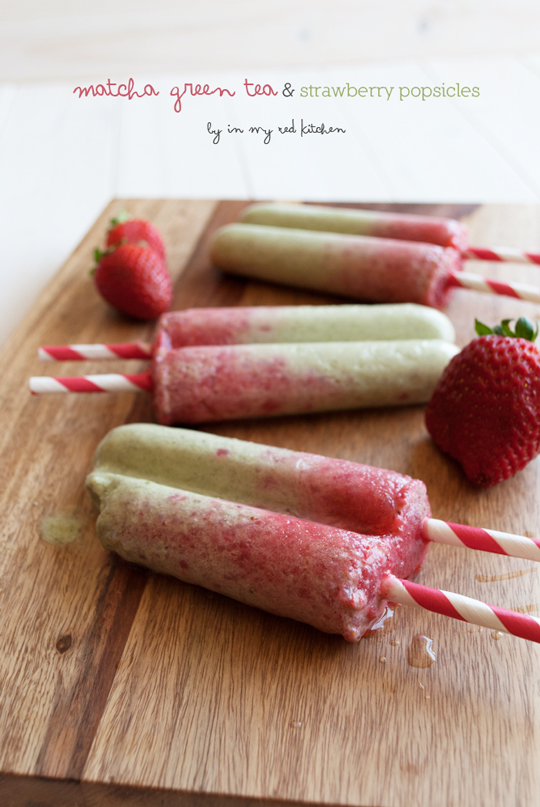 – Click here for this recipe in Dutch -> Groene thee & aardbei ijsjes –
On social media I see a lot of people talking about that summer is coming to an end (well surprise… not in LA! 😉 ), but be honest, do you really need to use summer as an excuse to eat popsicles?!
Last weekend we were in Las Vegas, which is a four hours drive from LA and it's located in the middle of the desert in Nevada. Summer is still in full swing, and desert + summer = way too hot! Jeez, that wasn't fun… It was 107 degrees Fahrenheit, and 'fortunately' it was mostly cloudy, because as soon as the sun came through the clouds it burned like hell. And even at midnight it was still in it's 90's, wow!
Long live the AC! Because of the heat we tried to stay inside as much as possible; in the casino of the hotel, in casinos of other hotels, in restaurants, in another hotel at the buffet and even at a real wedding chapel. Yeah! Of course not for P and me as we have been married for almost a year and a half now. No, our dear friends from the Netherlands got married in the presence of Elvis. It was a fantastic and great weekend, I can recommend anyone to get married in a wedding chapel in Las Vegas with Elvis on their side!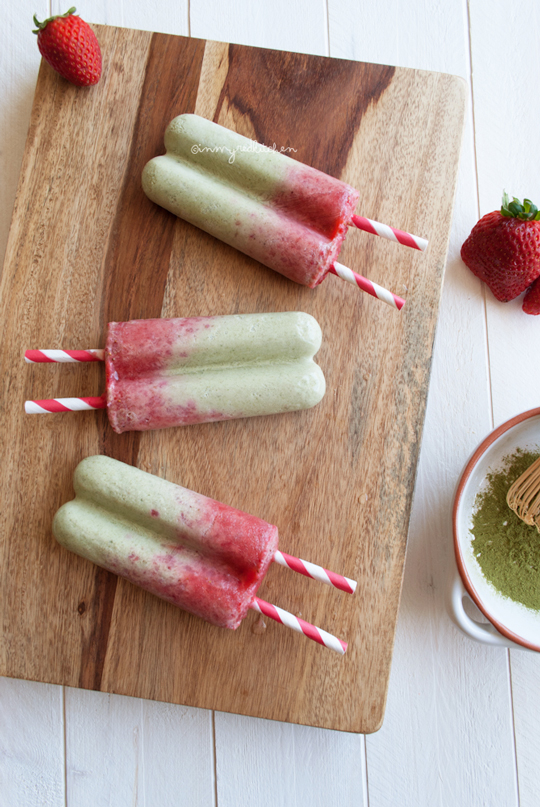 Late in the evening after the wedding ceremony we ended up in The Venetian. Hotels in Las Vegas are in fact not just hotels, they also all have a casino, a pool, a food court and often a special attraction. For example, a roller coaster or a famous fountain, sharks in an aquarium, a botanical garden, real flamingos, a replica of the Eiffel Tower or a replica canal from Venice. Seriously! The Venetian build some Venetian streets and canals (the name says it all, of course). It was almost midnight and we ended up at a Venetian town square in daylight. Just building a canal and street from Venice wasn't enough apparently, there was also an illuminated ceiling with a blue sky and clouds painted onto it.
It felt so weird, as if it was 5 am in the morning and the day just started because the light was quite blue and cold. And what do you do then? Of course you let yourself get ripped off at an ice cream stall by buying four ice cream cones for $28.11. What else ?! 😉
And the ice cream wasn't even as tasty as the green tea and strawberry popsicles that I kept in the freezer at home. I recently needed just a little bit of coconut milk for a recipe, and I thought it was a waste to throw the rest out. So there was really only one left thing to do: make popsicles! I also had a bag of matcha powder are that I once bought on a whim because I wanted to make matcha lattes at home. Matcha is powdered green tea from Japan and it is made by finely grinding green tea leaves. You can buy it at Japanese and Asian supermarkets and you use hot water to make matcha green tea. Both P and I love matcha, so I really should use it more often!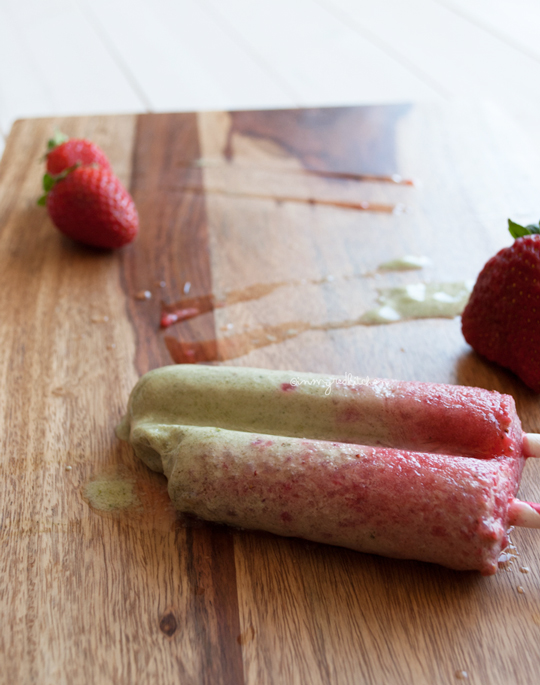 That's no problem with these popsicles, I added some pureed strawberries to the matcha coconut mixture, a combination that goes very well together!
And you see, summer is far from over with these yummy pops!
Green tea and strawberry popsicles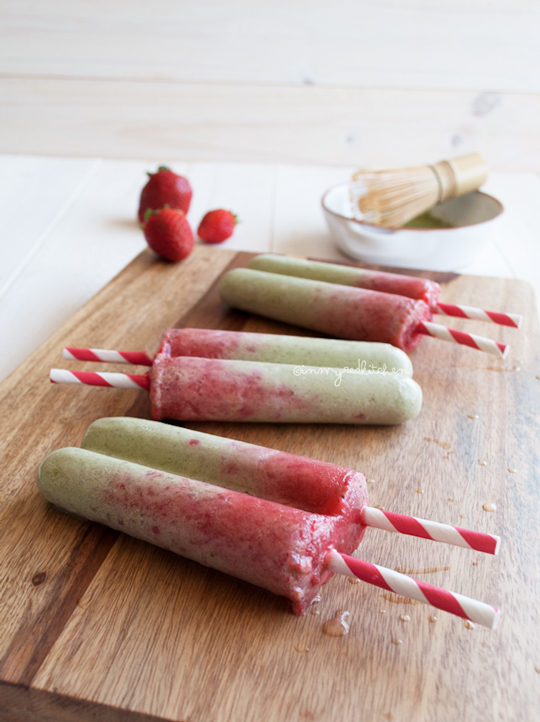 You don't need to use summer as an excuse to eat delicious popsicles!
Ingredients
1 14 oz can of coconut milk
½ Tbsp matcha green tea powder
1 – 2 Tbsp honey
4.5 oz strawberries (about 6)
2 Tbsp coconut water
Instructions
Mix a few spoons of the coconut milk with the matcha powder. Use a matcha whisk* or a small regular whisk. Whisk until lump-free, add the remaining coconut milk and 1 Tbsp honey and whisk until combined. Taste and add an extra tbsp honey if you think it's not sweet enough.
Fill the popsicle molds for ¾ with the matcha coconut mixture.
Use a blender or foodprocessor to blend the strawberries with the coconut water.
Use a spoon to add the strawberry mixture to the popsicle molds and wiggle the molds ór use a chopstick so the strawberry mixture will spread.
Place in the freezer for at least 4 hours to make your popsicles.
Run the molds under warm running water for a short moment to take out the ice pops.
http://www.inmyredkitchen.com/green-tea-strawberry-popsicles/
Copyright Ellen Bannink- in my Red Kitchen
Enjoy!
* I also bought a matcha whisk
(which is made of bamboo) at the Japanese supermarket & I love it!