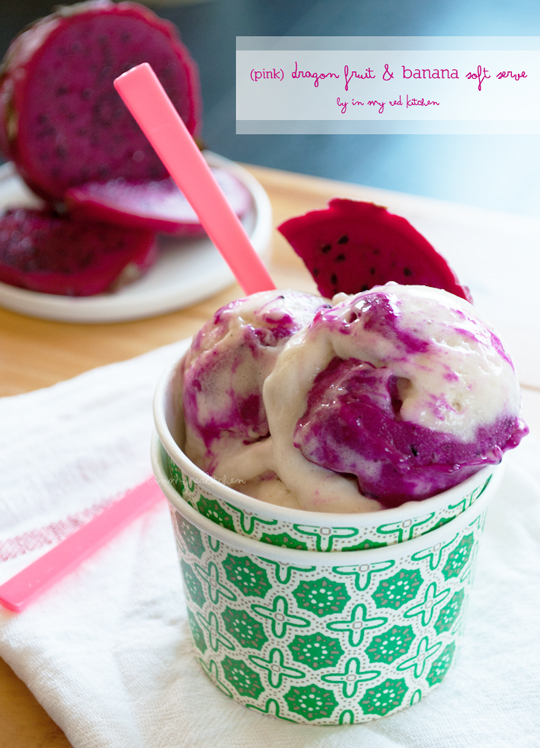 – Click here for this recipe in Dutch -> Dragon fruit & bananen ijs –
Nowadays I feel like a super hippie who's connecting with the earth and I secretly kind of like it. I've always been a fan of home made food, to bake my own bread for example or even making hummus or pesto. But lately I thought I had no time to do this, so I bought ready-made hummus and bread which contains much more than just flour, water, salt and yeast.
But since I have created the Pure Food Challenge (which is happening this month) I take time again to make things myself. I'm testing what proportions I need when I want to bake a Whole wheat Dutch oven crusty bread and I make dips as chunky Feta dip with almonds and hummus and the bottled salad dressing is now replaced by vinaigrette or avocado salad dressing.
But the ultimate hippie factor is still the almond milk that I make myself. You let the almonds soak in water for 8 hours, then you blend them with some water and the next step is straining it into an almond milk. After straining you are left with an almond pulp. And that's a waste to throw it away right? So I spread it out on a baking sheet and let it dry for 3 hours in the oven at low temperature. And after grinding it in the food processor, et voila! Almond flour! And with that almond flour I make almond crackers: just add some water and olive oil to the flour, season with salt, pepper and fresh herbs, roll out and bake in the oven. Absolutely delicious as a snack with some homemade dip it or just plain.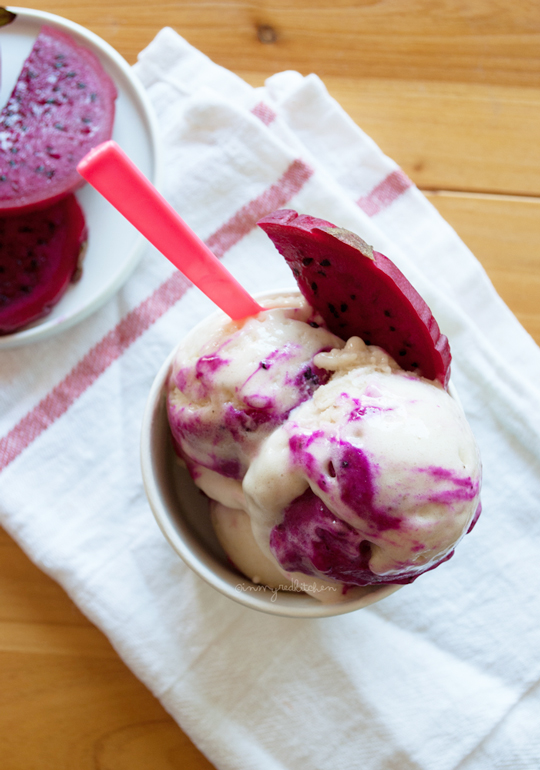 But there is something else I couldn't ignore this month. The famous 'banana soft serve'. Soft ice cream made ​​from bananas, you've probably already seen it before because the internet is full of it. And rightly so! It's so delicious and actually very easy to make, you don't need an expensive ice cream maker. Only a freezer and a Food Processor
, but a powerful blender
or an immersion blender set
would also work. And then you need –sit and behold- only one ingredient. Yes, ONE (1!) INGREDIENT! For banana ice cream you'll only need a peeled and frozen banana. Sounds difficult or not? How it works? Well you blend the frozen banana in a food processor until it's crumbly, then you keep on blending because that's when the magic is happening. The banana turns into a creamy substance, which is because of the high pectin content in the banana.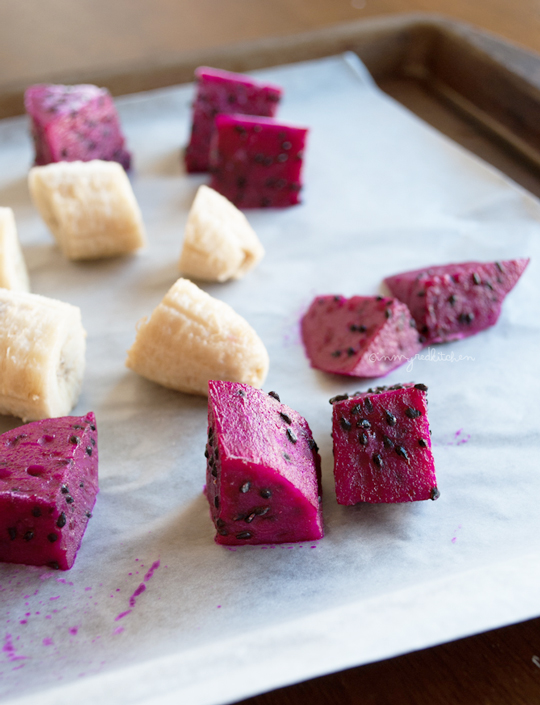 You can add extra flavors at the last step, such as peanut butter, cocoa powder or strawberries. Adding sugar or cream isn't necessary, it's already sweet and creamy enough by itself.
For this occasion I made banana ice cream with dragon fruit. You have probably seen these beautiful fruits before, they have a scaly pink skin and inside they are soft and white with black speckles. So beautiful! The flesh tastes like kiwi, even though it is a cactus fruit. The dragon fruit with white flesh is the most common, but Frieda's sent me some dragonfruits with bright pink-purplish flesh. Amazing! I had to do something nice with it, and something beautiful to express the beautiful color.
Well, look at how expressing this ice cream is (and my fingers were still bright pink one day after cutting the dragon fruit 😉 )
If you cann't find a pink dragon fruit then you can of course use white.
And if you can find now no dragonfruit (tip: ask your produce manager at Ralphs or Sprouts for it, or check at an Asian store) you can use a kiwi or other fruit. Or just make banana ice cream, which is also tasty enough by itself 😉
(ps: scroll down for step-by-step pictures)
Dragon fruit & banana soft serve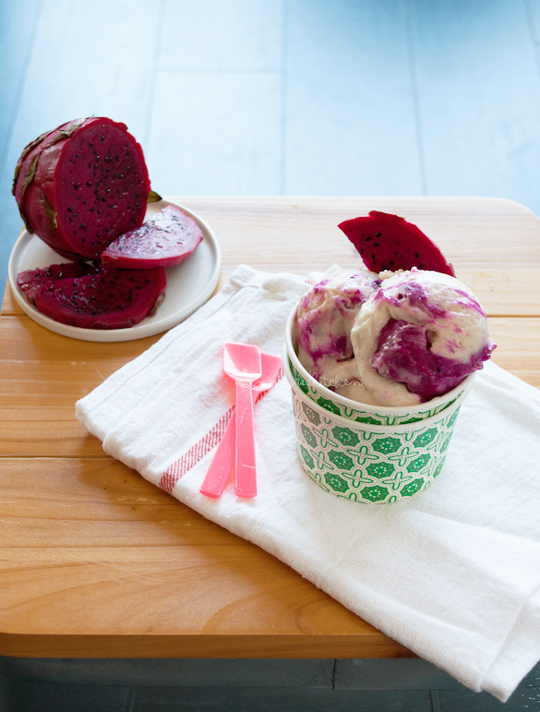 WOW! I love this banana soft serve ice cream with the bright pink dragon fruit. And I love it even more now that I know how easy it is to make!
Ingredients
2 ripe banana's
1 dragon fruit (preferably pink)
Instructions
(scroll down for step-by-step pictures)

Peel the banana, cut it in pieces and spread on a baking sheet lined with parchment- or wax paper.
Same with the dragon fruit: peel and cut it and also place on the same baking sheet.
Place the baking sheet in the freezer for at least 2 hours, but preferably overnight.
When you are ready to make the ice cream: place the frozen banana pieces in a food processor or high speed blender. A small one works best. (and leave the dragon fruit in the freezer)
Pulse or blend until the banana is crumbly. Scrape down the bowl with a rubber spatula.
Pulse again until the banana is gooey, scrape down with a spatula.
Pulse again until the banana is soft, creamy and has a soft serve like texture.
Use a rubber spatula to transfer the banana soft serve to a clean and wide container. Place the container in the freezer.
Clean the bowl of the food processor, place the frozen dragon fruit in the bowl.
Pulse until the dragon fruit has a sorbet-like texture.
Take the container with the banana soft serve out of the freezer and spread the dragon fruit ice cream on top of it:
Place it back in the freezer to harden or serve immediately, using an ice cream scoop to make beautiful scoops.
http://www.inmyredkitchen.com/dragon-fruit-banana-soft-serve/
Copyright Ellen Bannink- in my Red Kitchen
Enjoy!

Please note: The lovely people at Frieda's provided me with the dragon fruit. Thank you Frieda's!
You can find Frieda's products at Ralphs and Sprouts (LA Area). If you can't find what you're looking for, you can always ask your produce manager at the local store to order from Frieda's!