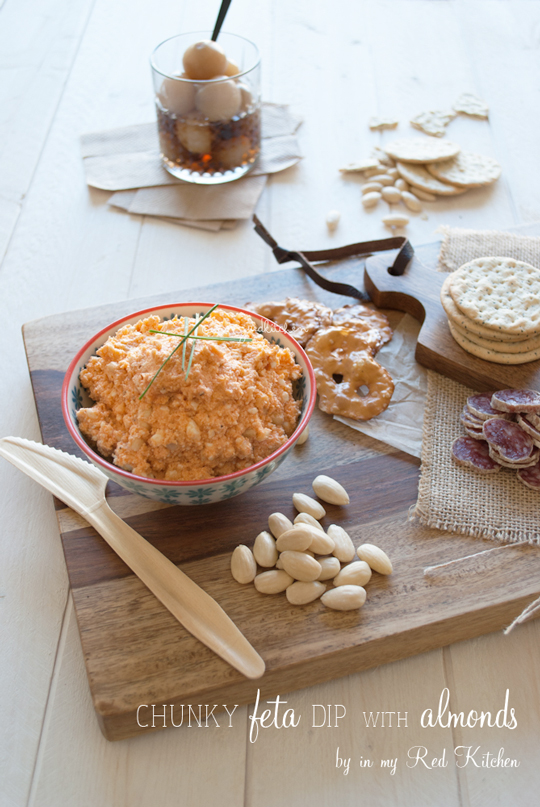 – Click here for this recipe in Dutch -> Feta spread met amandelen –
It is the start of day 4 of my month without sugars and refined carbohydrates, and it's going great! In the end I feel much better when I eat real food, so why do I fall in the same traps again every time and I find myself with a donut in one hand and a piece of pizza in my other hand, while I stand in line at the Starbucks to order a grande iced soy latte?
Or well, so to speak…
Since Monday I follow the 'Pure Food Challenge', something that I, together with my sister Karen, came up with. It hasn't been a problem for me to switch to unprocessed foods, once I've decided that I should eat healthy again I can easily push that reset button.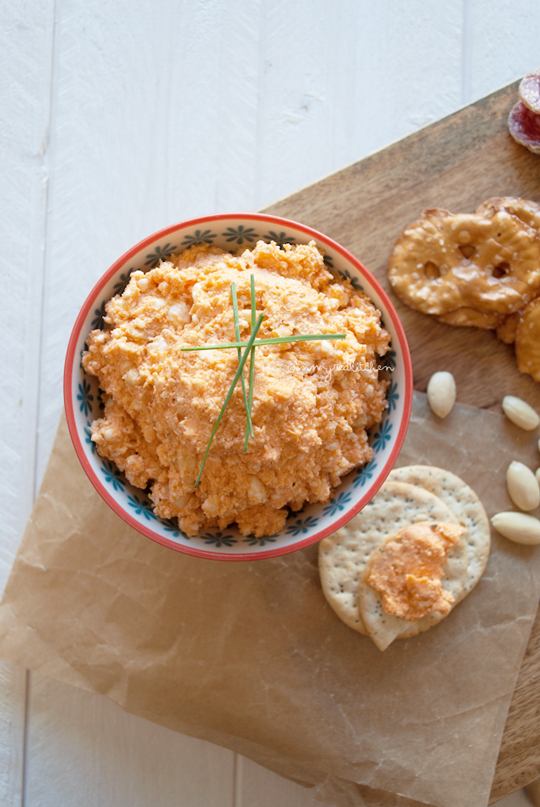 In fact, I walked through the grocery store this week, and I was again completely disgusted with all the processed products with added ingredients. Especially the candy aisle with kids choosing fake foods, grossed me out 🙁
While just last week I stood there chosing which candy I would buy to take with me to the picnic on the beach.
And now I read ingredients labels on the automatic pilot before I put a product in my cart, while lately I haven't even thought about looking at it.
Weird how that goes, eh?
Looking for healthier snacks, I suddenly thought of the chunky feta dip with almonds that I made for New Year's Eve -oh dear, it's been 8 (!!!) months ago, wow!- and that everyone liked. I made the feta dip based on 'Peynir Ezmesi', a spicy spread made of Turkish white cheese, a recipe I found on the blog of Eslem, a fellow Dutch food blogger who writes a blog called My Mixed Kitchen (Dutch only).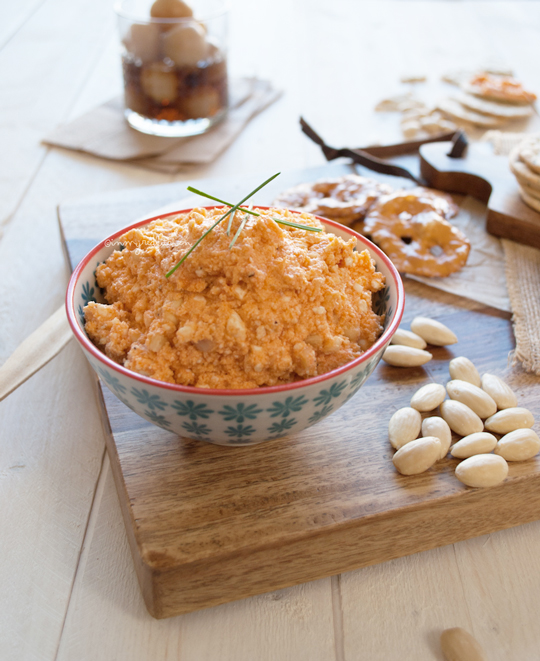 You can use this feta dip served with toast and crackers, but wheat is now a no-go area to me. So this month I eat this as a snack or lunch on some cucumber slices or homemade almond crackers.
The longer you keep this feta dip in the fridge, the better the taste will be of course. I kept mine in a sealed jar in the fridge for at least a week, and right now I'm going to make a new batch!
It's such an easy and great dip, I really love the chopped almonds that gives it a chunky bite. The sweet roasted garlic gives a perfect flavor to the salty feta.
So go ahead, dip away!
Chunky feta dip with almonds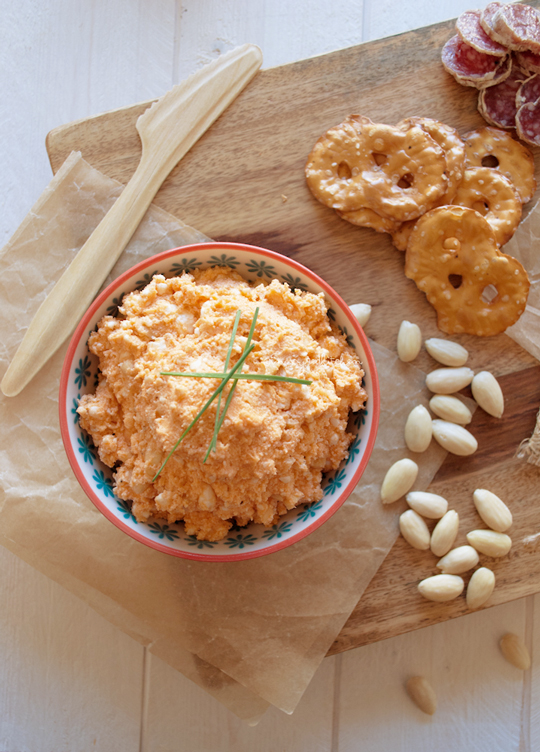 An easy and delicious chunky feta dip with almonds, your guests will love it!
Ingredients
8.5 oz feta (full fat)
2 Tbsp olive oil
1 Tbsp roasted garlic*
1 tsp tomato paste
¼ cup almonds, chopped
black pepper to taste
Instructions
Place the feta in a bowl and break it up using a fork.
Add the olive oil, roasted garlic, tomato paste and chopped almonds and stir to combine.
Add some extra olive oil if you want a creamier texture and add black pepper to taste.
Notes
* To roast the garlic:
-Preheat the oven to 375°F.
-Cut out a squared piece of aluminum foil of 10" and brush with some butter.
-Cut off the top off the garlic bulb and fold it in the foil. Lay on a baking sheet and roast for 45-60 minutes in the oven. The garlic will get soft and golden brown
-Unwrap the garlic and let cool off.
-Once cool, push the roasted garlic out of its skin. Mash it with a fork until you have a garlic paste. This will be about one tablespoon.
And while you're at it, why don't you roast some extra garlic bulbs? I always keep a jar of roasted garlic paste in the fridge and I use it for several things, like this Roasted garlic and lentil soup
http://www.inmyredkitchen.com/feta-dip-roasted-garlic/
Copyright Ellen Bannink- in my Red Kitchen
Enjoy!