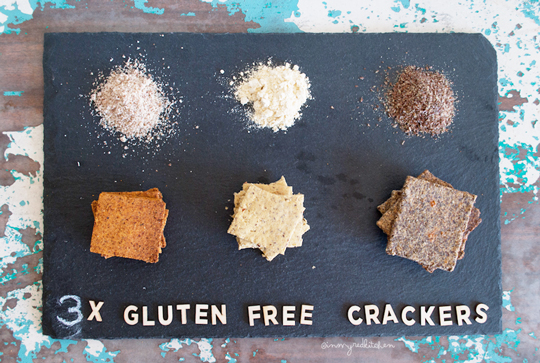 – Click here for this recipe in Dutch -> Glutenvrije crackers, 3 soorten –
Today is already the last day of September, and that means the last day of the Pure Food Challenge! For a month I ate 'pure', without any sugar and refined carbohydrates. During the week I actually ate no carbohydrates, on weekends occasionally some bread, flatbread or pancakes and then only the whole grain variety.
It went actually pretty good, my goal has been met in any case because I feel like I'm on the right and 'healthy' path again. Balance, that's the most important thing in a healthy diet. And that balance was the thing I totally lost this summer (yippee, cocktails! Ice cream! Vacation! Sun! Picnic! Beach party!) but I found it back through the Pure Food Challenge.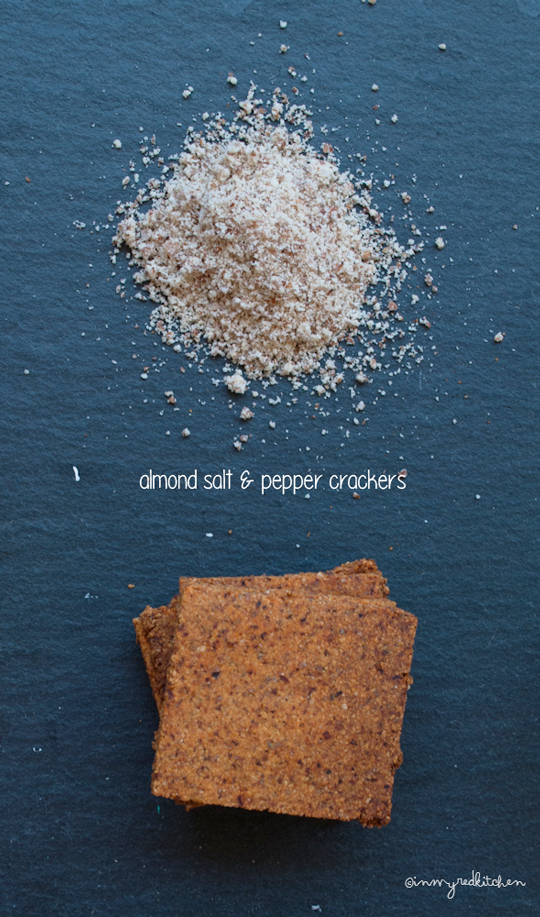 So finally again I eat smaller portions and in general I eat less. I lost the feeling that I have to eat something. Like all day, every day. Because that's how bad it was :O
At the beginning of this month I was still eating a lot, and snacking in the afternoon. But only healthy foods, like fruit, nuts but also crackers. The crackers I made at home, with almond flour, chickpea flour or flaxseed. And they all happen to be gluten-free!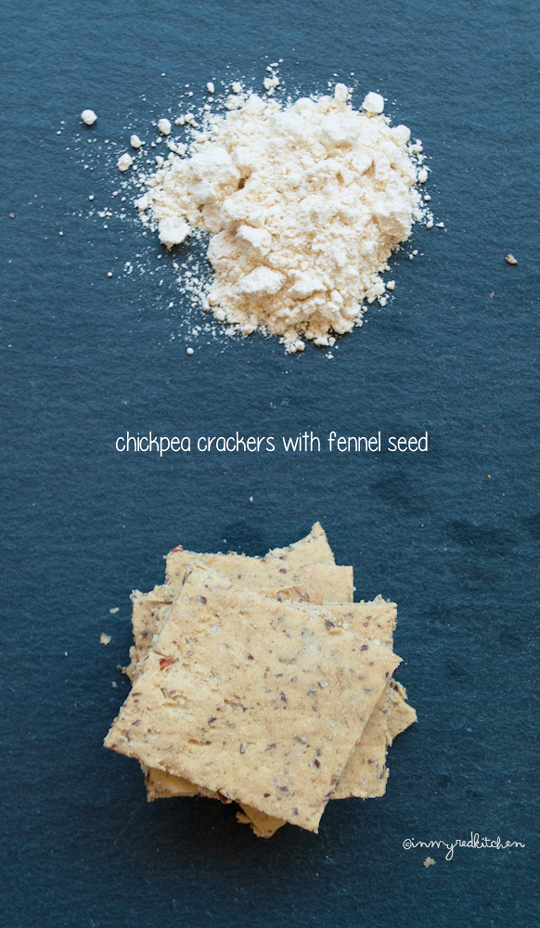 Before the Pure Food Challenge quite often I ate chips, something I really like. Yeah really, as in REALLY REALLY like. Same with fries… and basically everything carbs. But those yummy crunchy salty chips are the most perfect afternoon snack. Before I realized I always made ​​up an excuse to eat chips and, therefore, there was also always a bag of chips in the cabinet this summer. But because that bag of chips no longer fits into my healthy diet, I had to look for an alternative. At least, that's what I thought, because in the end there is nothing really that can compete with chips. When I also ended up with almond pulp after making almond milk at home, the choice was easy: almond crackers! Wow, that's easy to make, and besides, the crackers are very tasty. And the nicest thing was that I already had all the ingredients at home, because you don't need much ingredients for these crackers.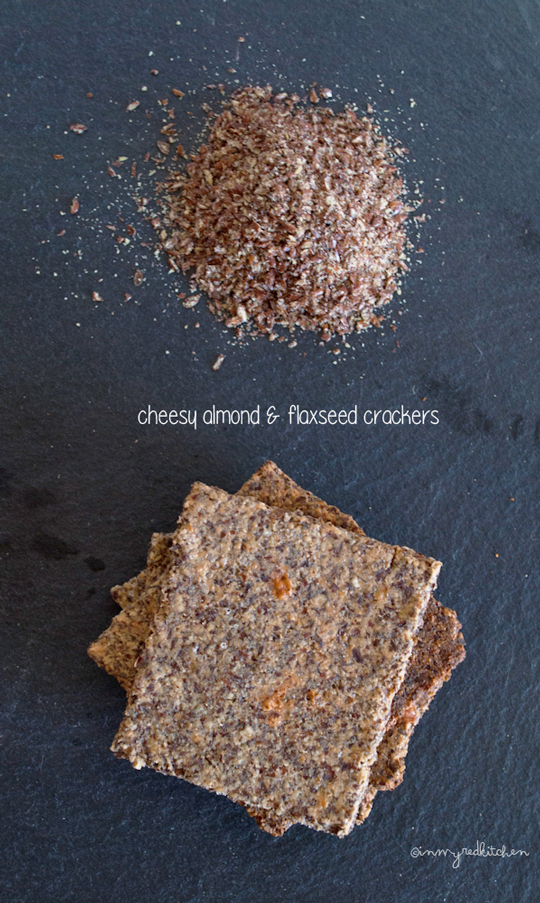 I remembered that I had made ​​crackers with chickpea flour before, so it was a small step to also made these again. And my sister gave me a recipe for cheese crackers made with flaxseeds, also very tasty! It was about time to collect the recipes for the gluten-free crackers and share them. I haven't eaten the crackers every day for the last week but that's simply because I'm a lot less hungry, but they preserve perfectly in an airtight container. Always good to have them ready for when a snack-attack happens!
And my favorite? The chickpea crackers with fennel seeds, of course. Because duh… chickpeas!
Gluten-free crackers, 3 ways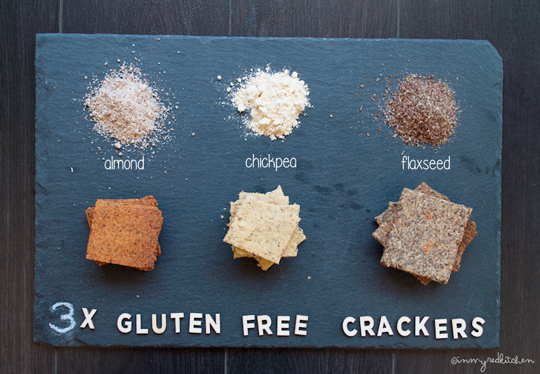 Gluten-free crackers, 3 ways. Always a good idea! Besides gluten-free, the almond crackers are paleo and vegan, the chickpea crackers are vegan and the flaxseed crackers are vegetarian
Ingredients
for the almond salt & pepper crackers:

2 cups almond flour
2 tsp ground black pepper
1 tsp coarse sea salt
1 tsp smoked paprika powder
2 Tbsp water
2 Tbsp olive oil

for the chickpea crackers with fennel seed:

1 cup chickpea flour (garbanzo bean flour or besan)
1 Tbsp ground flaxseed
1 Tbsp fennel seeds
½ tsp sea salt
½ tsp chili flakes
½ tsp ground cumin
¼ cup water
½ tsp olive oil

for the cheesy almond & flaxseed crackers:

½ cup almond meal
½ cup ground flaxseed
¼ cup grated cheddar
pinch of salt
1 egg
Instructions
For all the crackers:

Preheat the oven to 350 degrees F and line a baking sheet with parchment paper.
Mix the dry ingrediënts and stir with a fork to combine.
Add the wet ingredients and stir until a workable dough forms. Add a little bit of extra water if needed (1 tsp at a time), it depends on the dryness of the meal.
Place the dough ball on the lined baking sheet. Get another sheet of parchment paper or wax paper and place that on top of the dough.
Use a rolling pin roll out the dough until 1/8 inch thick.
Discard the upper sheet of parchment/wax paper and use a sharp knife to carefully cut 2 inch squares in the dough. This helps to break up the crackers once baked.
Bake in the preheated oven, until the crackers are firm and the edges starting to brown. (almond crackers: 12- 14 minutes, chickpea crackers: 15 – 20 minutes, cheesy crackers: 15 – 20 minutes)
Let cool, break, and store in a airthight container.
http://www.inmyredkitchen.com/gluten-free-crackers-3-ways/
Copyright Ellen Bannink- in my Red Kitchen
Enjoy!