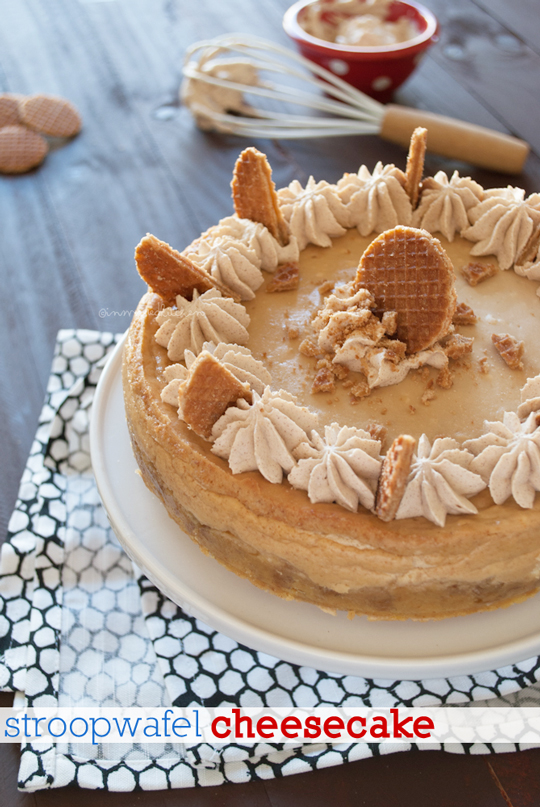 – Click here for this recipe in Dutch -> Stroopwafel cheesecake –
Oh boy … you must think I'm a little schizophrenic. Or at least a little crazy. A bit bipolar with here and there an identity crisis.
For a month I lived without sugar (except for the natural sugars in fruit) and refined carbohydrates, and so I ate super healthy. As pure and whole as possible, just to get some healthy eating habits again. And you could see that on in my Red Kitchen. All the recipes that I shared for the past 1.5 month were sugar and refined carbohydrates free.
And now I'm here again, with a cheesecake with Dutch stroopwafels.
Yeah… a stroopwafel CHEESECAKE. Oh dear… Millions of calories and lots of cream, sugar and butter. And typical Dutch 'stroopwafels', caramel waffles a.k.a. the BEST cookies in the whole world. And yes, you can buy those cookies at the American supermarket. Trader Joe's sells them, and of course Cost Plus World Market too. And look how beautiful this cheesecake came out. Can you blame me?
Okay, time for some explanation. I am very much in favor of fresh and tasty food. I don't like diets and depriving myself of things, even though I do that sometimes. Life must be tasty I think, and well balanced. So sometimes you eat something delicious that is actually not particularly good for you. But it's super tasty and of good quality, preferably homemade. Forget the nachos with cheese dip at the cinema, twinkies, red vines, or that muffin at the Starbucks. Choose quality and only the really good things and spoil yourself with that. Not every day, not too often and everything in moderation. And the next day you take a green smoothie for breakfast, which is the balance where it's all about. So not a pizza and then the next day a hamburger with fries.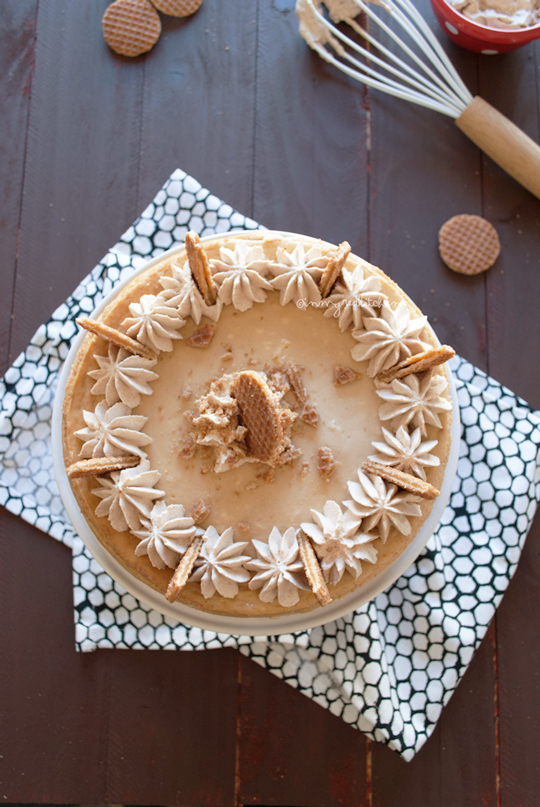 Now I tell you how it is actually supposed to work in life but I myself I'm not really good at that. Currently I am, though. I lost the urge to always 'must' eat something and if I'm craving pizza then I ignore that feeling because I don't need to eat a pizza today. It can wait a few days. I am constantly trying to teach myself those healthier eating habits and if I find myself going off track again then I'm setting myself a new challenge. For example, the Pure Food Challenge were my sister and I and some other followers on Facebook didn't eat sugar and refined carbohydrates for 30 days. Or I try Paleo, the so-called cavemen diet where you don't eat grains, beans, sugar, etc., only pure products such as meat, vegetables, eggs, fruit and nuts.
And now I feel like I'm on the right path again, I could bake another cake. Last week I did a test round, because I wanted to take this cake to the LA Cake Club. The cheesecake came out great, and without cutting it and eating a piece (or two!) as I would normally do, I wrapped the cheesecake and stepped in the car to deliver it to P's office so he could share it with his colleagues.
But of course last Saturday, at the LA Cake Club, I had a piece and it's super-duper delicious!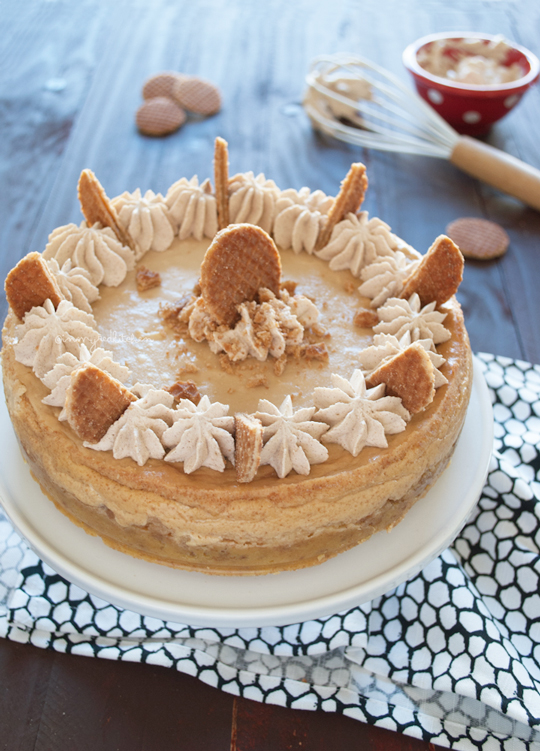 I found the recipe a while ago on Graham's blog Glazed & Confused. Graham lives in New Orleans and he wrote a super nice blog post about Amsterdam. I was moved by it and had to make this cheesecake.
Before I refer you to Graham's blog for the recipe here are some small changes that I have applied:
* Instead of using 2 cups Amsterdam cookies for the crust, which is 'a little over one box' as Graham says, I used one box of Amsterdam cookies and I filled up the cups with chopped stroopwafels. So I made the crust using two cups of crumbled Amsterdam cookies & chopped stroopwafels.
* I always tend to use less sugar in existing recipes. Same here, I went with ¾ cup sugar. And instead of regular sugar, I used coconut sugar because it has a natural caramel flavor. I figured it went well with the stroopwafels. Because stroopwafels are caramel waffles and the more caramel the better right? 😉
* Also in the cream, I used less sugar because the cake itself is sweet enough. Instead of maple syrup I again used coconut sugar. But also mainly because I found out that I ran out of maple syrup 😉 I'm also not too fond of cinnamon so I used half a tablespoon instead of one tablespoon.
Well, are you ready? Visit Glazed & Confused for the Stroopwafel Cheesecake recipe!
Enjoy!