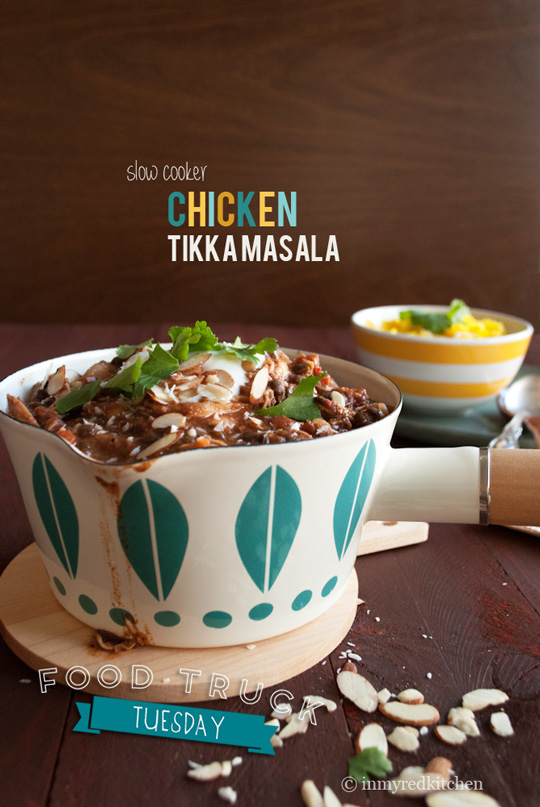 – Click here for this recipe in Dutch -> Kip tikka masala –
One of the best things of living in LA are the food trucks! My love for food trucks started almost two years, when we were in LA for vacation. P had to work that day and he took the car so I walked to the beach to sit there and read a book. On my way back I noticed I was a little bit hungry and right at that moment there it was: a food truck!
I stood in line and ordered a quesadilla. But then the lady in the truck asked me what kind of quesadilla I wanted. I panicked, looked at the menu but it was all in spanish so I ordered that one thing I knew what it was… Pollo!
I never ordered chicken at the Mexican restaurant, let alone prepped some Mexican food with chicken at home. No, I always chose beef, to me thát was Mexican food.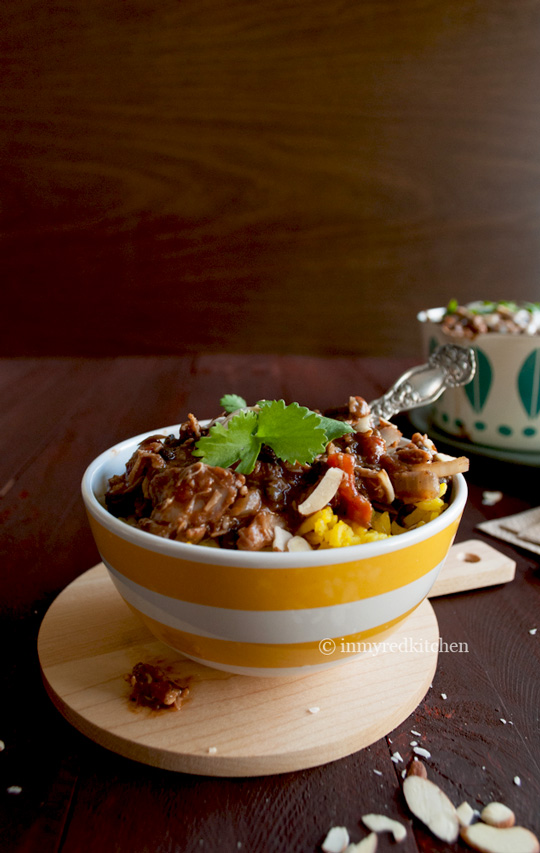 So there I was, in Venice with a chicken quesadilla… AND I LOVED IT!
So not only that was the moment I had my first Mexican chicken, it was also the moment I started loving food trucks.
And thank god for moving to LA and it's food truck culture. Good food for a cheap price made by passionate people, all over town.

We often go to the Santa Monica Food Truck Lot where different food trucks come together on Tuesday night. Many times -surprisingly enough- I don't feel like cooking on Tuesdays 😉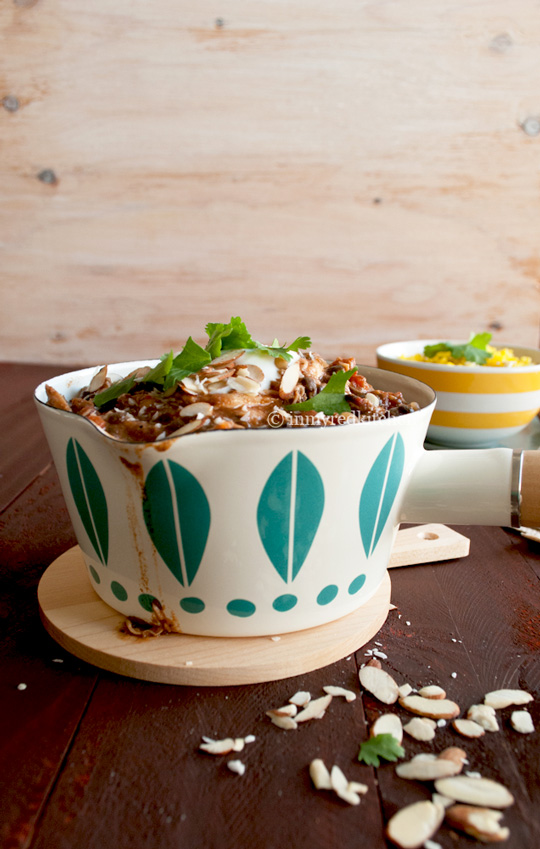 All these great food trucks in LA inspire me to cook new dishes so I came up with Food Truck Tuesday! Every first Tuesday of the month I will post a recipe inspired by the great food trucks of LA.
I'll start with this great slow cooker chicken tikka masala. A few weeks ago I ordered the 'Delhi-cious Chicken' from the Wicked Kitchen food truck. And boy, it wás delicious! I loved the slow cooked and pulled chicken, so fun to eat Indian meat that way instead of bite-sized chunks. The thick and creamy coconut tomato sauce was also delicious. So here it is, my slow cooker chicken tikka masala recipe:
Food Truck Tuesday – slow cooker chicken tikka masala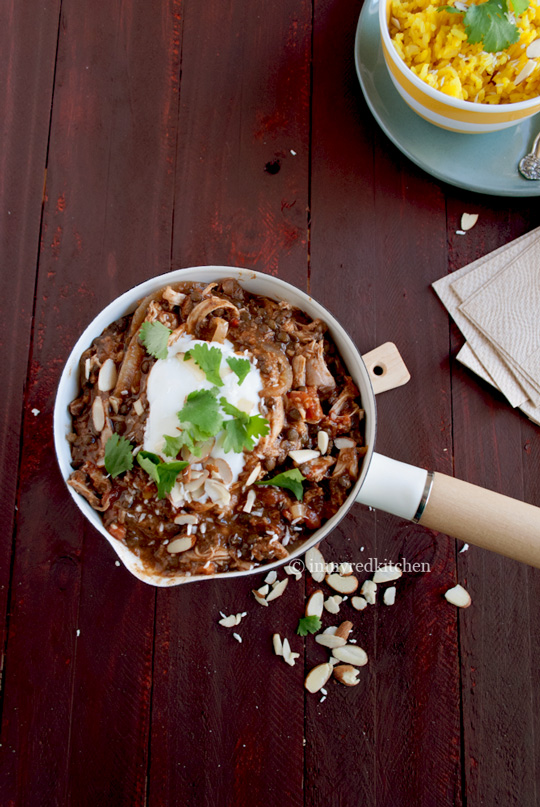 Delhi-cious chicken, this slow cooker chicken tikka masala has the perfect balance of pulled chicken, spice and creaminess!
Ingredients
for the curry paste:

20 – 25 sprigs cilantro (leaves and stems)
5 garlic cloves
1 serrano pepper, seeds removed
2 inch piece of ginger
¼ cup tomato paste
3 Tbsp canola oil
3 Tbsp shredded coconut
2 Tbsp garam masala
2 tsp smoked paprika
2 tsp sugar
1 tsp salt

for the tikka masala

curry paste as above (or 6-8 Tbsp store bought)
8 boneless and skinless thicken thighs
1 14 oz can diced tomatoes
1 14 oz can coconut milk
1 large onion, halved and sliced
2 cups cooked lentils
3 Tbsp shredded coconut
1 Tbsp corn starch
Rice to serve

for garnish:

cilantro
yogurt
sliced almonds
lemon
Instructions
First, make the curry paste by mixing all ingredients for the paste in a food processor or blender. Blend until combined.
Marinate the chicken thighs in the currypaste and let it rest for at least 30 minutes.
In the bowl of the slowcooker, mix the diced tomatoes with the coconut milk and the onion.
Place the chicken on top of the sauce and cook until the chicken is tender, for 4 hours or high or 8 hours on low.
Remove the chicken from the slowcooker (with the slocooker still on 'warm') and once cooled, shred them with two forks.
Transfer the shredded chicken back to the sauce, add the lentils and shredded coconut and stir to combine.
In a small bowl, combine 3 Tbsp of the curry sauce with 1 Tbsp corn starch. Mix until lump free and pour it back into the slow cooker.
Mix well and let it stand for 10 minutes until thickened.
Serve over rice with cilantro, yogurt, sliced almonds and lemon wedges.
Notes
Garam masala is a spice pix used in Indian cooking. You can make your own by mixing the following spices: • 2 tsp cumin • 1 tsp cinnamon • 1 tsp coriander • 1 tsp black pepper • ½ tsp ground cloves • ½ tsp nutmeg • ¼ tsp cayenne This will make 2 Tbsp garam masala, enough for this recipe
http://www.inmyredkitchen.com/slow-cooker-chicken-tikka-masala/
Copyright Ellen Bannink- in my Red Kitchen
Enjoy!