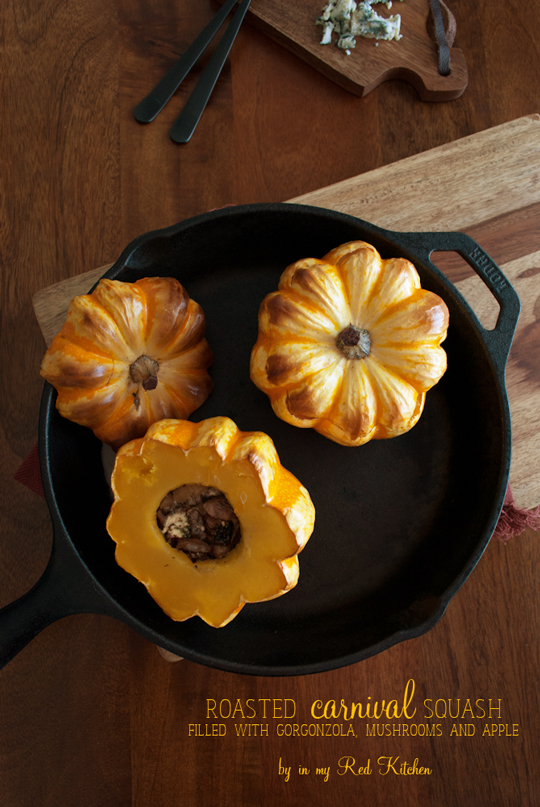 – Click here for this recipe in Dutch -> Gevulde pompoen met gorgonzola –
The last few days weren't as hot anymore as it was last week in LA. Ok still a really nice temperature, but no heat wave anymore. Now I could finally prepare the carnival squash I received from Frieda's. Because believe me, if it's so hot, I have absolutely no desire to turn on the oven, let alone to eat squash.
I didn't grow up with pumpkins and only two years ago I prepared my first pumpkin. Now I love it, but only in the fall! And I believe I will take some time before fall kicks in here.
When I saw those beautiful carnival squash I immediately knew what I wanted to do with it: they needed some filling! I can still remember the first time that I ordered pumpkin in a restaurant. Granted, it was all about the blue cheese that was also in that dish, because P doesn't like it so at home I eat hardly any blue cheese. In the restaurant they served a lovely little pumpkin that stood up and was filled with delicious gorgonzola. But… I never ate pumpkin before and so I didn't know if I could eat the skin. Oops!
I took the safe side and scooped out the pumpkin to leave the skin on my plate.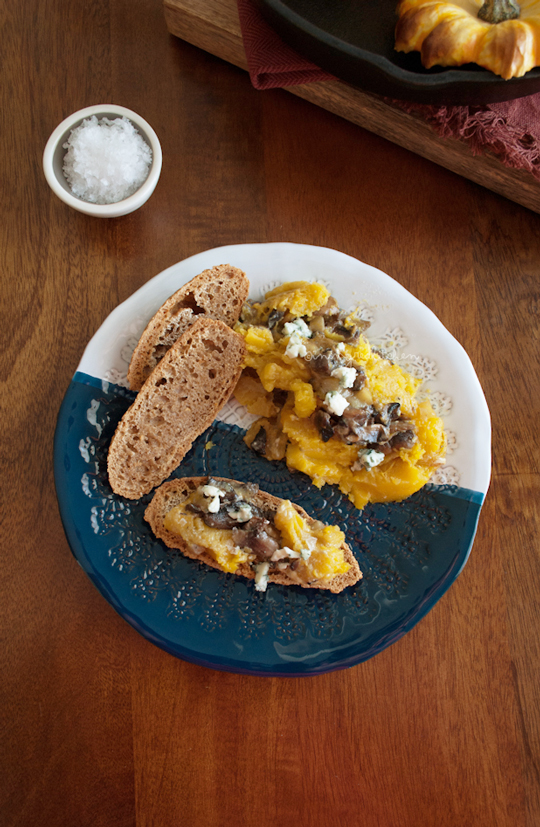 Now I know that you can eat certain types of pumpkin skin. The Carnival squash is not one of them, so I also scooped out this beauty.
The carnival squash has a sweet taste, and it fit perfectly with the creamy full flavor of the cheese and the earthy flavor of the mushrooms. To emphasize the sweetness of the pumpkin I added some apple to the gorgonzola mixture. Served on whole wheat toast and sprinkled with some Maldon sea salt it was a real treat!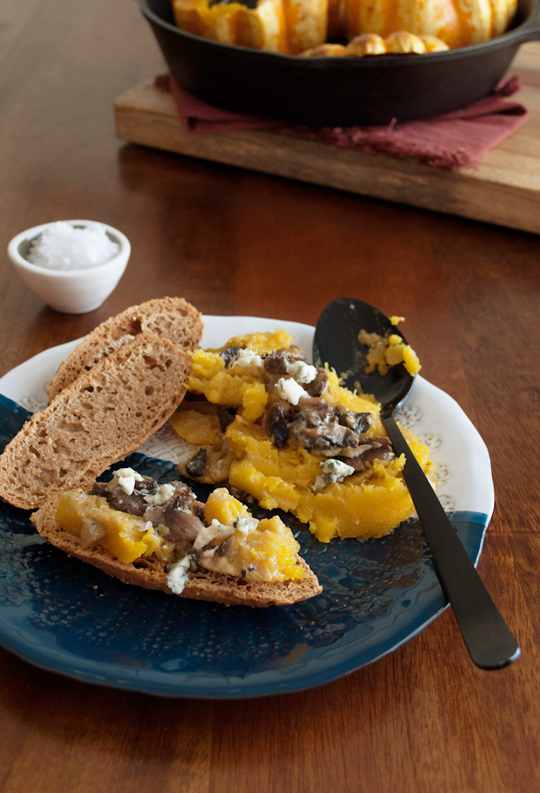 Let Fall begin now, I'm ready for it! I think 😉 What about you?
Roasted carnival squash with gorgonzola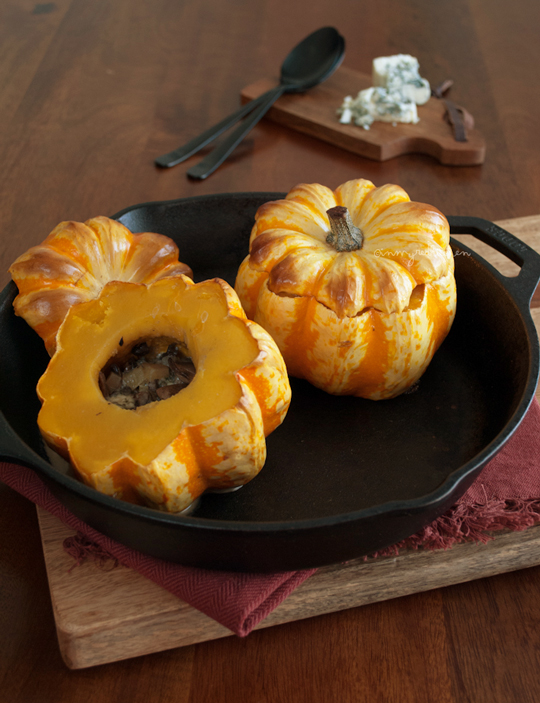 You'll bet I'm totally ready for fall now with the roasted carnical squash with gorgonzola!
Ingredients
2 (carnival) squash (each approx. 1 lbs and 05 oz)
4 oz mushrooms
1 Tbsp butter or ghee
2 oz gorgonzola
¼ apple
Instructions
Preheat the oven to 375 degrees F.
Slice off the bottom of the squash, so it can stand up in a baking tray. Also slice off the top, and scoop out the seeds* and fibers using a spoon. Don't dig too deep, keep the bottom intact!
Slice the mushrooms and give them a coarse chop.
Heat the butter in a skiller over medium high heat and cook the mushrooms for 5 minutes, or until soft.
Transfer the mushrooms to a bowl, break the gorgonzola in pieces and add that to the mushrooms.
Slice the apple in small cubes, add to the mushrooms and stir to combine.
Place the squashes in a baking tray or large iron skillet, give them enough space so the hot air can circulate around them.
Fill the squashes with the gorgonzola mixture and place the 'lids' (the tops) back.
Roast the squash in the oven for 50 – 60 minutes, or until the flesh is soft en tender.
Serve immediately and use a spoon to scoop out the soft squash and gorgonzola mixture. Add some maldon sea salt to taste.
Notes
If you can't find carnival squash, you can also use Acorn squash, Delicata squash or a sugar pie pumpkin
* Don't throw away those seeds, roast them!
http://www.inmyredkitchen.com/roasted-carnival-squash-gorgonzola/
Copyright Ellen Bannink- in my Red Kitchen
Enjoy!