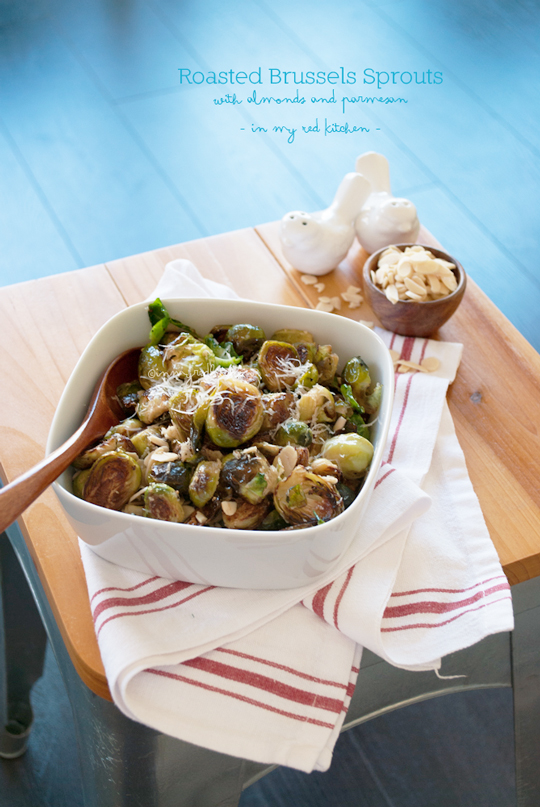 – Click here for this recipe in Dutch -> Geroosterde spruitjes met amandelen –
Brussels sprouts. Something I didn't like when I was young, I should believe my mother. But I can't remember that I ever ate Brussels sprouts when I was little so I honestly wouldn't know it.
Maybe it's just a thing you know, kids don't like Brussels sprouts. Brussels sprouts are 'yuck' so kids don't eat it.
But now I know better. You too? Because sprouts are very tasty! P prefers them mashed with potatoes, I eat my Brussels sprouts roasted. It must have been about 8 years ago since I made ​​cooked Brussels sprouts for the first time. Brussels sprouts stir-fried with raisins and almonds. Something like that. I got that recipe from a recipe card, I must have picked it up from a well-known Dutch supermarket. It tasted yummy! Especially if you know how to combine the slightly earthy and bitter flavor of the sprouts.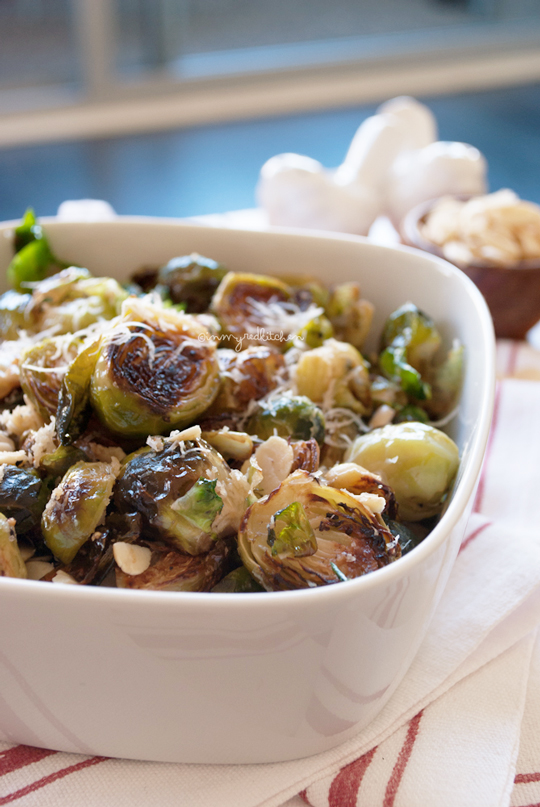 But nowadays I eat those sprouts straight from the pan, without additives. I really love the taste. Usually I roast them in ghee with some bits of bacon spread out on top. But not so long ago I ate a Brussels sprouts dish with Parmesan cheese and almonds at my favorite pizza restaurant. And that was so delicious! So that's why I stirred some Parmesan cheese and almonds in my roasted Brussels sprouts. Oh boy, that was good!
These roasted Brussels sprouts with almonds would really be a perfect side dish for the upcoming holidays. Here you are!
Roasted Brussels sprouts with almonds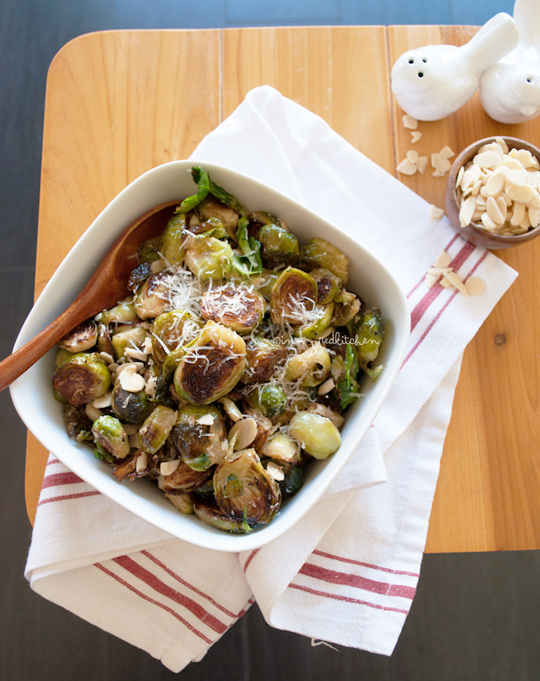 I didn't like them as a kid (but who did?!) but now I LOVE them! I prefer my Brussels Sprouts roasted, and you?
Ingredients
2 pounds Brussels sprouts
3 Tbsp melted ghee (or butter)
Kosher salt and pepper
½ cup sliced roasted almonds
½ cup grated parmesan cheese
Instructions
Preheat your oven to 400°F. Cover a baking sheet in aluminium foil and trim the ends from the Brussels sprouts.
Cut the sprouts in half, spread them on the baking sheet and toss them with the melted ghee and sprinkle with salt and pepper. Remove any loose leaves and keep them in a bowl, set aside.
Make sure to spreat out the Brussels sprouts in one layer and roast them in the oven for 30 minutes.
Set a timer to flip them over every 10 minutes, so they roast evenly. After 20 minutes of roasting, add the loose leaves to the Brussels sprouts so they can also crisp up.
Transfer the roasted sprouts to a bowl and mix in the almonds and cheese. Mix to combine and serve immediately, with some extra almonds and cheese sprinkled on top.
http://www.inmyredkitchen.com/roasted-brussels-sprouts-almonds/
Copyright Ellen Bannink- in my Red Kitchen
Enjoy!