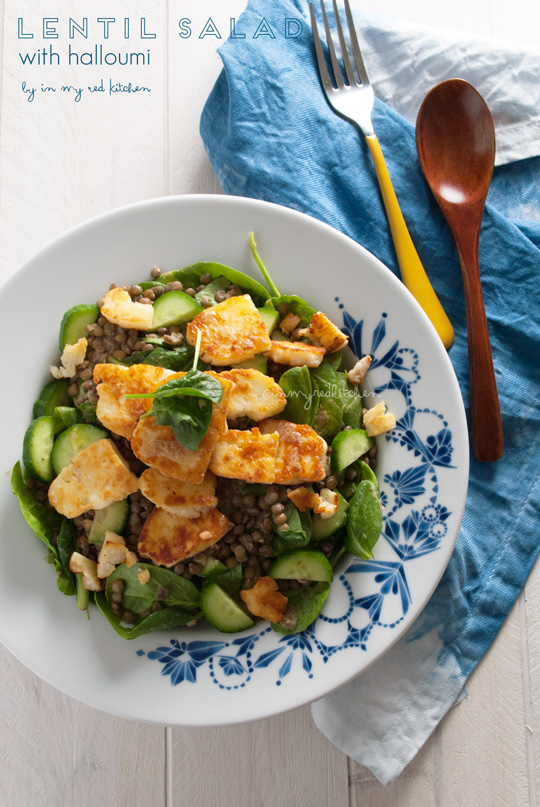 – Click here for this recipe in Dutch -> Linzensalade met halloumi –
Finally I can wholeheartedly say that I'm able to eat healthy again! That makes me so happy because I really missed it but I just couldn't stand it. Being pregnant is so fun (NOT!)…
I really missed it to enjoy vegetables, as I had taught myself over the years. At least, I thóught I liked vegetables because they're healthy, but it turns out that I really like them! Growing up I didn't like vegetables at all. Yes, Belgian endives but that was only because they were wrapped in ham and cheese. Or those sweet canned green beans. But since I really started to like vegetables those canned beans don't work for me anymore!
At the end of my 2nd trimester I have a new favorite dish every week. P works late lately so often I eat my dinners alone. Two weeks ago, this lentil salad with halloumi found my plate in various forms, instead of halloumi I tried feta (not as nice;-)), I ate it as lunch with thinly sliced ​​raw red onion (not so successful in my case, but feel free to add that to the salad) and I ate it with roasted sweet potato (very tasty, but the night I was putting on the photo I did not want to spent time roasting the potatoes first 😉 ).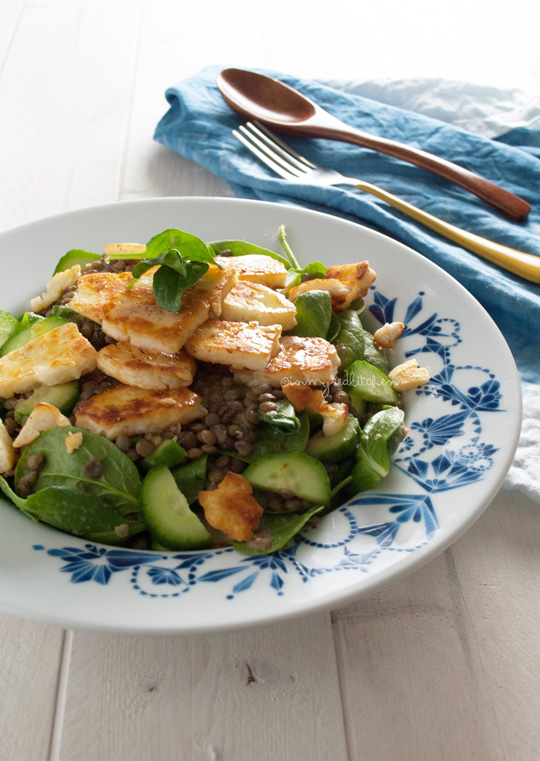 Last week it was zucchini noodles' turn, I've eaten it a few times with roasted sweet potato & chickpeas and a curry sauce.
And this week it's time for tomato with mozzarella, basil, olive oil, balsamic vinegar and strawberries. Yes, you saw that right, tasty sweet strawberries that taste good combined with the other ingredients.
I wonder what next week will bring! Perhaps, this lentil salad with halloumi will be back in the rerun!
Lentil salad with halloumi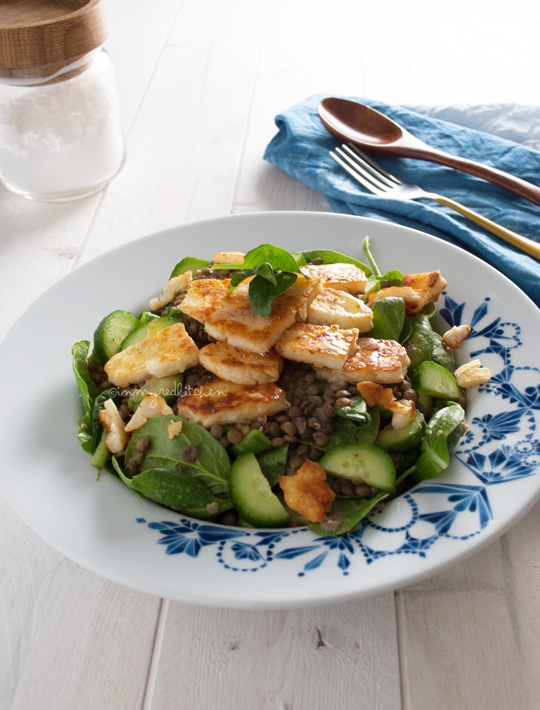 A summery and light lentil salad with halloumi, spinach and cucumber. Perfect as it is!
Ingredients
1 cup lentils (French/Le Puy)

for the vinaigrette:

1 Tbsp olive oil
2 tsp raspberry vinegar
1 tsp Dijon mustard
pinch of salt

for the salad:

2.5 oz spinach
1 cucumber, halved and sliced
8 oz halloumi
1 Tbsp olive oil
Instructions
Cook the lentils according to the instructions on the box.
Make the vinaigrette by mixing the ingredients together.
Drain the lentils and stir in the vinaigrette.
Add the spinach and cucumber and stir to combine.
Cut the halloumi in bite-sized pieces and bake in olive oil until golden brown.
Serve the halloumi on top of the lentil salad.
http://www.inmyredkitchen.com/lentil-salad-with-halloumi/
Copyright Ellen Bannink- in my Red Kitchen
Enjoy!