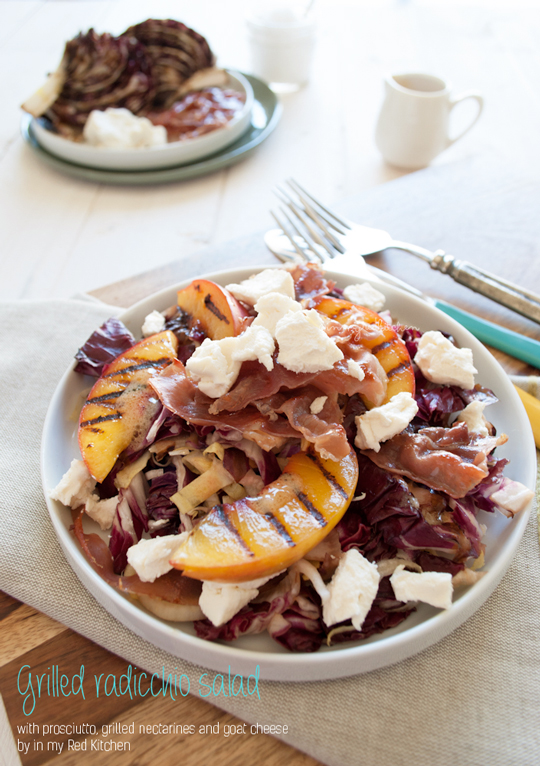 – Click here for this recipe in Dutch -> Gegrilde radicchio salade met parmaham & nectarine –
Ever since I was a child I love bitter flavors. Okay, but to be honest: only when they are combined with something sweet or salty.
When I was a little girl still my love for bitter flavors resulted mainly in liking Belgian endive. And that was pretty special because I did not like vegetables at all. But I liked Belgian endive oven baked with (lots!) of ham and cheese. In fact, I loved it! But that was of course also because of the ham and melted cheese. Only much later, when I was living on my own for years already and I finally liked goat cheese, I made myself an oven baked version with prosciutto, goat cheese and honey.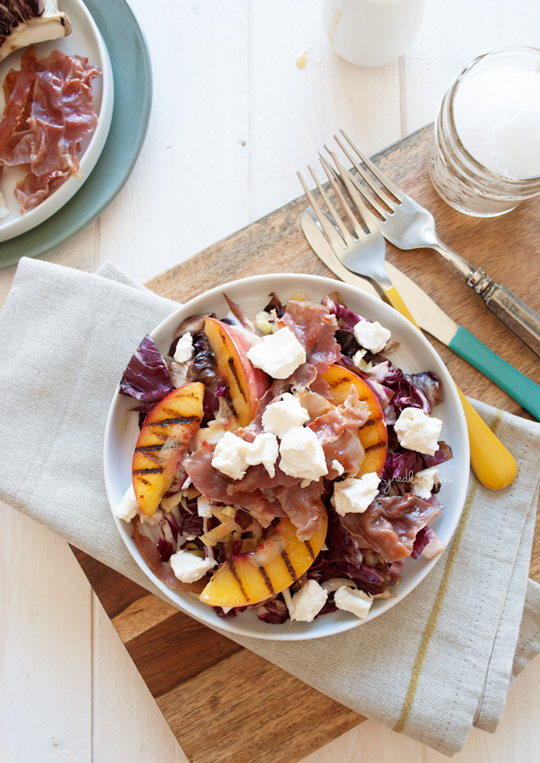 Sweet, salty and bitter: delicious! In my favorite soda 'Bitter lemon', I discovered the amazing combination of sweet and bitter. Last week I found out by chance that the grocery store around the corner sells Schweppes 'bitter lemon'. Whoopee! Because I thought that I couldn't get proper bitter lemon in America. I immediately bought a bottle of vodka to mix it 😉
When I was younger I drank bitter lemon without vodka of course, and still my grandmother asked (when I was in the Netherlands a few months ago) if I wanted a glass of bitter lemon when I was there. Haha, so it's become my signature soda actually 😉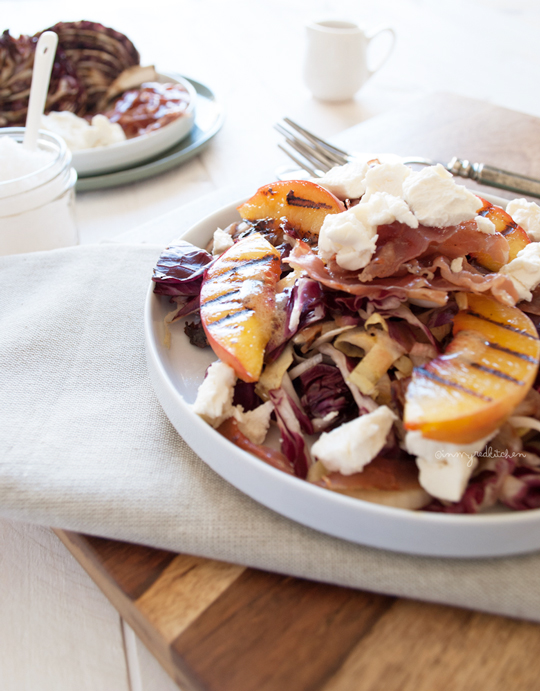 Last week Frieda's sent me another box with delicious vegetables and it had two radicchio's. Radicchio is an Italian uh … cabbage? No actually it is a red chicory, which is a family of the famous Belgian endive. Only radicchio is slightly larger and rounder, so it looks more like a cabbage. It has a bitter taste, so I was liucky! I couldn't remember that I've bought it since moving to America, but in Amsterdam I cooked with it a few times.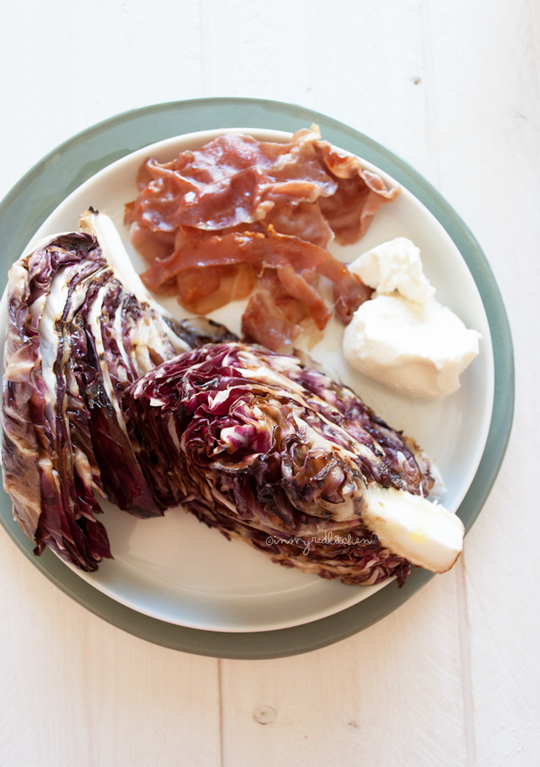 And again hooray! Because I found back the recipe that I kept as a note on my phone from 2 years ago. It said: 'Garlic, salt, mustard, balsamic and oil. Sprinkle radicchio with olive oil and salt. Grill in griddle pan. Cut and serve with dressing and cheese'.
For this occasion I decided to adapt the recipe and make a grilled radicchio salad of it with prosciutto because the saltyness of the prosciutto fits perfectly with the bitter radicchio. And while I was making the salad I saw some ripe nectarines at the fruit bowl. Whoa! Should I? Yeah I did: I cut one of them into wedges and grilled it right here in the griddle pan that was already on the stove. And the result? A SUPER tasty salad with bitter radicchio and Belgian endive (because that was also in the box of Frieda's), salty prosciutto and sweet nectarine. A flavor explosion! So good that I didn't just ate it for lunch that day, but as dinner as well! That says enough right?
Grilled radicchio salad with prosciutto and nectarines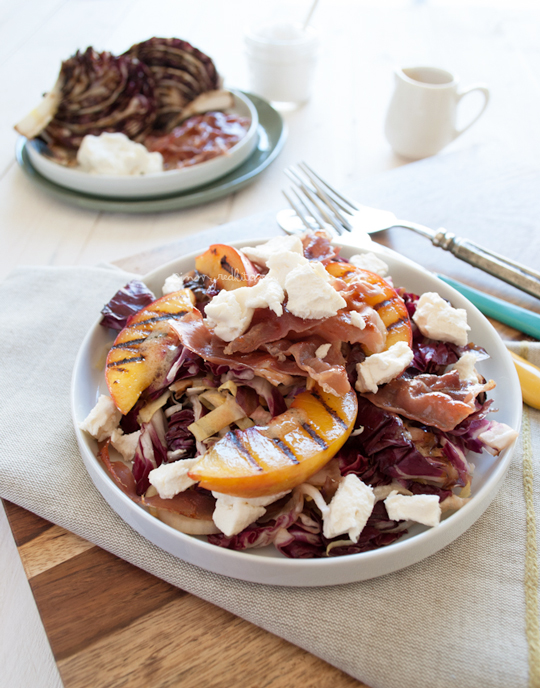 Bitter, sweet and salt; this salad is an explosion of flavors! So good!
Ingredients
1 clove garlic, pressed
1 tsp mustard
2 Tbsp olive oil (divided)
1 Tbsp raspberry vinegar (or balsamic)
1 tsp salt (divided)
1 radicchio
2 Belgian endive
2 nectarines
4 oz prosciutto
4 oz soft goat cheese
Instructions
Mix the garlic with the mustard, 1 Tbsp olive oil, raspberry vinegar and a pinch of salt and set aside.
Heat a griddle pan over high heat.
Cut the radicchio in quarters and drizzle with the remaining olive oil and salt.
Grill the radicchio in 1-2 minutes per side on high heat until grill marks appear.
Transfer the grilled radicchio to a cutting board and slice in 0.5 inch strips. Place in a bowl.
Remove and discard the core of the belgian endive, slice the leaves in really thin strips and add to the grilled radicchio.
Drizzle with the dressing and set aside.
Heat the griddle pan again over high heat and cut the nectarines in 0.5 inch thick slices. Grill the slices on both sides until soft.
Cook the prosciutto in a dry skillet over high heat until crisp, transfer to a plate lined with kitchen towels and break into smaller pieces.
Break up the goat cheese as well.
Serve the grilled radicchio salad garnished with the grilled nectarines, prosciutto and goat cheese.
Notes
If you don't like goat cheese you can also leave it out or substitute it for shaved parmesan
http://www.inmyredkitchen.com/grilled-radicchio-salad-prosciutto-nectarines/
Copyright Ellen Bannink- in my Red Kitchen
Enjoy!
Please note: The lovely people at Frieda's provided me with the radicchio and Belgian endive. Thank you Frieda's!
You can find Frieda's products at Ralphs and Sprouts (LA Area). If you can't find what you're looking for, you can always ask your produce manager at the local store to order from Frieda's!