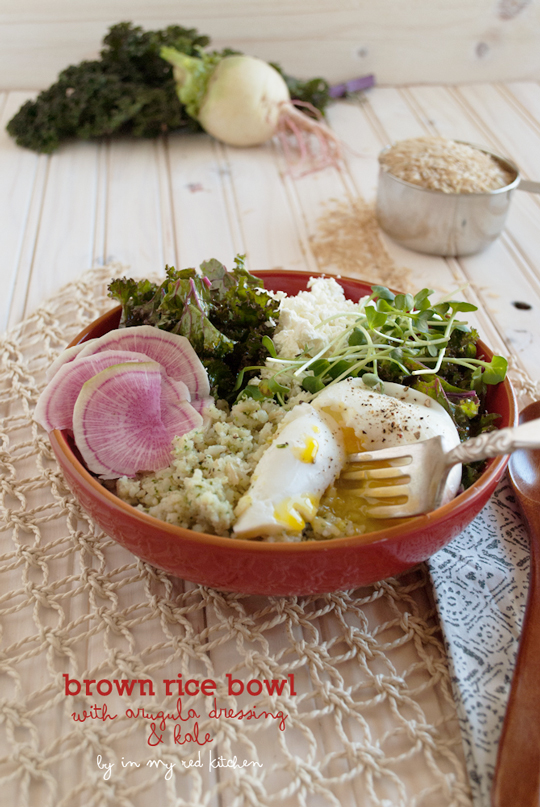 Last week P and I saw the documentary 'Fed Up' at the theatre. I've seen my fair share of food documentary as I was working at the largest documentary film festival for five years before moving to Los Angeles.
Documentaries like Food, Inc., Our Daily Bread, Sushi: the Global Catch, The End Of the Line but also of course 'Jiro dreams of sushi', I've seen them all.
But still 'Fed Up' made me think. It made me think of the way we eat and the way we live. Even though I know it is important to be aware of what you eat, I still buy processed foods one in while without looking at the labels. Of course, my eating habits have improved over the years and I don't eat as bad as I used to do (using store-bought mixes) but I still buy pesto at Trader Joe's because it's easier than making it yourself.
And what are we talking about? Pesto, peanut butter, spicy sesame dressing and granola for example are so easy to make at home. So why do I keep buying it?
Take a closer look at nutrition labels for a second. Do you notice that the percentage of daily value for sugar isn't put on the label? You can see how many grams of sugar there is in the product but the percentage of how much you can eat per day is missing. Crazy huh? So you will have no reference at all and that's the part we should worry about. And that's the case for nutrition labels, P even noticed it on the label on the bottle of raw pressed juice I drink weekly!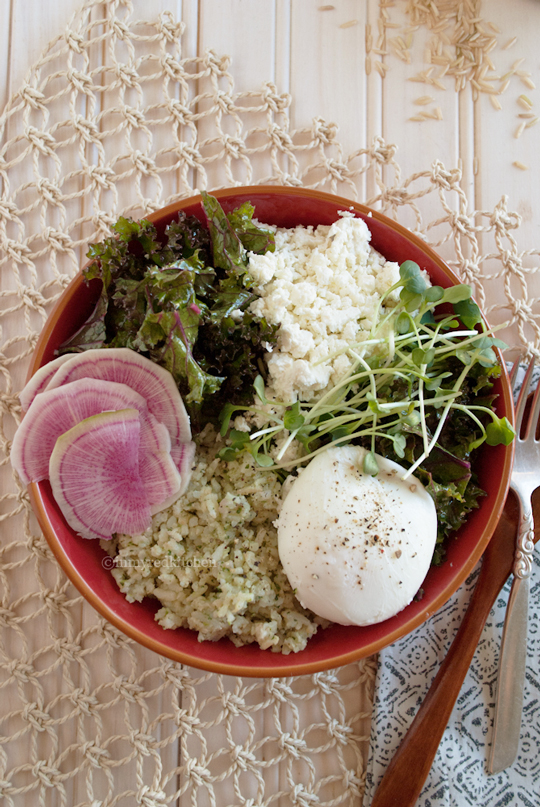 I don't believe in diet and fat free products and that's what is also mentioned in the documentary. You need fat and sugar to make a product taste good, so when you decrease the fat to make a product fat free you have to add more sugar.
It was heartbreaking for me to see overweight 12 year old kids in the movie who were crying because they had a hard time losing weight. They were exercising more and they changed their diet to fat free products. Also their parents didn't know what to do.
And in the meantime there was nobody who told them they should eat whole foods and stay away from the diet and fat free products. Eat products of nature instead of products of industry! I know I'm blessed to live in LA where there is a Farmers Market everyday, where I live close to a butcher shop who sells local organic raised meats and I can afford to buy daily fresh fish.
But how hard can it actually be? Modern times didn't do us that good, with too many choices to eat cheap products that were made in a factory. I suddenly remember another heartbreaking documentary about food insecurity and hunger, it's called 'A Place at the Table'. There's enough food in the US to feed everybody but still many kids (& their parents) go to bed hungry and don't have access to fresh whole foods and seasonal products. Crazy huh? I really need to figure out how I can help those people because it makes me so sad 🙁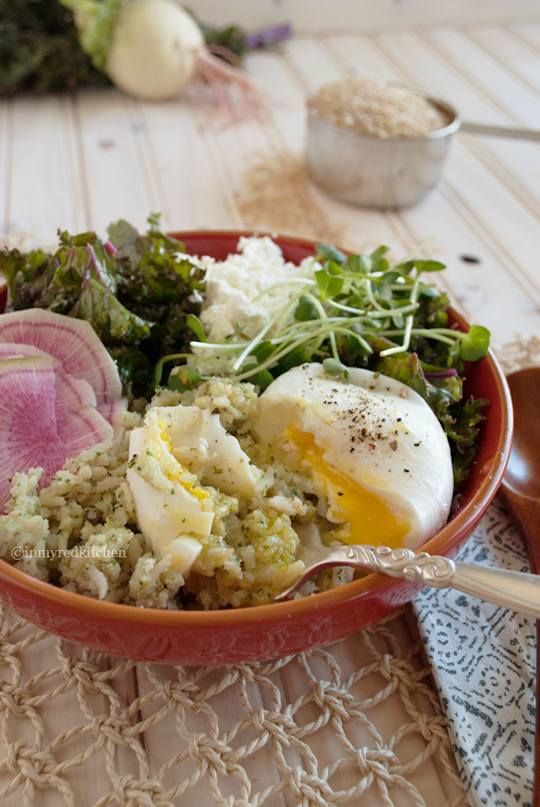 But first I will start taking the Fed Up challenge to skip sugar for 10 days from my menu! That means reading & understanding labels and eat healthy and 'clean'.
This brown rice bowl with kale is the best way to start with it. I love making my own dressings and this one is just the best! You stir it in the warm cooked rice and it will blend  together beautifully so you have a perfectly seasoned rice as a base for this dish.
I just love everything in this dish, the salted feta, the healthy greens and the poached egg.
It's important to use brown rice instead of white rice, because you should eat naturally to stay healthy!
This recipe is for 6 to 8 portions so that makes it ideal for meal and lunch prepping! Just season the rice and kale and put everything together before serving. You can even serve a soft boiled egg instead of a poached egg.
Brown rice bowl with kale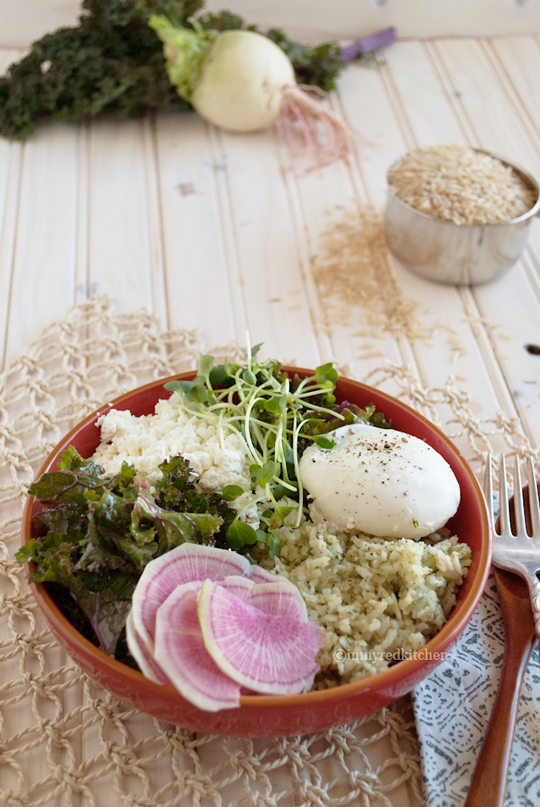 Eating 'clean' and healthy isn't hard with this beautiful brown rice bowl with kale!
Ingredients
2 cups brown rice
2 oz arugula
¼ cup olive oil
¼ cup thinly sliced red onion
1/3 cup grated parmesan cheese
2 cloves of garlic
salt & pepper to taste
4 stems kale, leaves only
3 Tbsp red wine vinegar
1 Tbsp olive oil
1 watermelon radish
2 cups daikon cress
14 oz feta, crumbled
6 – 8 poached eggs*
Instructions
Cook the rice according to the instructions.
To make the dressing: add the aragula to a food processor and pulse until fine. Add the olive oil, red onion, parmesan and garlic and blend everything until combined.
Stir the dressing into the warm brown rice.
Wash the kale, put in a bowl and add the red wine vinegar and olive oil. Massage the oil and vinegar into the kale, this will help making the kale tender.
Peel the watermelon radish and use the peeler or a mandoline to thinly slice the watermelon radish.
Serve the brown rice with the kale, the sliced watermelon radish, the daikon cress, feta and poached eggs*.
Notes
*How to poach an egg: bring a large pot of water to a soft boil, almost a simmer. Crack one egg in a small bowl. Once the water boils, add 1 Tbsp of vinegar, and give the water a really really really soft stir with a spoon so there is a tiny vortex. Pour the egg in the middle of that vortex and let it softly boil for about 3 minutes untill the egg whites are done. Take out the poached egg with a slotted spoon and serve on top of your rice. See! That wasn't that hard was it? 😉 And remember: practice makes perfect!
This recipe is for 6 to 8 portions so that makes it ideal for meal and lunch prepping! Just season the rice and kale and put everything together before serving. You can even serve it with a soft boiled egg instead of a poached egg.
(I made this brown rice bowl because I love the Kokuho Rose Brown Rice Bowl from SQIRL so so so much!)
http://www.inmyredkitchen.com/brown-rice-bowl-kale/
Copyright Ellen Bannink- in my Red Kitchen
Enjoy!