I totally love the idea of Meetup.com! I found this website while I was looking for other foodbloggers in LA. So when Christine from Feed My Sole organized a Four Course Prix-Fixe Dinner at Hinoki & The Bird I immediately rsvp'd YES! Back in Amsterdam -while we already knew we would be moving to LA- I started to follow Hinoki & The Bird on Twitter and I really wanted to go there for dinner. So this was my chance!
And it was also a chance to do something social for myself since we've arrived in Los Angeles. It was so exciting, but I also knew I needed some time with like minded foodies 🙂
Hinoki & The Bird is a Silk Road-inspired restaurant which just opened 6 months ago in January. I got attracted by the Asian/Californian menu, like the corn soup with cilantro and hijiki (seaweed). It's sounds great to me!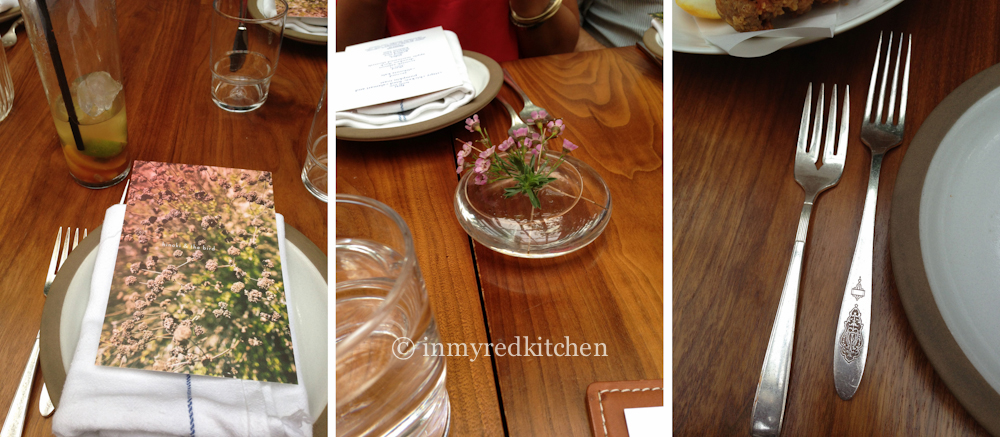 And wow, the whole experience at Hinoki & The Bird was stunning. The food was great and well balanced and the service was also perfect. Really friendly staff, the way it's supposed to be! The restaurant was easy to find. Oh wait, that was because I knew the neighbourhood already because of all the shopping I did at the Century City Mall 😉 But no really, I think Hinoki (I hope it's ok I use this abbreviation) is easy to find and also the valet parking works smooth.
When I came in, Puno from Octoplace was already drinking a cocktail at the bar. And oh my, those cocktails looked good! I ordered a Bird Cup, that's their take on a Pimms Cup with muddled citrus, cucumber, mint & ginger. It was soooo good so I didn't like I could only drink one because I had to drive. That's definitely a thing I need to get used to. In Amsterdam we could drink unlimited  and anything we want and step on our bikes to get home. Works fine for me. But here in LA one of us has to drive home so has to stay sober. And since I was on my own that night at Hinoki I had to drive home 🙁
When Christine (+ her husband) and Stephanie from Volted arrived we got seated outside on the beautiful patio. The atmosphere is great there, it feels really intimate.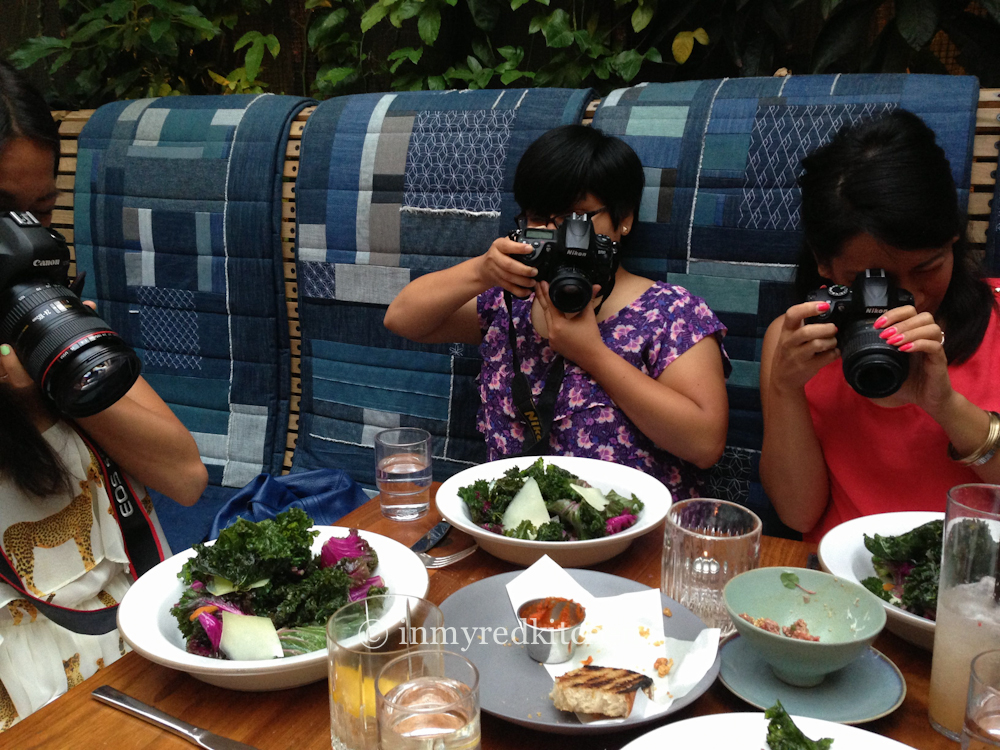 This was our four course menu: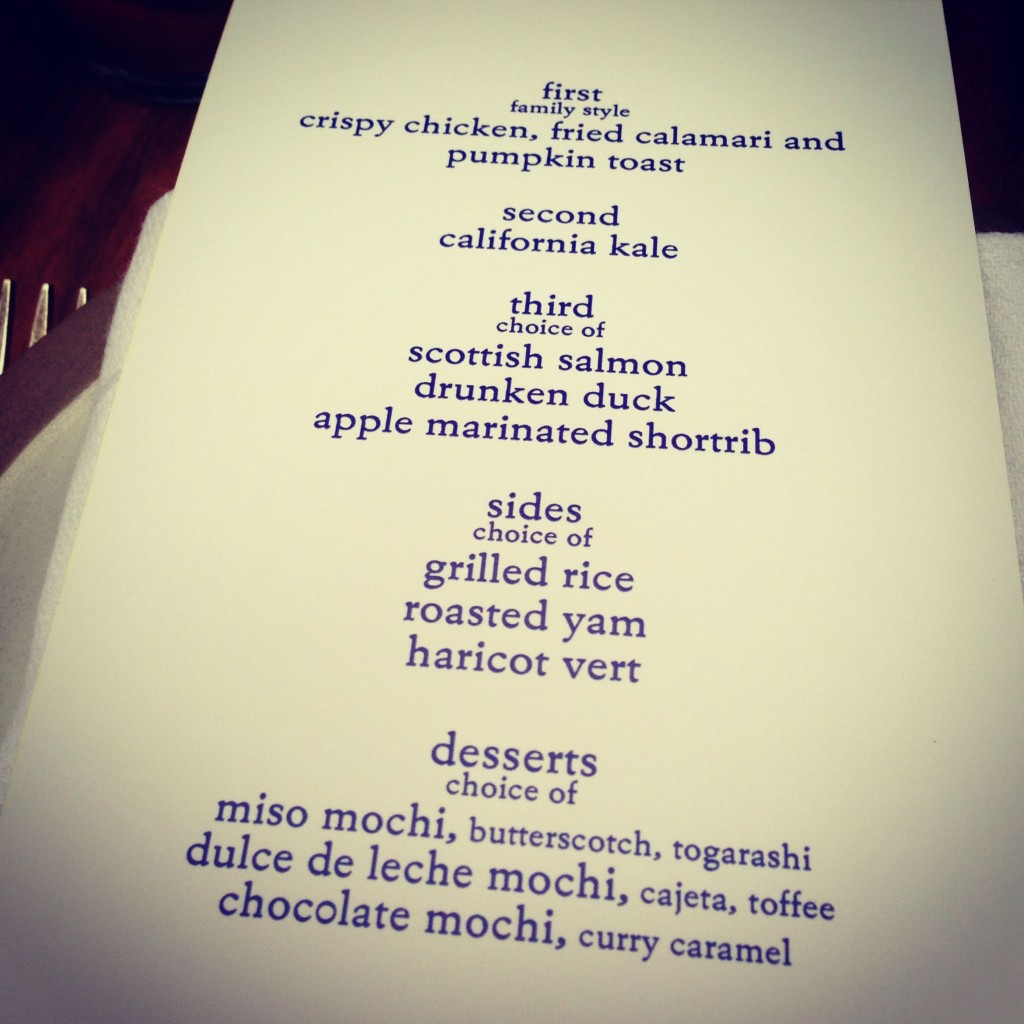 For the third course I chose the drunken duck with the roasted yam. That was difficult, it al sounded great! But luckily we all shared some so I got to try almost all of them.
Dessert was also a difficult choice but I went for the chocolate mochi. Oh my oh my we all agreed that was the best one!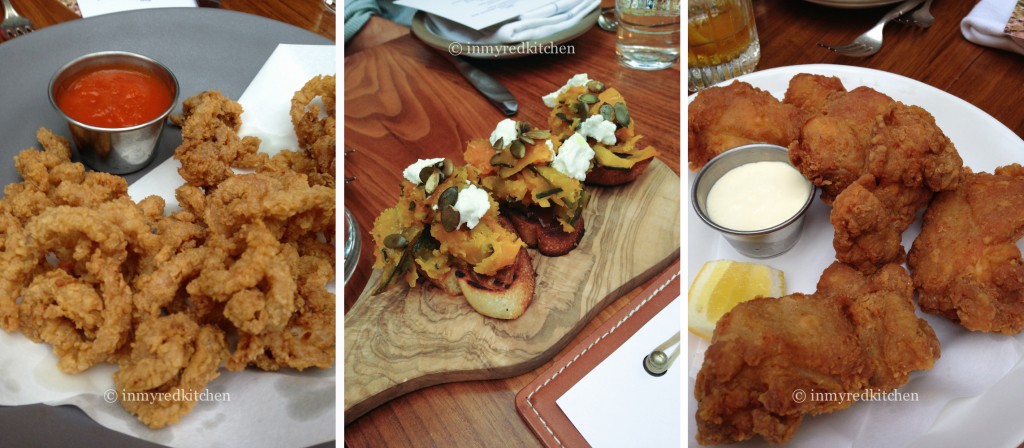 First course was 'salt & pepper fried calamari with ajwain-tomato jam', 'Pumpkin toast, miso jam, goat cheese' and 'Crispy marinated chicken with lemon aioli'.
I love calamari but most of the times the batter is too thick, the squid is too old or the calamari is too greasy. But not at Hinoki! Those calamari where perfectly light. I also liked the tender chicken and especially the lemon aioli. The pumpkin toast was also perfect, the miso jam combined really well with the pumpkin and goat cheese.Puno also heard a lot of good things about the 'Beef tartare, pickled jalapeno, parmigiano' so she ordered that on the side. We all got to taste and this one is a keeper! It came with a raw quail egg and some toast, definitely delicious!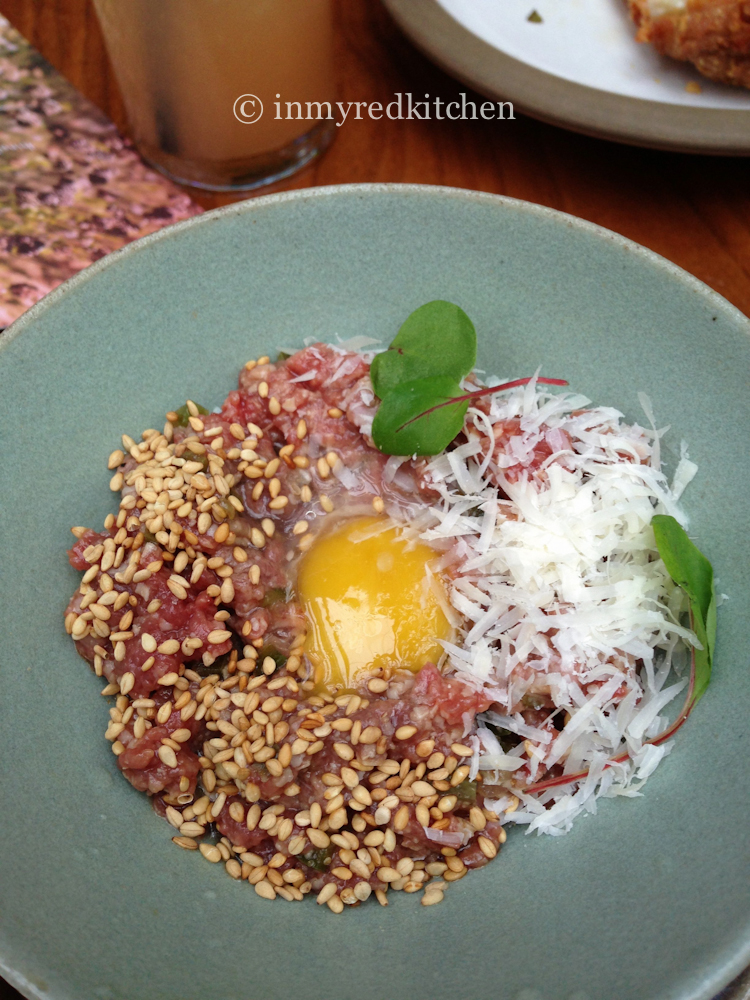 Second course was an amazing 'Kale, crispy and raw, curried almonds, pecorino, red wine vinaigrette' salad. I got inspired by this salad and made my own version, I'll post it later!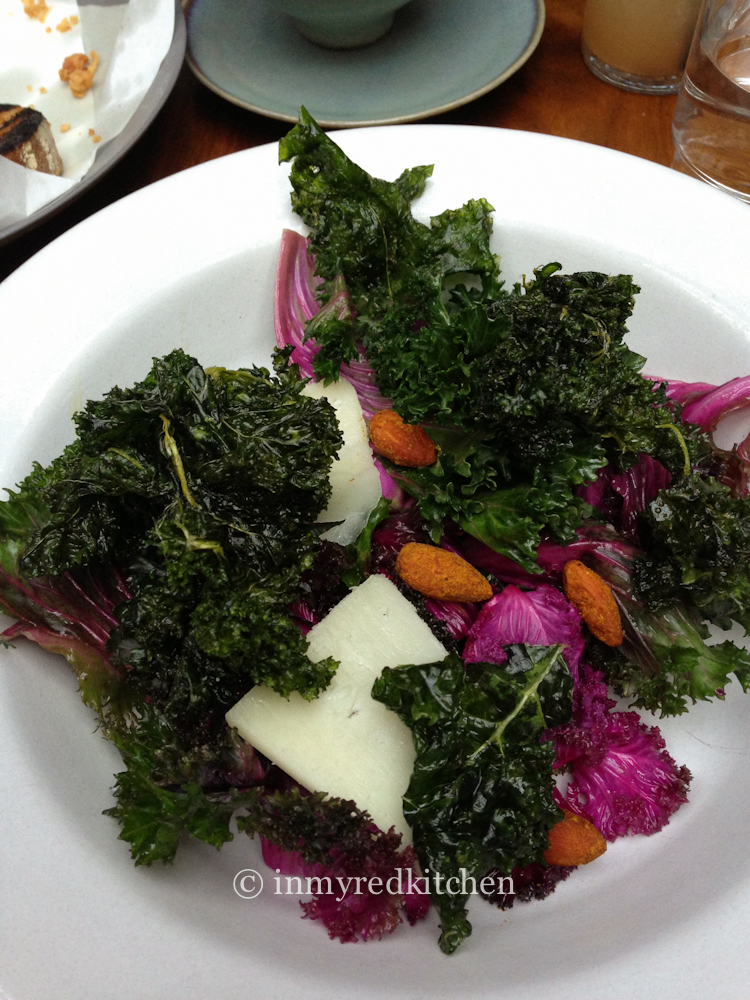 The crispy kale was fried in oil, which gave it a full taste and it combined really good with the raw kale.On to the third course! I had the drunken duck with the roasted yam. What can I say about it? I loooove duck and this one was really well done. The pears gave it some spice and freshness. The yam was topped with crème fraîche and lardon. I scraped it out till the last bite, it was tremendously good!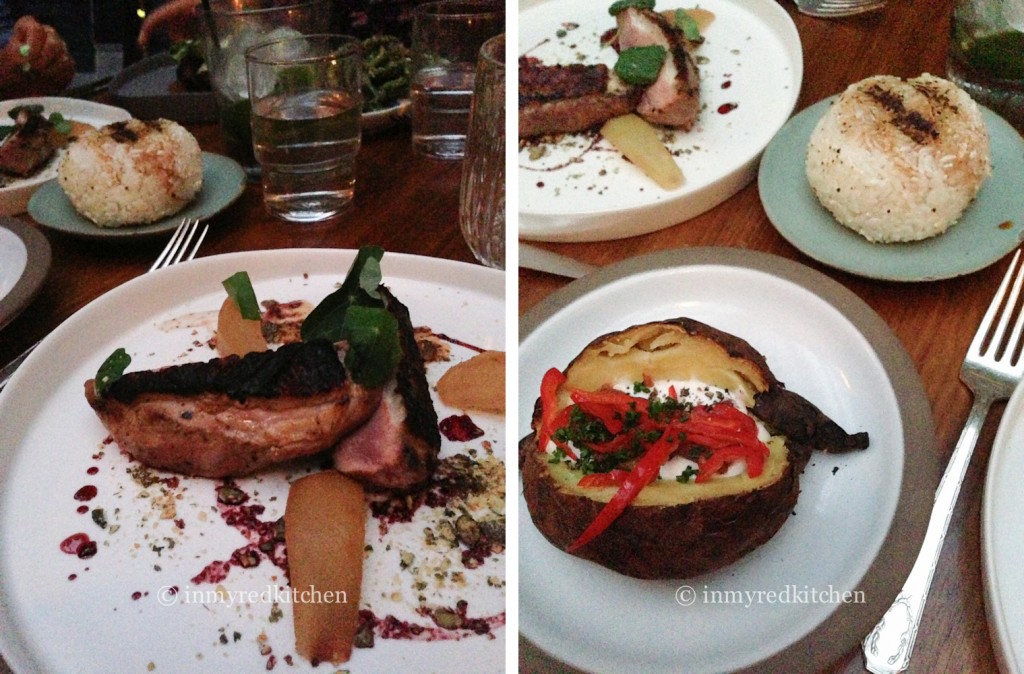 Last but not least came the mochi. We were already stuffed but we fought bravely through those last bites. And it didn't dissapoint us! So far I only had mochi filled with red beans but this mochi was filled with rich chocolate ice cream and it had a touch of curry caramel. That gave it a really spicy first bite which got soothed by the rich chocolate taste. It's like an explosion of astounding flavors in your mouth!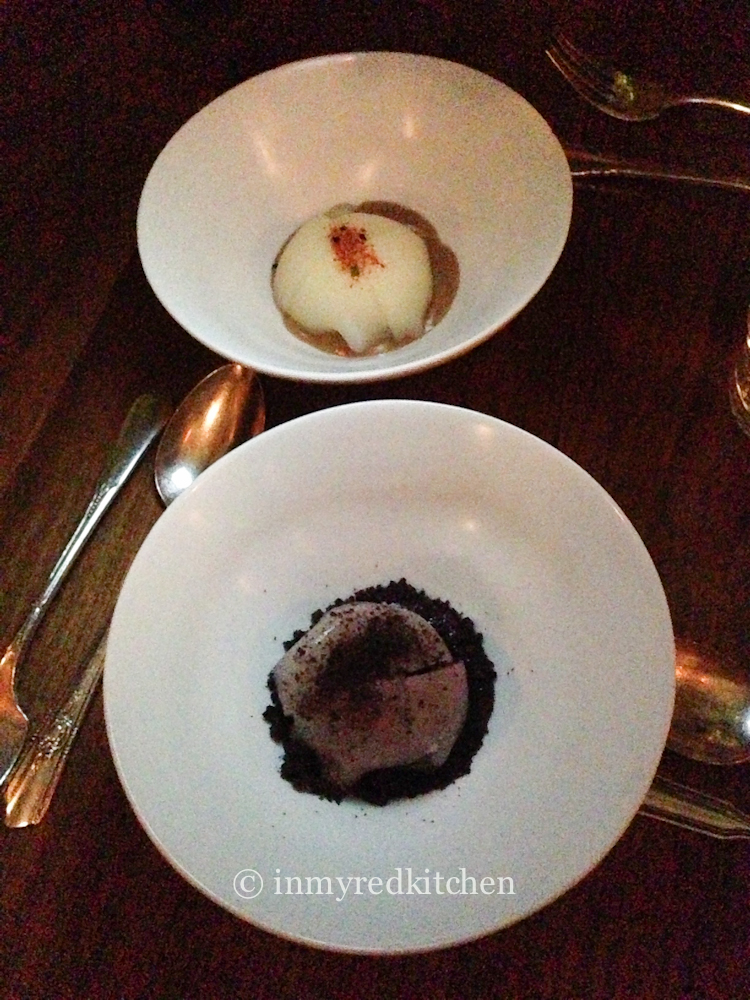 Oh my, this blog post is way too long now. But all the pieces were so good, I couldn't leave something out.
I will definitely go to Hinoki & The Bird again, can't wait to show it to P! I hear a lot of good things about the Lobster roll, so that's something I will order the next time.
Shall we go next weekend, honey? 😉
Hinoki & The Bird
10 W Century Drive
Los Angeles, CA 90067
Please note: I paid for my own food that evening and all opinions on this restaurant are my own.