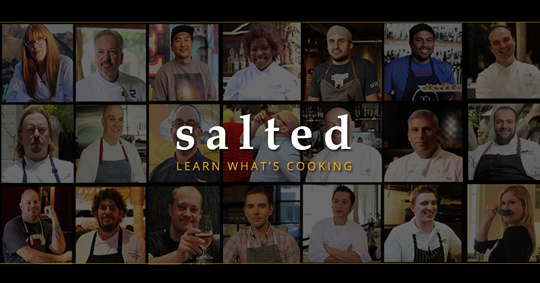 – Click here for this recipe in Dutch -> Salted, een online video kookschool –
Two weeks ago, the online video cooking school Salted launched and I was invited to attend the pre-launch party! Really nice of course because there was good food,a nice view on Venice beach and four LA based chefs who told why they cooperated with Salted. But what is Salted anyway?
Salted is a website with several cooking videos in which various chefs demonstrate cooking techniques and share their best recipes. How do you make a really good grilled cheese sandwich? How do you roast a steak? And how to use a wok? Sushi rice, how do you prepare that? Salted gives you the answer!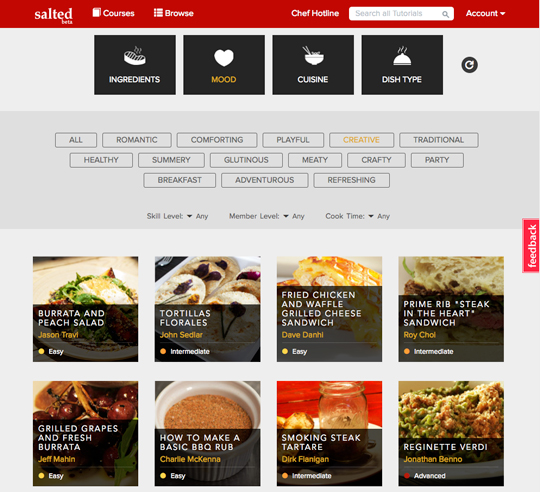 In addition to the cooking techniques the chefs also share recipes. I immediately liked the menu which is categorized as 'ingredients', 'mood', 'cuisine' and 'dish type'.
Fancy something Japanese? Then you can choose this after you click 'cuisine'. Some eggs in the fridge and don't know what you want to do with it? Then check 'ingredients'. Looking for a special dessert for a party? Then you need to click 'dish type' (OMG, see that peanut butter, chocolate, and jelly cake! I want to make that!!). Or rather fancy an adventurous dish? 'mood' is the menu where you should be. And you bet I finally want to try to prepare a lobster! I really like lobster, but I don't dare to order it at restaurants because I have no idea how it actually works. Let alone that I dare to prepare it. But still I'm curious so I should finally try it.
Of course I can just follow a cooking class at the community center around the corner, but isn't it much more fun to learn how to cook from the real chefs? And even though I know how to make a roux, I still think it's fun to see how that's made ​​in a professional kitchen. Who knows, maybe there's a technique that I don't know of, or there's an easy way to prepare it that cannot fail!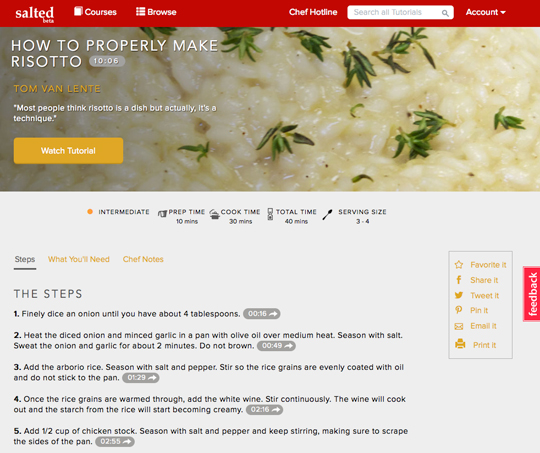 On Salted you can also take a full course in addition to the individual videos. The course 'introduction to Italian cooking' for example, it contains 8 tutorial videos, is given by 4 different chefs and it costs you 1 hour and 20 minutes to watch it. Do you want to cook along with the course? You can! It will cost you 8 hours and 30 minutes (including preparation and cooking and excluding eating… 😉 ) in total and you can easily click through from step to step.
But perhaps the best of all -I think- is the chef hotline! Via a contact form you get access to the culinary team of Salted. If you are a member you will get an answer in under 30 minutes, but only if you ask your question during the chef hotline hours of course (9am – 9pm PT)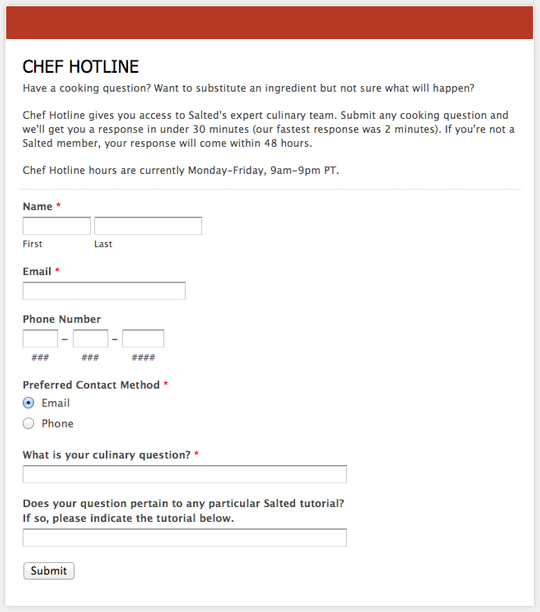 If you join Salted you get the first month free anyway, then a membership cost you $9.99 per month (that's way cheaper than any other cooking course!).
But I can give you a discount code which you can use to watch the online videos for free during the first three (!!) months. How cool is that? Us the code redkitchen3 when signing up for Saltedtv.com to get the first 3 months for free.
So here you are, I hope you have fun with Salted!
Let's start cooking and learning!
With love, Ellen
Disclaimer: Salted didn't pay me to publish this post, they only gave me a free membership to their website. All opinions are my own