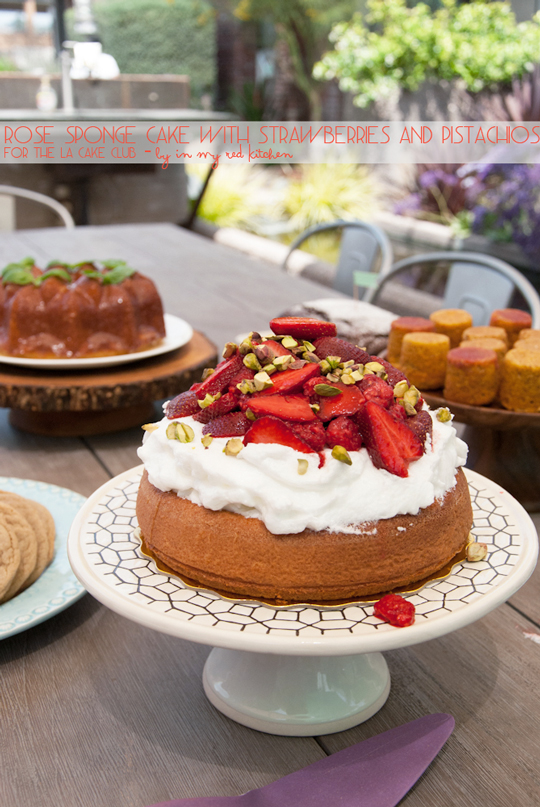 I love social media. Okay I'll admit it: I'm a social media junkie. The moment I wake up you'll find me checking Facebook, Instagram and Twitter (in no particular order) with still one eye closed.
I wanna know what happened while I was sleeping and I want to know what's going on in the world. It's my coffee – the only way to start the day properly.
And the best part about social media? Meeting new people! And that's a very welcome thing if you just moved to LA. Well 'just'… can't believe next week it's already been a year ago since P and I jumped on that plane!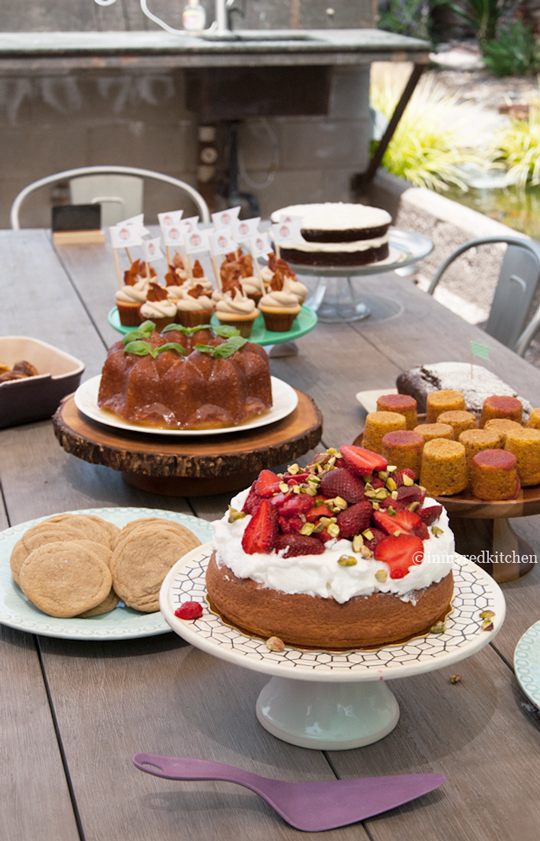 It was on Twitter that I found out about the LA Cake Club, founded by Sara from Matchbox Kitchen. The Cake Club is really simple: you bake a cake, bring it to the Cake Club to share and you can enjoy cakes baked by the others. I couldn't go to the first meeting because I choose to have some Chinese food instead, at the Chinese Food Tour. But the second meeting was last Saturday and I signed up for it 😀
The weather was great, Sara picked an amazing location (Littlemeatsla, go check it out!), the cakes and cookies were delicious and the other cake club 'members' were so kind and fun. Can't believe I had to move to LA to realize that Miffy's actual name ('Nijntje') is an abbreviation of the Dutch word for bunny ('konijntje')! Woah! I never thought about that, as 'Nijntje' is just the name of that cute little white bunny 🙂
And now you want to know more about that Rose sponge cake with strawberries and pistachios I made, am I right? 😉
I found the recipe over at Simone's blog, Simone's Kitchen. I followed one of Simone's workshops last year and this month I had to pick a recipe from her blog for the Dutch Foodblogswap. That's a monthly event I'm organizing with fellow Dutch food bloggers, it's like an exchange of recipes and I made this amazing Couscous salad with raspberries and halloumi.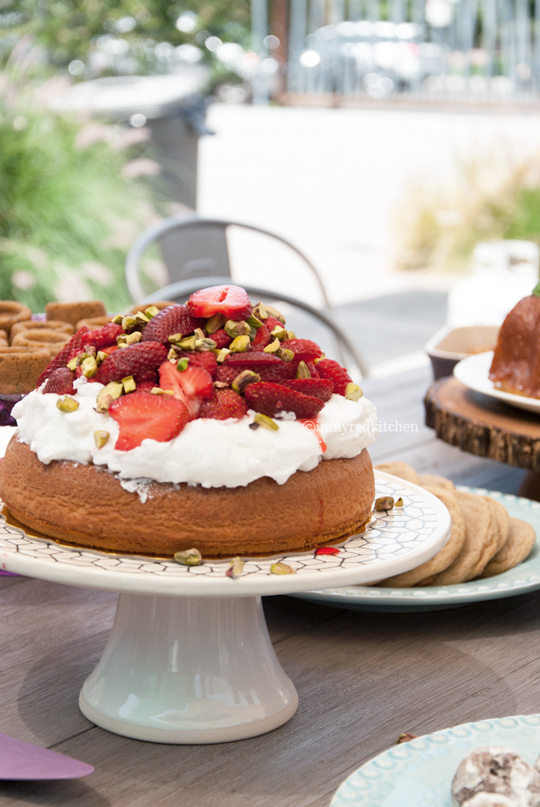 But I also found an amazing Rosewater pomegranate sponge cake on her blog and I couldn't let it go. This had to be my LA Cake Club cake! So I did, I made a cake based on Simone's recipe. I didn't want to use cream as dairy gives me acne and I assumed most of the other cakes would contain cream as well. So I tried to make a dairy-free buttercream using the buttery spread from Earth Balance. I left the spread on the counter overnight but that turned out too soft. Even 3 cups of powdered sugar couldn't make a proper buttercream out of it so I had to go for my plan B: make meringue!
I whipped up two egg whites with sugar and rosewater and the cake turned out amazing in the end. The light meringue was maybe even better than the buttercream I had in mind.
So if you're going to make this cake: make meringue instead of cream or buttercream!
Rose sponge cake with strawberries and pistachios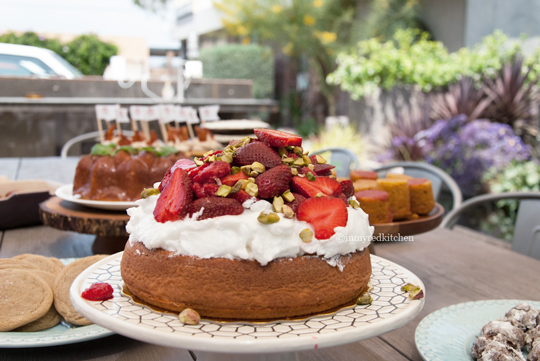 A light and summery cake, this rose sponge cake with strawberries and pistachios is amazing!
Ingredients
for the cake:

¾ cup flour (4 oz / 100 gr)
4 eggs
½ tsp baking powder
4 oz sugar (110 gr)
1 ½ tsp rose water
3 oz unsalted butter (75 gr), melted and cooled

for the topping;

2 egg whites
3 Tbsp white sugar
1 tsp rose water
12 oz strawberries & raspberries
¼ cup pistachios, roasted & chopped
Instructions
Preheat the oven to 355 degrees F. Grease an 8 inch springform with some butter and dust with flour, set aside until use.
Put the eggs, sugar and rose water in the bowl of the mixer and whisk with the wire whip at high speed for about 12-15 minutes until it becomes very pale and has tripled in volume.
Sift half of the flour over the mixture and fold this carefully in with a large metal spoon. Repeat with the remaining flour.
Add the butter and fold again until well combined.
Pour the batter into the springform and bake for 20 minutes or untill the spongecake springs back when lightly touched and comes away from the sides a bit.
Remove the cake from the springform and leave to cool completely on a wire rack covered with a clean towel.
Place the egg whites, the sugar and the rose water in a clean and dry glass or metal bowl. Use the wire whip to whip the egg whites. This takes about 5 minutes in the KitchenAid, speed 8.
Spread the meringue on top of the cake, followed by the sliced strawberries and raspberries. Finish with the pistachios.
Notes
You can keep this cake in the fridge up to one day, but I would recommend direct serving
http://www.inmyredkitchen.com/rose-sponge-cake-with-strawberries-pistachios/
Copyright Ellen Bannink- in my Red Kitchen
Enjoy!
Follow LA Cake Club on Twitter or Instagram if you want to find out about upcoming meetings! I hope to be there because I like the concept and last Saturday was so much fun. And delicious! I liked all of the cakes, there wasn't a single cake or cookie I didn't like 🙂