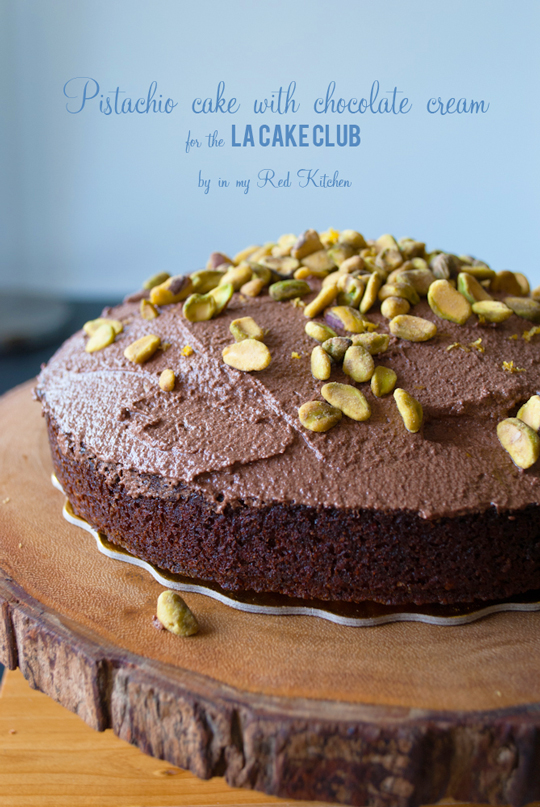 – Click here for this recipe in Dutch -> Pistache cake met chocolade crème –
"The cake I made for the LA Cake Club and the cake I was supposed to make for the LA Cake Club"
Starting next Monday I'm avoiding sugar and refined carbohydrates for a month, quite exciting! But that doesn't mean I can't have sugar and carbs right now, right? 😉
So when last Sunday the LA Cake Club took place again, I just had to join. The LA Cake Club is a very nice initiative by Sara from Matchbox Kitchen. It takes places every other month and last Sunday was already the 4th edition! The concept is simple: you sign up; you receive an email with the location; you bake a cake, pie, cookies or dessert and you bring it with you at the appointed time to the location that's emailed to you. There you will meet other nice people who also baked a delicious cake, pie, cookies or dessert and who you share your cake with (and vice versa).
So then it looks like this: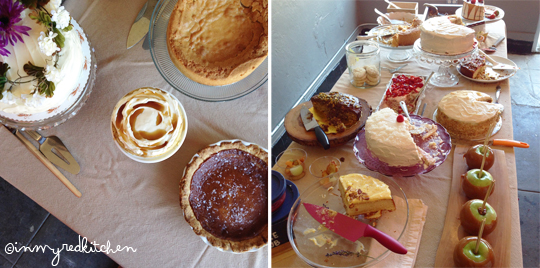 And best of all, you can take home the leftovers! So now I still have a large container in the fridge filled with several pieces of cake 😉
The LA Cake Club is the perfect opportunity for me to bake a cake, because then I finally have an excuse. Normally I hardly ever bake a cake myself. I really like to do it but the point is that I don't want to eat the cake. Well okay, of course I DO want to eat a whole cake by myself; because come on, be honest: who wouldn't want that?! But it comes down to that I almost never bake cakes, because I'm the only one with a sweet tooth in the house so I can't feed my cake to P unfortunately. But for the LA Cake Club I go loose. And then I just bake a Pistachio cake with chocolate cream.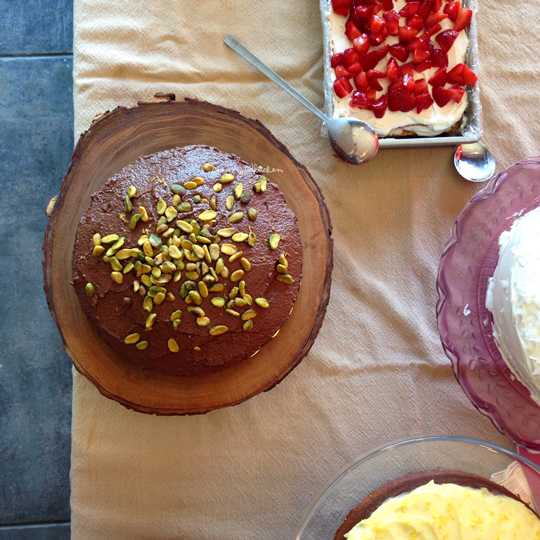 Although next time I will just bake a simple cake or pie, like a Dutch apple pie or something. Because the last time I wanted to make a dairyfree butter cream for my Rose sponge cake with strawberries and pistachios, but I failed. And this time I wanted the top the cake with chocolate ganache, but failed again so it turned out as a chocolate cream. Also nice, but I clearly need to practice more.
I found out that I used the wrong chocolate so I give you the recipe for chocolate ganache, just like I meant to. Because I used chocolate chips instead of regular chocolate, and that's a no-go for making chocolate ganache (why didn't nobody tell me that? Hmmm, I think they forgot to give me the memo 😛 )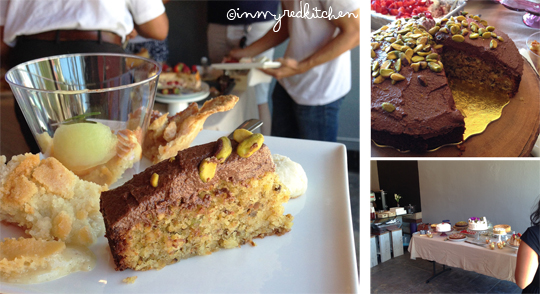 I tried making the pistachio cake once before but that one also failed. I think I just suck as a baker 🙁 The first time I took it out of the oven too soon so it collapsed as it was still undercooked.
But today in the rerun: pistachio cake, this time with a tasty chocolate cream (instead of chocolate ganache 😉 ).
Pistachio cake with chocolate cream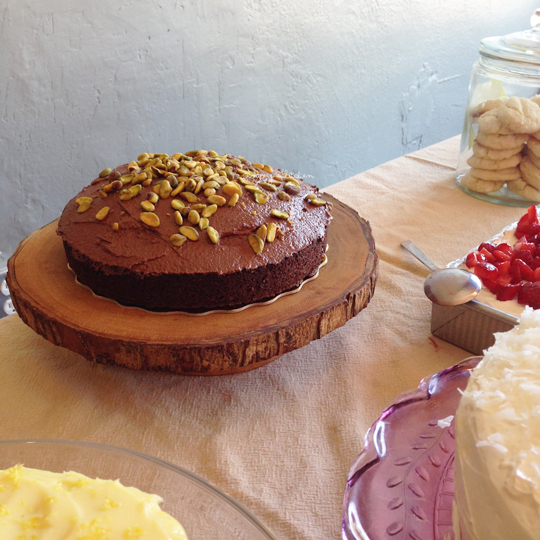 A nutty but light pistachio cake with soft chocolate cream, yum!
Ingredients
For the cake:

¾ cup shelled pistachios (4.5 oz)
½ heaping cup white almonds (3.5 oz)
1 cup sugar
2 sticks of butter, room temperature
zest of 1 lemon
1 tsp vanilla extract
4 eggs
½ cup flour

For the chocolate ganache:

6.5 oz dark chocolate, chopped (no chocolate chips!!)
1 cup heavy cream
extra pistachios for garnish
Instructions
Preheat the oven to 360°F.
Roast the almonds and pistachios in a skillet over medium-high heat for about 4 minutes.
Let them cool completely and transfer them to the bowl of the foodprocessor. Pulse until finely ground.
Mix the sugar with the soft butter, lemon zest and vanilla extract with the flat beater of a stand mixer until fluffy and light.
Gradually mix in the eggs until well combined.
Sift in the flour and add the grounded nuts to the butter mixture and use a spatula to mix it. You want to keep the batter light and fluffy so don't overmix it!
Transfer the mixture to a lined baking pan and place the pan in the middle of the oven.
Bake 40-45 minutes until golden brown.
When the cake is in the oven, start with the ganache.
Place the chopped chocolate in a large bowl.
Bring the heavy cream to a simmer in a small sauce pan over medium heat. Pour the hot cream over the chocolate and cover with plastic wrap. Let sit for 3 minutes.
Remove the plastic wrap and stir the ganache until homogenous. Cover again with plastic wrap and let the plastic wrap touch the chocolate to prevent condensation. Stir the ganache every 30 minutes until it has thickened to a pipeable consistency. And see, this is where I went wrong, because of the added stabilizers of the chocolate chips my ganache wasn't thickening at all 🙁
Place the ganache in the bowl of a stand mixer and use the whisk attachment to whip the ganache (medium speed) until airy and fluffy.
Your cake should be ready by now so let it cool on a wire rack and spread out the ganache on top when the cake is completely cooled.
Garnish with pistachios.
Notes
http://www.inmyredkitchen.com/pistachio-cake-with-chocolate-cream/
Copyright Ellen Bannink- in my Red Kitchen
Enjoy!