Last week I went to Downtown to meet Christine of Feed My Sole. I met her at the dinner at Hinoki & The Bird a few weeks ago, Christine is the organizor of the Meetup group for Los Angeles Food Bloggers.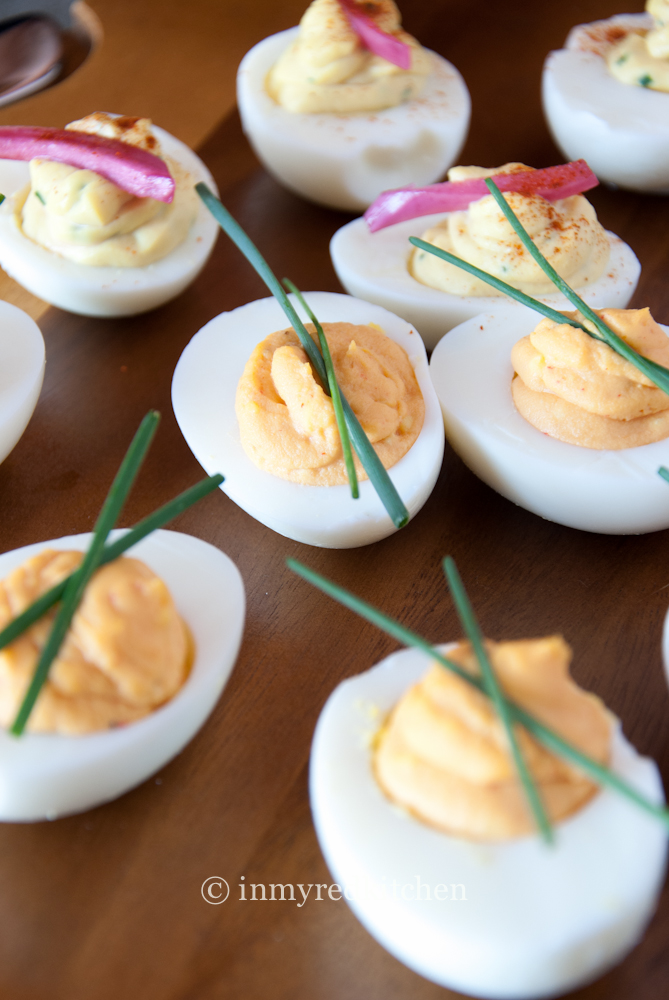 Christine lives in an amazing loft appartment Downtown. I loved it, it has brick walls and her kitchen is great – it has a concrete counter. Beautiful! Especially for taking pictures 😉
Also that part of DTLA looked great, with hip eateries and boutiques. I have to come back for sure!
It was a great day: we cooked, made photos, ate, talked and had a nice time. All my favorites in one day!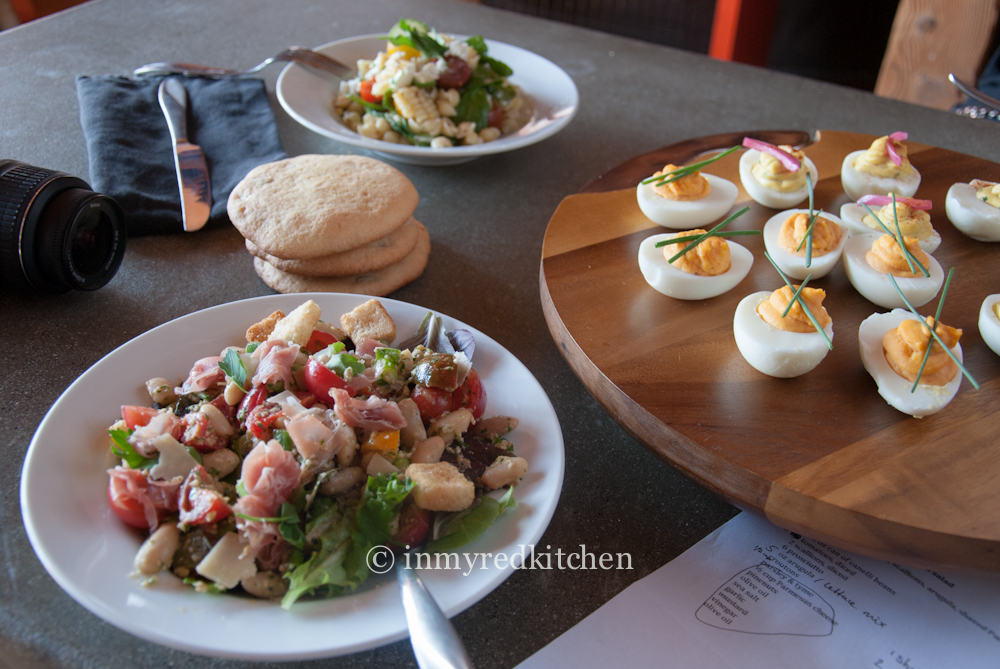 I decided to make a salad with beans and prosciutto. Earlier that week I had lunch at Le Pain Quotidien in Marina Del Rey, LPQ is a Belgium breakfast/lunch restaurant which I know from Amsterdam and Antwerp. I remember having a delicious breakfast in Antwerp once, and also having lunch in their London restaurant. Fresh breads served with different kinds of jams and chocolate spread. Yum yum yummie!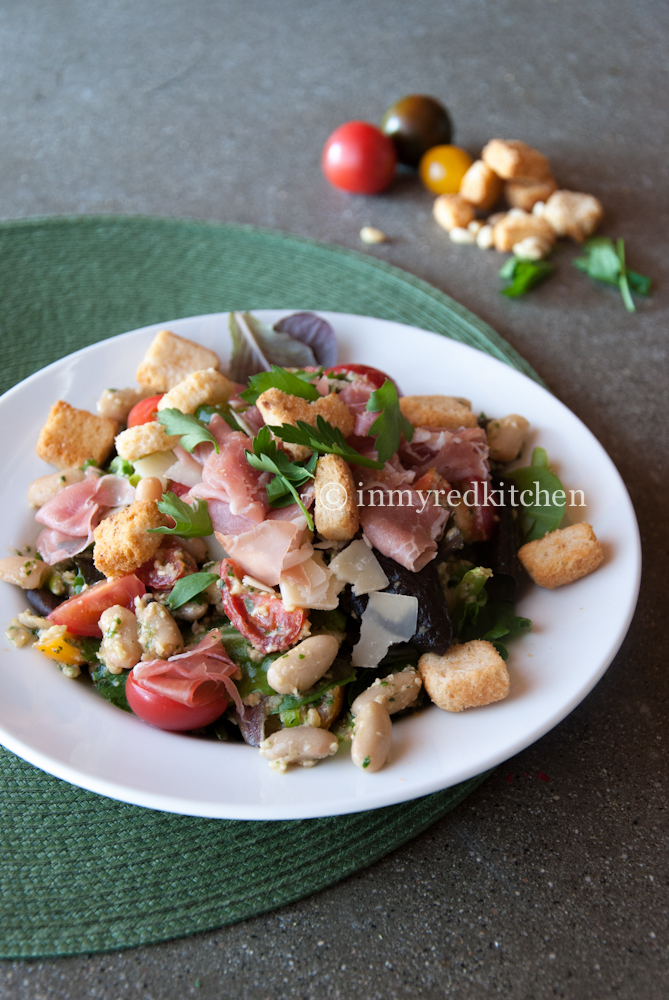 Trying to keep it healthy I ordered the 'Tuscan White Bean & Prosciutto Salad' with diced tomatoes, scallions, arugula, shaved Parmesan and basil croutons.
Well… It was ok and edible but I immediately thought: "I can do that so much better!" The beans where watery as if they came directly out of the can and the croutons where soft and wet. I had to put salt over it to make it better.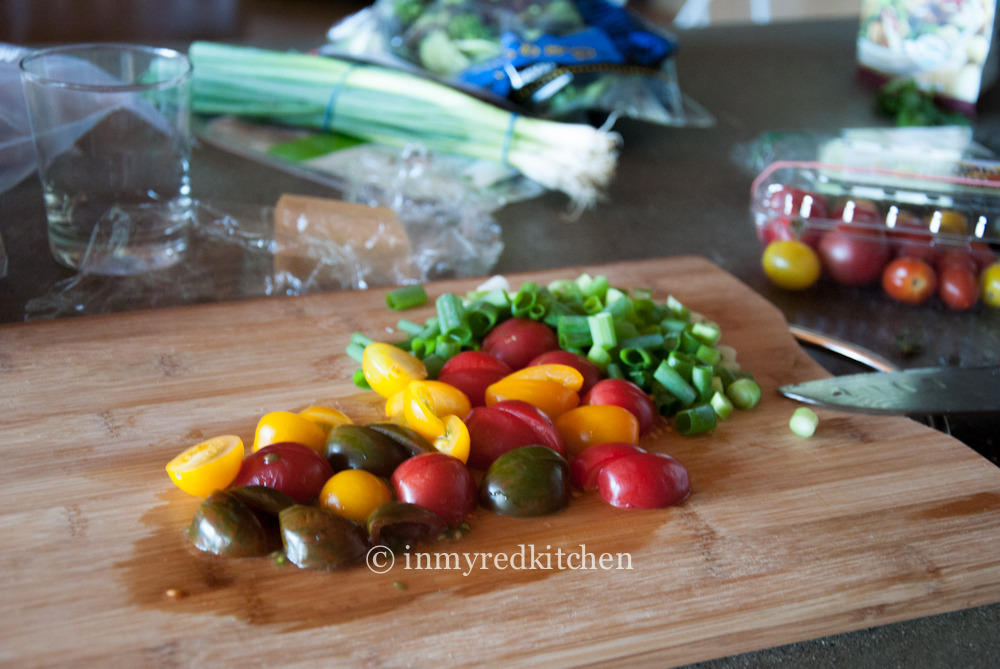 It wasn't bad luck: a while ago P and I had breakfast at Le Pain Quotidien in Brentwood. I ordered the french toast with strawberries. Sounds good right? But unfortunately there were only two thin slices of bread and one (!!) strawberry sliced on top of it. I'd rather have french toast for breakfast at Amandine, where you get thick slices of bread and many many strawberries.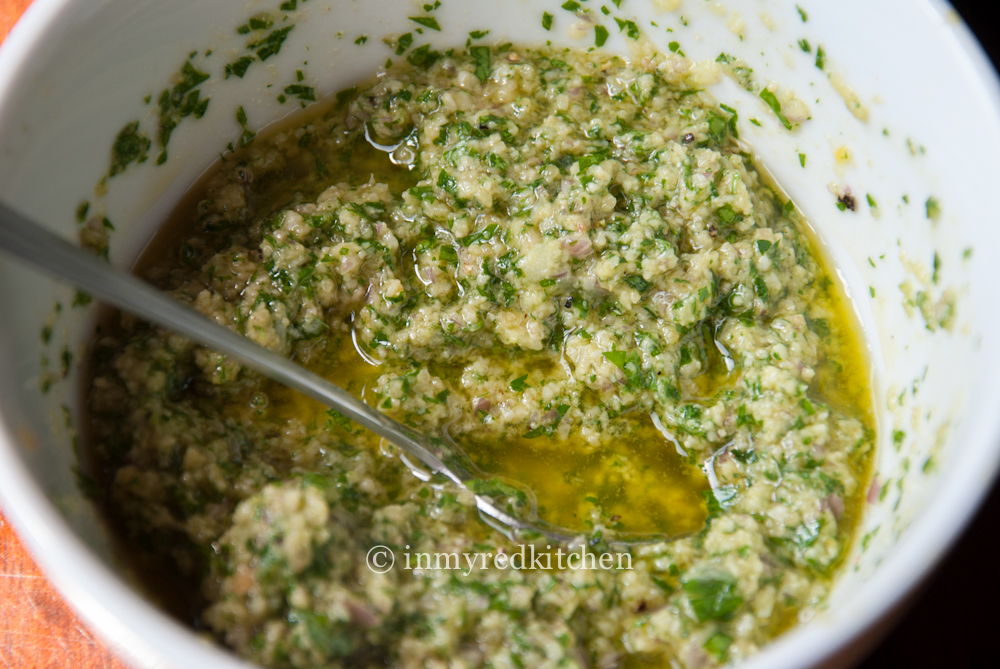 But to go back to the moment I thought: "I can do so much better myself!": I figured the beans should get a pesto dressing with lots and lots of herbs and some mustard. Make sure to buy organic prosciutto for this bean and proscuitto salad, you'll definitely taste the difference!
Bean and prosciutto salad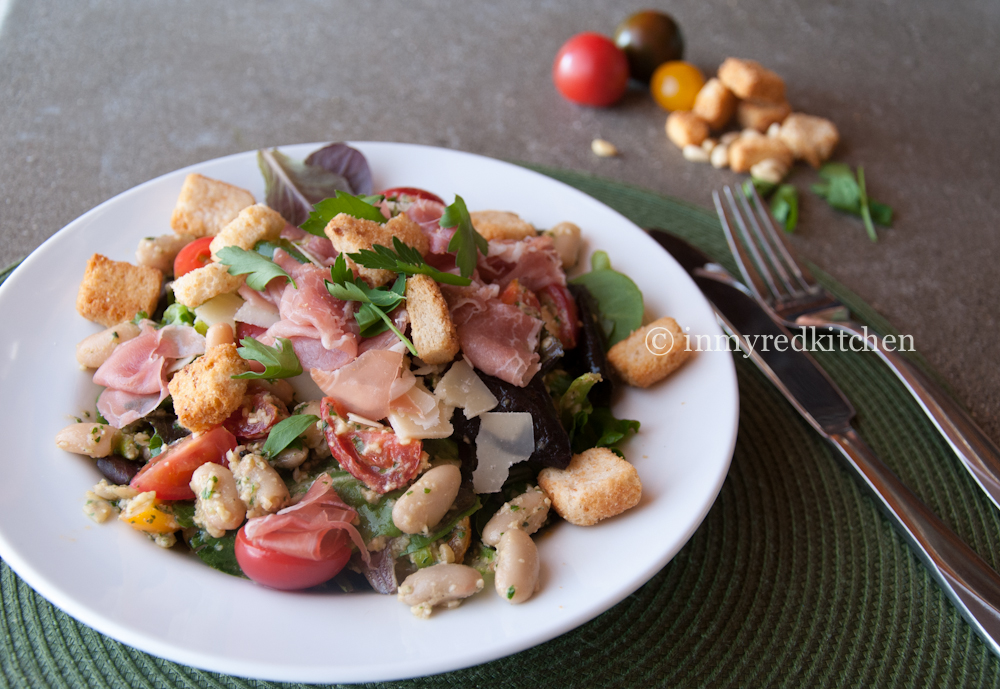 A delicious salad with canelli beans and prosciutto. The parsley pesto dressing makes it extra special!
Ingredients
for the pesto dressing

1 small shallot, roughly chopped
1 clove garlic
1 Tbsp pine nuts
¼ cup parsley, chopped
1 tsp thyme (only leaves)
1 Tbsp parmesan cheese (roughly chopped)
2 tsp mustard (dijon)
2 Tbsp olive oil
pinch of salt & pepper

for the salad

1 14 oz can of canelli beans
16 mini (Heirloom) tomatoes, halved
2 scallions, sliced
5 oz lettuce mix
8 prosciutto slices
½ cup croutons
parmesan flakes
Instructions
In the bowl of a foodprocessor combine the ingredients for the dressing, but without the olive oil and salt & pepper.
Pulse a few times until everything is finely chopped.
Add the olive oil and pulse again.
Transfer to a large bowl and add salt & pepper to taste.
Heat the beans and their liquids in a small pan until they cook.
Discard the liquid and transfer the beans to the large bowl with the pesto dressing.
Toss and add the tomatoes and scallions. Toss again.
Add the lettuce mix and mix well.
Transfer to the plates and top with the prosciutto, croutons and parmesan flakes.
http://www.inmyredkitchen.com/bean-and-prosciutto-salad/
Copyright Ellen Bannink- in my Red Kitchen
Enjoy!