As you could read I had dinner at Hinoki & The Bird two weeks ago with three other foodbloggers from LA. I already raved about the great food so I won't start over again.
Instead I got inspired by this great kale salad that I HAD to make a kale salad myself. Normally in the Netherlands kale is eaten as a 'stamppot': you boil potatos and let the kale steam on top of it. Then you mash it together until it looks like this. I don't like this 'boerenkool stamppot' that much, but it turns out I do like raw kale!
Hinoki & The Bird served a very delicate kale salad, part of the kale was raw, part of it was steamed or boiled and a part of the kale was fried. At the first bite you taste the full flavor of the oil (so make sure you use oil of good quality!) but then you taste this typical healthy kale flavor.
Raw kale is already crispy by itself but I like the crispness that you get from frying.
Here is my Hinoki & the Bird inspired Kale salad:
Kale salad with mushrooms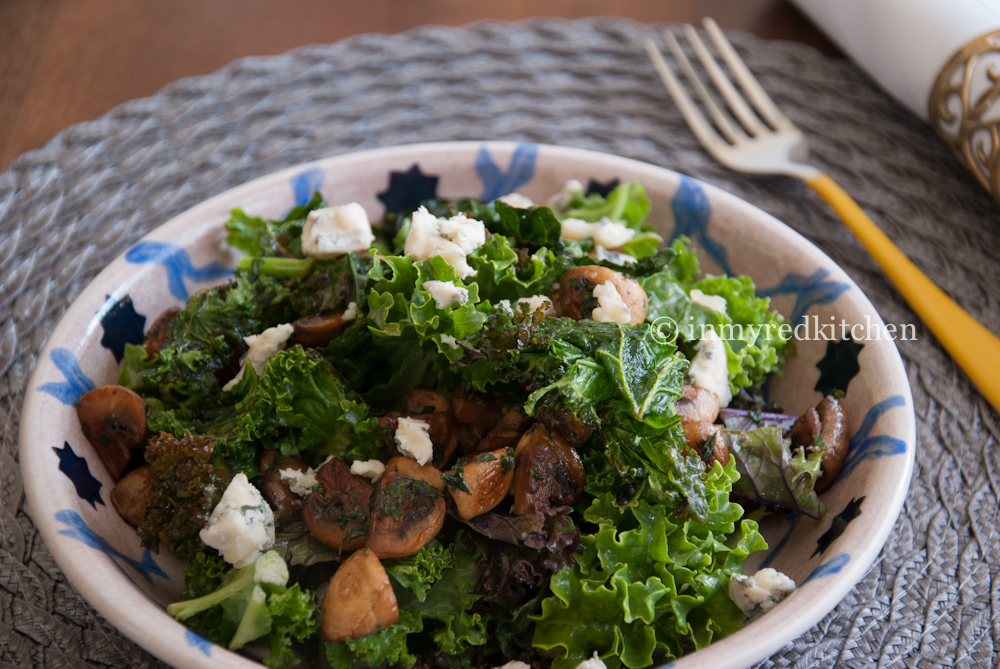 I got inspired by the kale salad I ate at Hinoki & The Bird so I made my own version with mushrooms and gorgonzola.
Ingredients
8 oz mushrooms, cleaned
3 Tbsp olive oil
2 tsp red wine vinegar
pinch of salt
parsley flakes to taste
4 packed cups of raw kale
2 tsp mustard
2 tsp red wine vinegar
2 Tbsp gorgonzola
Instructions
Brush the mushrooms to remove the sand and quarter them.
Heat a skillet over medium heat and add 1 Tbsp of the olive oil.
Cook the mushrooms for about 3 minutes until they're soft.
Add the red wine vinegar, salt and parsley and cook for another minute.
Transfer the mushrooms to a bowl and heat the other 2 Tbsp of olive oil in the skillet.
Fry 1 cup of the kale till crisp, this takes about 1 - 2 minutes.
Make a dressing of the mustard and red wine vinegar and toss the 3 cups raw kale with the dressing.
Divide over 2 plates and top with the mushrooms, the fried kale and the gorgonzola.
http://www.inmyredkitchen.com/kale-salad/
Copyright Ellen Bannink- in my Red Kitchen
Enjoy!