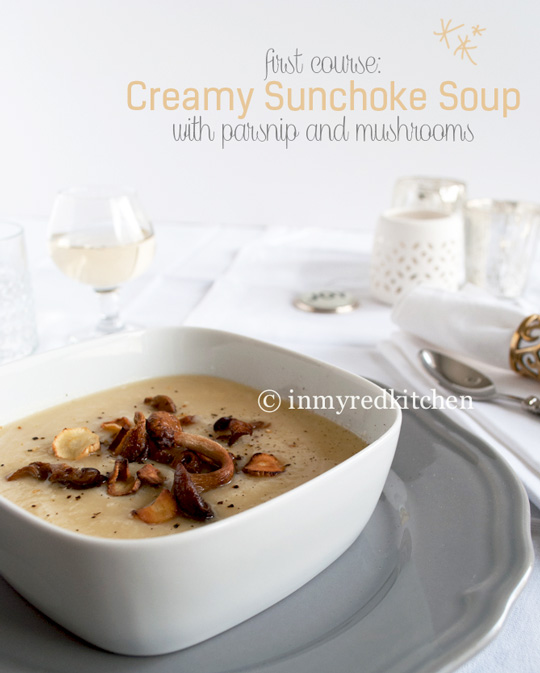 Two weeks (and a little bit) until Christmas! Waaaah, time flies! This will be my first Christmas in LA and -even though it's cold lately- the weather will never be as bad as in the Netherlands. Christmas and sun, that sounds like the perfect combination to me 😉
This week I'm going to give you a full Christmas menu, first course, main course and dessert.
A while ago I promised myself to start cooking with ingredients I've never cooked before, like parsnip, daikon, rutabagas and sunchokes. So what a better time for that than Christmas?
I found the recipe for this delicious creamy sunchoke soup in 'Home Made
' by Yvette van Boven. Yvette has a restaurant in Amsterdam called 'Aan de Amstel', which happens to be my favorite restaurant in town.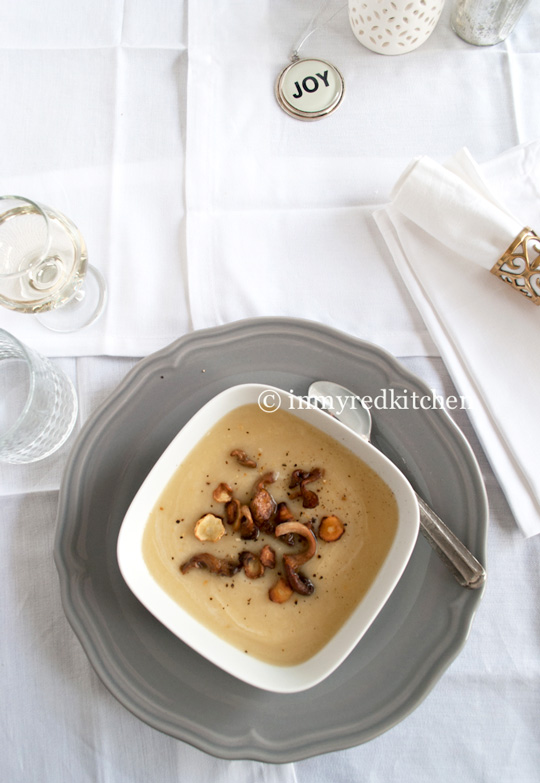 What a coincidence! P and I would go there once in a while to treat ourselves to a three course dinner. Everything I ever ate there was perfect, from the first till the last bite.
Two weeks before we left Amsterdam we had one last dinner there to say goodbye to Joris and the crew. Unfortunately I felt really sick that day so I couldn't make it till dessert.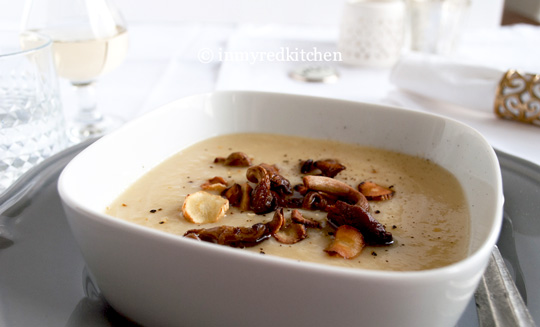 But I'm sure P and I will go there again when we visit Amsterdam next year!
Until then I only have Yvette's cookbooks to help me through the winter 😉 Lucky for me she also wrote a Winter
and a Summer
version of Home Made.
But back to our Christmas menu. This sunchoke soup is so creamy and velvety, yum! The parsnip and oyster mushrooms complete the taste.
Who knew those not so wellknown vegetables could be so tasty? Try it out!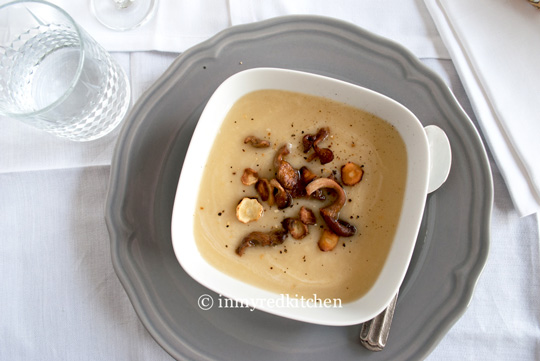 This creamy sunchoke soup is velvety and soft, the parsnip and oyster mushrooms really complete the taste!
Ingredients
2 lb sunchokes
juice of ½ lemon
3 Tbsp olive oil
2 shallots, diced
¾ cup white wine
3 1/3 cup chicken broth
2/3 cup cream
1 parsnip
5 tsp butter
1 2/3 cup oyster mushrooms, torn into strips
salt and pepper to taste
Instructions
Peel the sunchokes and add the lemon juice to prevent them from browning.
Heat some oil in a large pan, sautée the shallots and add the sunchokes. Sautée for a minute,
Add the white wine and let it slightly reduce.
Add the broth, bring to a boil and allow to simmer on low heat until the sunchoke is cooked.
In the meantime: peel the parsnip and cut into thin slices. Heat the butter and the rest of the olive oil in a nonstick skillet and pan fry the parsnip and oyster mushrooms on both sides until crunchy. Generously add salt and pepper.
Puree the soup until smooth using an immersion blender.
Add the cream and stir well.
Pour the soup into bowls and top with the crunchy parsnip and mushrooms. Add some extra pepper to serve.
http://www.inmyredkitchen.com/creamy-sunchoke-soup/
Copyright Ellen Bannink- in my Red Kitchen
Merry Christmas & enjoy!
The Home Made series are really high on my list of favorite cookbooks!
These links goes to my Amazon.com store so you can support in my Red Kitchen by buying these using the links below: