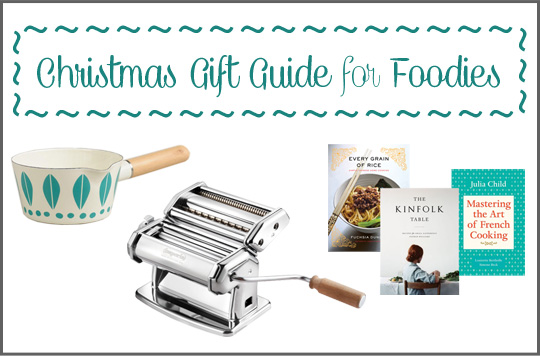 So after the Creamy sunchoke soup, Lamb stew with porcini, Potato and peas rosettes and that delicious White chocolate limoncello truffle cake it's time to unwrap some Christmas presents!
You can see this gift guide as my personal Christmas wishlist.
P and I agreed on buying each other gifts with a maximum of $50. Or between $50 and $75 😉 I already did some shopping for him but I have no idea if he knows what to buy for me.
So I created this list to help him. And to help you! Maybe you have a hard time creating your own list or it could be that you want to surprise your foodie friend with some great gifts.
I'm sure each item on this list is a success!
And… no need to go out shopping, just curl up on the couch with some hot chocolate and your laptop and order everything online. The links are at the end of the list.
You're welcome!

(1) – White with Aqua Dots Enamel SaucePan at World Market $14.99
(2) – Cuisinart CEC-7 Egg Cooker
on Amazon $29
(3) – Pasta Machine
on Amazon $35.62
(4) – Cedar & Stone Cheese Board at Anthropologie $48
(5) – Set of 2 Dolsot Bowls
for Korean cooking, like Bibimbap on Amazon $39.95
(6) – Cookbooks:
Every Grain of Rice: Simple Chinese Cooking
on Amazon $22.14
The Kinfolk Table: Recipes for Small Gatherings
on Amazon $23.34
Mastering the Art of French Cooking by Julia Child on Amazon $25.68
And because foodies also like other things 😉
(7) – Lunar Twinkle Drop Earrings at Anthropologie $32
(8) – Reflector Arm
and stand
on Amazon $28.22 and $14.95 (or a Complete Reflector set
on Amazon for $63.96)
(9) – Ribbon Knitted Pillow Cover at West Elm $34 each (and don't forget to buy the pillows!)
Merry Christmas!