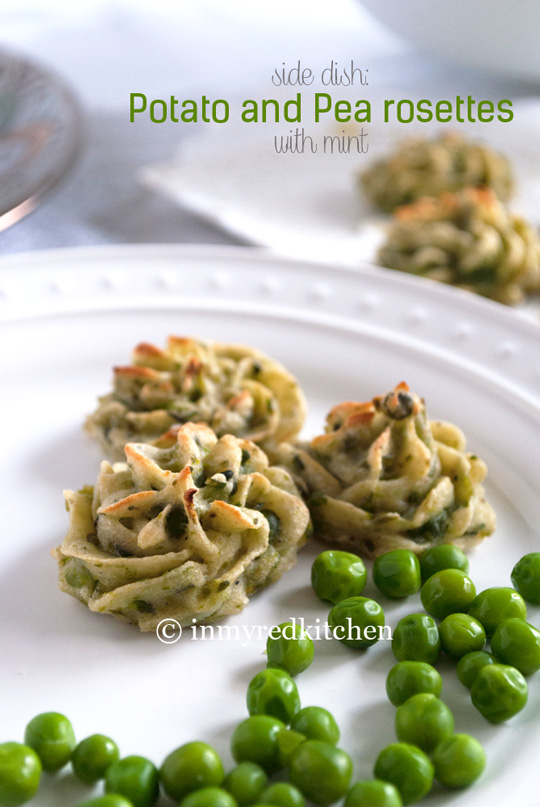 What is a better combination with lamb than peas and mint? Uhm… nothing! Lamb, peas and mint are truly a match made in heaven!
So as a side dish for the Lamb stew with porcini I made these potato and peas rosettes. Because why would you serve just regular roasted potatoes or a mashed potatoes if you can make this more fun? Look how festive these rosettes are.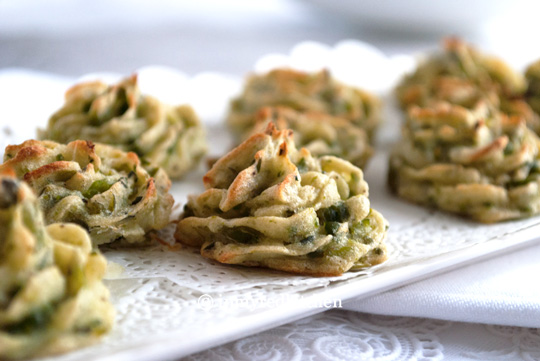 Start with cooking the potatoes before you start with the lamb stew. Once you have mashed the potatoes and peas you really want to let it cool off completely before transferring the puree to a piping bag. No burned hands for you this Christmas! 😉
I'm so glad I now have a freezer full of these delicious potato and peas rosettes, I'm ready for Christmas! 😉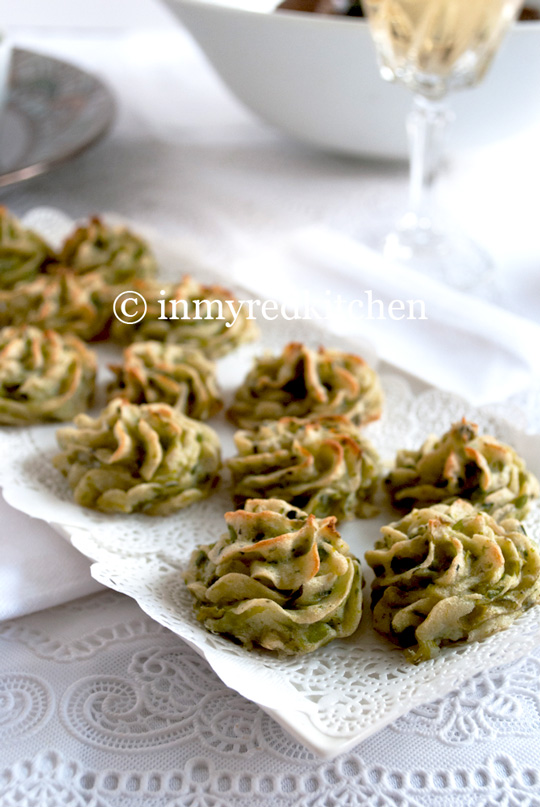 Potato and pea rosettes with mint are the perfect side dish for the holidays, they look so festive!
Ingredients
3 russett potatoes (approx. 14 oz each)
1 lb frozen peas
20 mint leaves, finely chopped
¼ cup cream
1 Tbsp roasted garlic (optional)
salt & pepper to taste

also needed: an electric mixer to mash the potatoes and a piping bag with large open star tip
Instructions
Peel the potatoes and cut them in 1 inch cubes.
Rinse the potatoes under cold running water until the water is clear.
Add to a pan of cold salted water and bring to a boil.
Let the potatoes boil for 15 – 20 minutes until they're done. Test it with a fork but let the pan on the fire, don't remove it 😉
Add the frozen peas to the potatoes, wait till the water is boiling again and let it cook for another 5 minutes.
Discard the water, add the chopped mint leaves, the cream and the garlic (optional) and mix until creamy and most of the peas are pureed too.
Add salt and pepper to taste.
Let the potato pea puree cool until room temperature and transfer to a piping bag with a large open star tip.
Preheat the oven to 385 degrees Fahrenheit.
Line three baking sheets with parchment paper and make rosettes.
Put the baking sheets in the oven and check after 20 minutes. The rosettes should be crispy on the outside and soft and creamy on the inside. Give them another 10 minutes if needed.
Notes
Also perfect for freezing. Place the baking sheet with the un-baked rosettes in the freezer. Once frozen you can transfer them to a bag so save space 🙂 Pop the frozen rosettes in the preheated oven and add 5 minutes to the baking time.
http://www.inmyredkitchen.com/potato-peas-rosettes/
Copyright Ellen Bannink- in my Red Kitchen
Merry Christmas & enjoy!