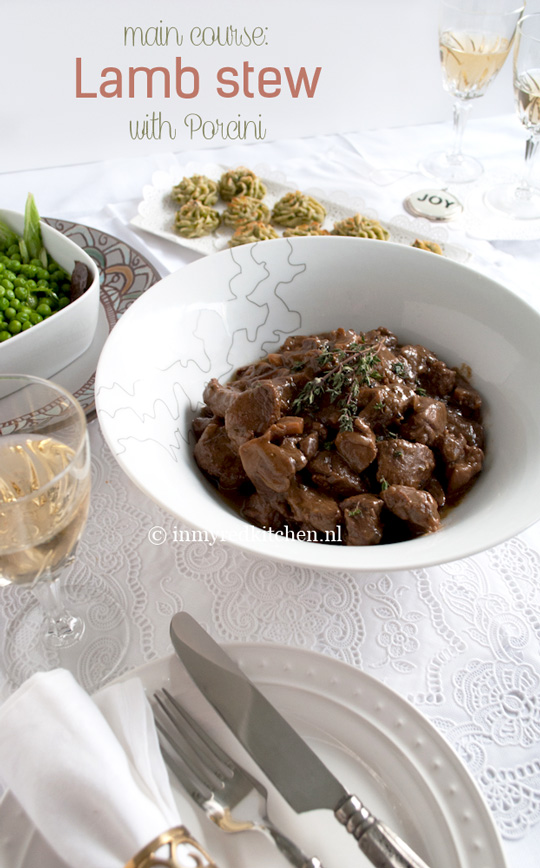 After a delicious first course we serve this Lamb stew with porcini as the main course for Christmas. It's an easy recipe and it can easily be prepared the day before.
Earlier this year -back in Amsterdam- I bought lamb steaks. I thought. But it turned out to be lamb shoulder. And, as we all know, you can make some delicious stew with lamb shoulder.
So I did. I tossed some ingredients together and made a delicious lamb stew. If only I wrote down the recipe or remembered what ingredients I used to make this…
I'm kidding. I have an amazing memory so last week I sat down with my notepad, wrote this recipe, went to the store to buy the ingredients and cooked us a fantastic Christmas meal. So yes, Christmas came early for us this year but we're not complaining 😉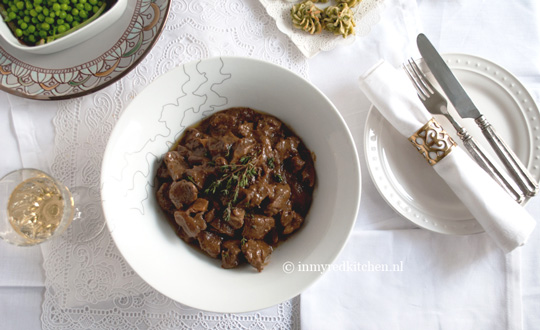 Because of the not so day-to-day ingredients this lamb stew with porcini is a true holiday treat. You can serve it with roasted carrots and potato puree but (even better!) serve it with a pea salad and homemade potato and pea rosettes. I can already give away that I will give you the recipe for these rosettes tomorrow!
But for now: enjoy the lamb stew!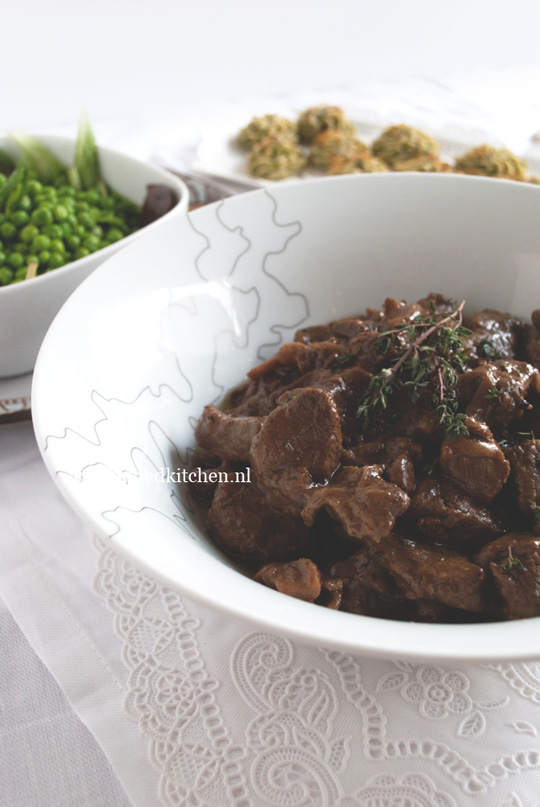 The not so day-to-day ingredients of this lamb stew with porcini make it a perfect holiday recipe. A stew for Christmas, easy does it!
Ingredients
½ cup dried porcini
1 cup luke warm water
2 Tbsp butter
4 oz oyster mushrooms, cut in bite-sized pieces
2 lb organic boneless lamb shoulder, cut in cubes
½ onion, cut in cubes
2 gloves of garlic, crushed
1 cup porcini broth
½ cup of hard cider
1 large sprig of thyme, leaves only and finely chopped
1 sprig of rosemary, leaves only and finely chopped
1 Tbsp corn starch
Instructions
Soak the dried porcini in the luke warm water for 30 minutes.
Take them out of the water and cut in bite-sized pieces. Don't discard the water, you'll need that later!
Heat a Dutch oven over high heat and add the butter to melt.
Toss the porcini and mushrooms until soft, transfer them to a bowl and set aside.
Brown the lamb in the butter, turn the heat down to medium low, add onion and garlic and cook until the onion is soft.
Add the cider and stir for one minute.
Add the mushrooms again with the porcini broth and the thyme and rosemary.
Bring to a soft boil, turn the heat down to low and let it simmer for 1 ½ hour.
Keep an eye on it, add some warm water if needed. You want to end up with this:
To thicken, mix 3 tablespoons of the juices from the pan in a smal bowl with the corn starch until smooth. Add this corn starch mixture to the lamb stew and stirr.
Add salt and pepper to taste and serve warm.
Notes
http://www.inmyredkitchen.com/lamb-stew-porcini/
Copyright Ellen Bannink- in my Red Kitchen
Merry Christmas & enjoy!