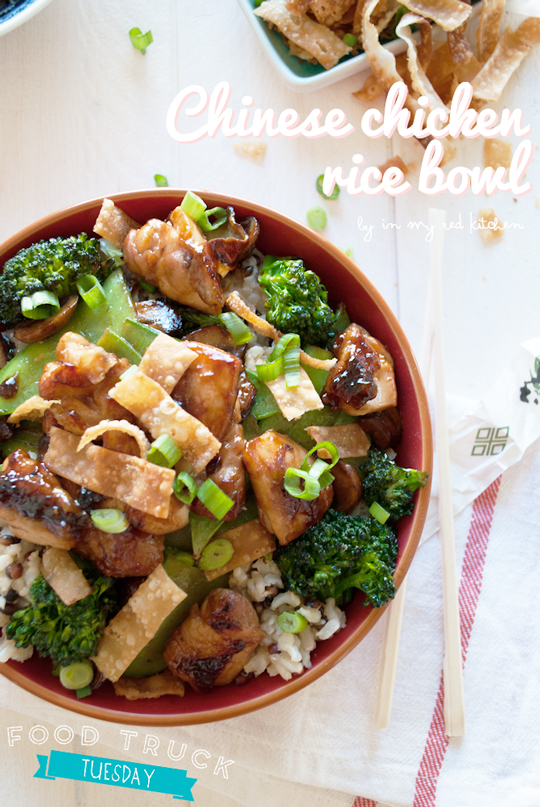 – Click here for this recipe in Dutch -> Chinese kip en rijst bowl –
Can you believe it's already October? Jeez time flies when you're having fun. And again it's the first Tuesday of the month and that means Food Truck Tuesday of course! Time for another recipe, made with Food Truck inspiration.
I love bowls. Big bowls, small bowls, bowls in a cute color or bowls with a hip print. They are all more than welcome in my kitchen. I have more bowls than I have plates and they come in all sizes. I like to serve side dishes or garnishes in small bowls, and preferably 'mix and match'. We eat our dinner often in deep plates, or large Asian bowls. Definitely always if we are using chopsticks, but also if we're enjoying a tv-dinner because we're in the middle of a series that we would like to finish, like House of Cards or True Detective. Eating from a bowl is much more relaxing than from a plate!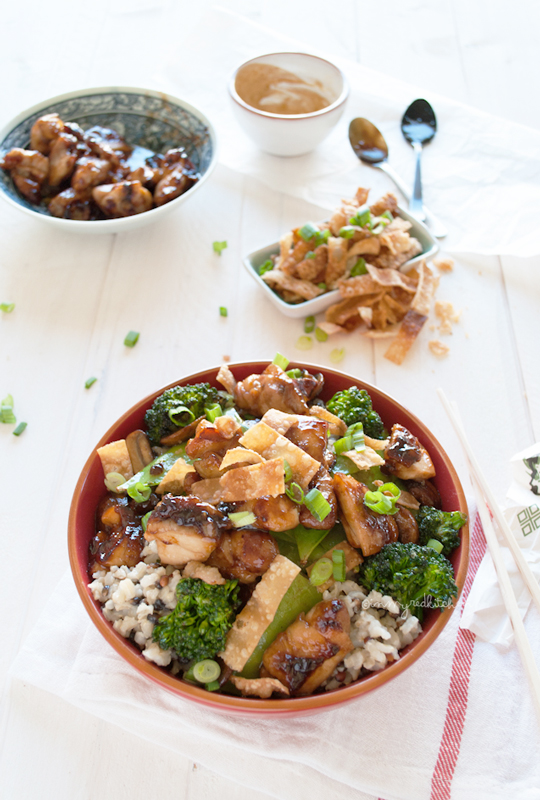 And it's just easier overall, if you eat out of a bowl then you don't have to use knife and fork, but just a fork or spoon is enough. Not that I like to eat with spoons, but that aside… 😉 And a bowl just looks much nicer than a plate and 'bowl' food is the tastiest!
You will also understand that I was very happy when I discovered a food truck in LA that specializes in bowls.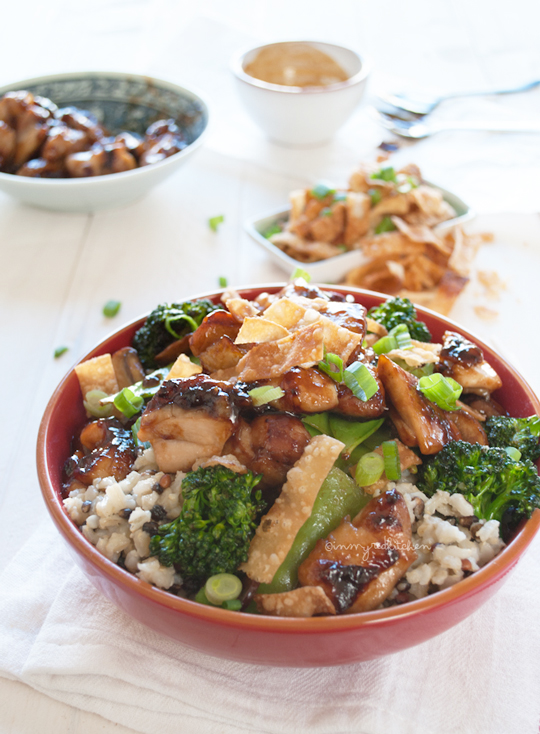 A bowl is of course not only a bowl, but it is also a concept. Delicious comfort food in a bowl, if you ask me. The truck 'Bowled & Beautiful' is run by three lovely ladies who have participated with their truck in the The Great Food Truck Race on Food Network. They serve delicious and healthy fresh comfort food in a bowl.
This fits perfectly with my healthier eating habits! Food truck food is all super tasty of course, but not always healthy unfortunately.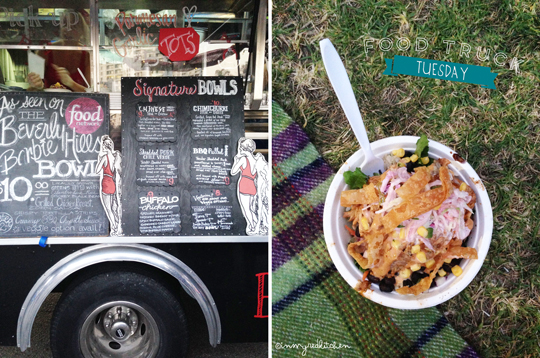 And so shortly after completing the 'Pure Food Challenge' (for 30 days I ate sugar- and refined carb free in order to get my healthy eating habits back) I could't get myself to make chorizo ​​quesadillas, or heavenly (but oh so wrong) fried rice sticks that I discovered a while ago at a food truck. Bowled & Beautiful was luckily still on my to-cover-list, so I made my own version of their Chinese hoisin-apricot chicken bowl. I used a brown rice blend, with black wild rice and daikon seed. Ordinary brown rice or wild rice also works well, because remember that brown rice is so much better for you than white rice.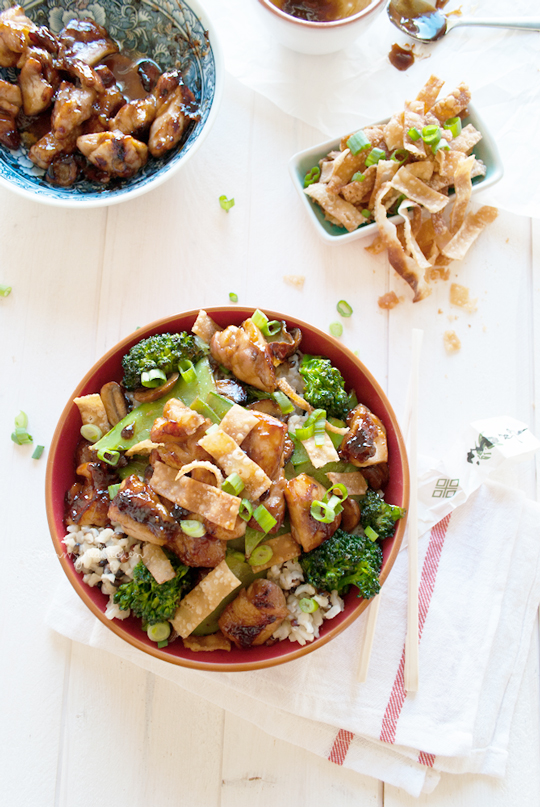 I baked the chicken in a homemade apricot hoisin sauce. Since apricot season unfortunately is over I used a spoonful of apricot jam. I gave the sauce an extra kick by adding some garlic and chili powder. This Chinese chicken rice bowl is quick & easy to make and packed with flavor. The sweet chicken goes well with the brown rice and crispy vegetables and the crunchy wonton strips finish it off. If you can't find fresh wonton sheets you can always buy them from the freezer at an Asisan store. But first let them thaw before you fry them!
So, time to get my lazy ass over to the couch to sit down with this tasty Chinese chicken rice bowl and finish True Detective!
Chinese chicken rice bowl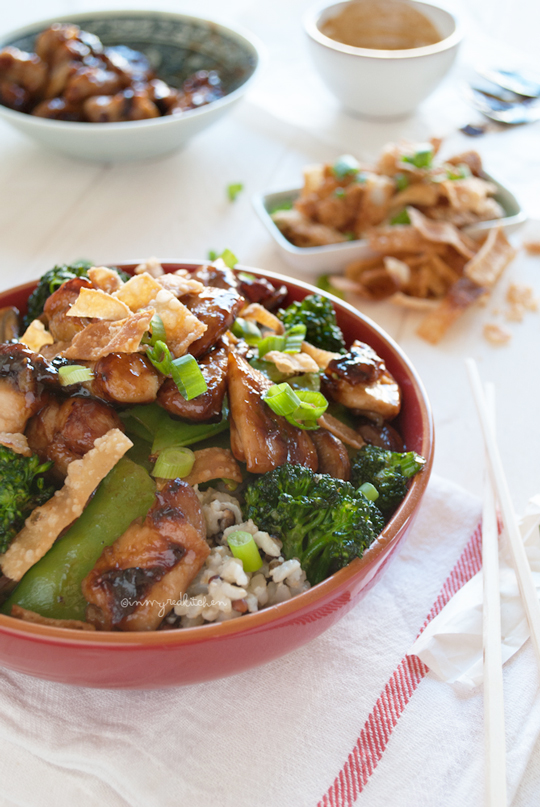 Súper tasty and also quick to make, this Chinese chicken & rice bowl is the perfect 'bowled' comfort food!
Ingredients
1 cup brown rice or brown rice medley
8 wonton sheets, sliced in strips
¼ cup coconut or vegetable oil
3 chicken thighs (i used skin on and bone out thighs) or 2 breasts
2 Tbsp hoisin sauce
1 Tbsp apricot jam
1 clove garlic, minced
pinch of sea salt
pinch of chili powder
9 oz snow peas, halved
8 oz broccoli, cut in bite-sized pieces
4 oz mushrooms, sliced
2 green onions, sliced
Instructions
Cook the rice according to the instructions on the package.
Prepare the wonton sheets and heat the coconut oil in a large wok over medium-high heat. Fry the wonton strips in batches until just golden brown. Place on a plate lined with kitchen towels to drip.
Discard the oil and wipe the wok clean with kitchen towels.
Cut the chicken in bite-sized pieces, place in a bowl and add the hoisin sauce, apricot jam, garlic, sea salt and chili powder. Stir until combined.
Heat the wok over high heat and add the hoisin chicken. No need to add any oil or butter.
Stir-fry the chicken for 3 – 5 minutes or until caramelized and done. Transfer to a plate but leave the heat on.
Place the wok back on the heat and add the snow peas, broccoli and mushrooms. Stir-fry them in the remains of the hoisin sauce for 2 – 3 minutes until done.
Serve the brown rice in 4 big bowls, divide the vegetables over it and then the chicken. Top with the crispy wontons and sliced green onions.
http://www.inmyredkitchen.com/chinese-chicken-rice-bowl/
Copyright Ellen Bannink- in my Red Kitchen
Enjoy!
Every first Tuesday of the month it's Food Truck Tuesday at in my Red Kitchen! Curious about the other Food Truck Tuesday recipes? Click here!