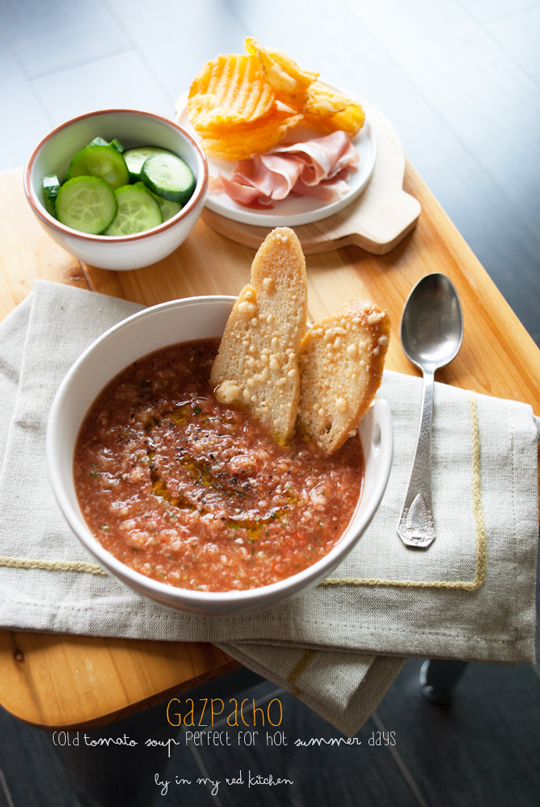 I posted the recipe for this summery gazpacho on my Dutch blog a little over a year ago. We just moved to LA and I wrote about eating dinner on our balcony.
In the Netherlands, you don't get that many summer days when you can eat your dinner in the garden or on the balcony. So when you dó get a summer day you grab your chance and you head out.
To town to meet your friends at the terrace of a café, to parks for a picnic or to the beach when it really is a hot summer day. I immediately noticed that in Amsterdam while we were there. We had a couple of shitty days, rain, rain and more rain. And it was also cold. But just two days before we were leaving for LA again the weather suddenly was good again.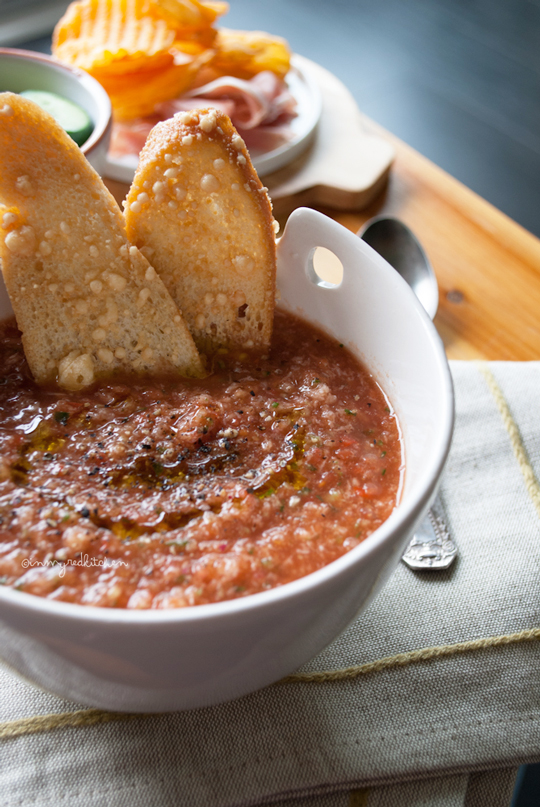 I was biking through town to meet friends to say goodbye again and I got claustrophobic because of ALL THOSE PEOPLE outside. I lived in Amsterdam for 8 years so you probably think I'm used to it.
But I wasn't… at least not anymore. One thing that came to my mind was: 'ah I can't wait to be back in quiet LA'. Yes… quiet LA, can you imagine that? LA is so big but at the same time it feels so empty and quiet. Driving around in your car feels so different, so lonely in a way. In Amsterdam everybody is using their bicycle to go around town, you are all outside on the same time, interacting while being in traffic (yes, rain or sunshine, always!).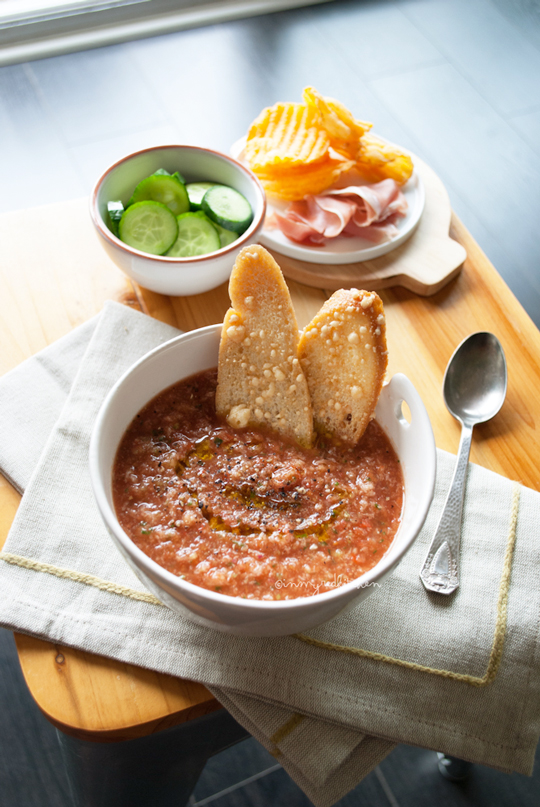 But I love my car, and I love driving around LA. I'm weird, I know… 😉 Life is good here, and the weather is perfect. Well, except for 'June Gloom', but luckily July is here now!
I'll be expecting to eat a lot of gazpacho this summer. It's the perfect healthy dinner on a hot summer day. And I love to serve it with crackers, bread, potato chips and charcuterie. You can serve it how you want, why not in a bread bowl or just plain healthy with some cucumber on top?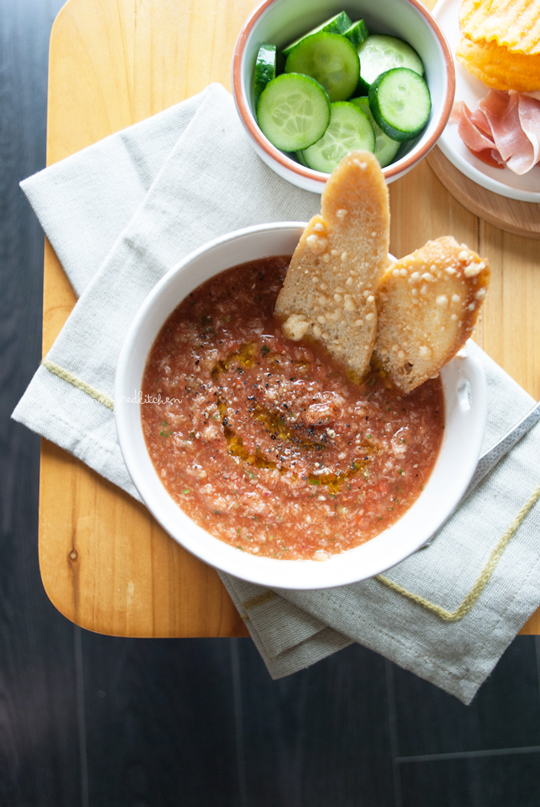 Refreshing cold tomato soup, perfect for hot summer days!
Ingredients
1 14 oz can tomatoes
½ paprika, washed and seeds and stem removed
2 persian cucumbers (or 9 oz), washed and stems removed
¼ red onion, thinly sliced
1 clove garlic, crushed
1 ½ cup filtered water
¼ cup red wine vinegar
1 cup panko
½ Tbsp sea salt
1 Tbsp olive oil
1 Tbsp tomato paste

for garnish:

croutons
cubed cucumber
fried onions or jalapeno
Instructions
Place the canned tomatoes, the paprika, cucumbers, red onion and garlic in a blender.
Add the filtered water and red wine vinegar and pulse until smooth and combined.
Transfer the gazpacho to a big bowl, add the panko and stir until combined.
Cover the bowl and place it in the fridge for at least two hours.
Stir in the sea salt, olive oil and tomato paste right before serving and serve with garnishes of choice.
Notes
You can also easily keep it overnight, up to 3 days in the freezer.
http://www.inmyredkitchen.com/gazpacho/
Copyright Ellen Bannink- in my Red Kitchen
Enjoy!