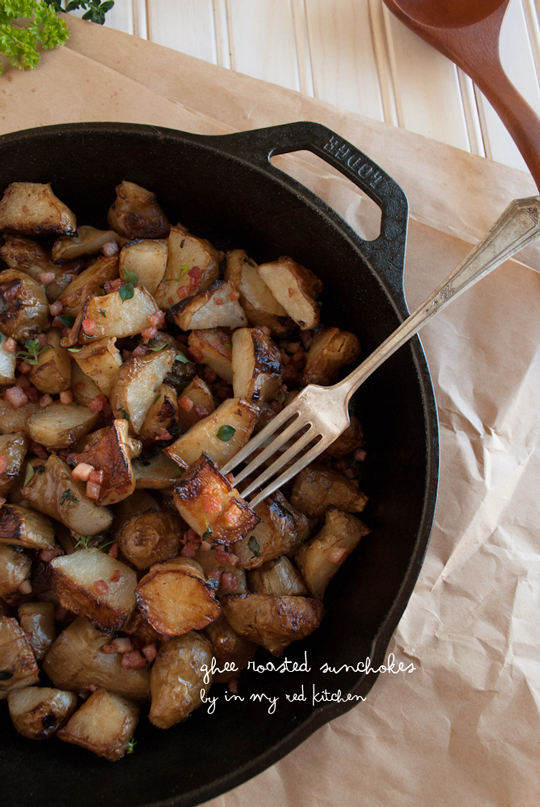 Do you know sunchokes? No? And have you ever heard of Jerusalem artichokes? It's the same root vegetable and it's also called topinambour, earth apple, sunroot or earth pear (in Dutch it's called earth pear or topinambour).
They look a little like bloathed ginger roots but they are actually the edible roots of a North American sunflower plant.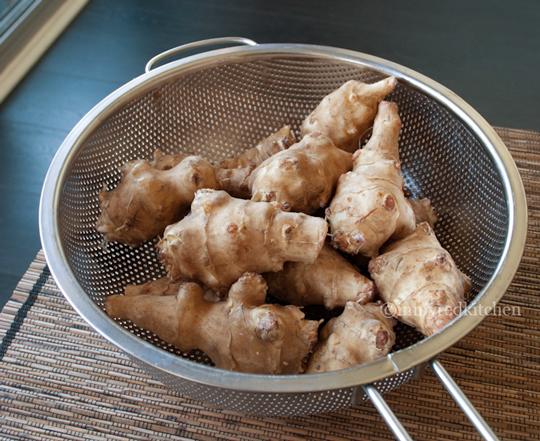 I really like this explanation of where the name 'Jerusalem Artichoke' came from, I found it on Wikipedia: "Despite its name, the Jerusalem artichoke has no relation to Jerusalem, and it is not a type of artichoke, though both are members of the daisy family. The origin of the name is uncertain. Italian settlers in the USA called the plant girasole, the Italian word for sunflower, because of its resemblance to the garden sunflower (note: both the sunflower and the sunchoke are part of the same genus: Helianthus). Over time, the name girasole may have been changed to Jerusalem. The English later corrupted girasole artichoke (meaning, "sunflower artichoke") to Jerusalem artichoke."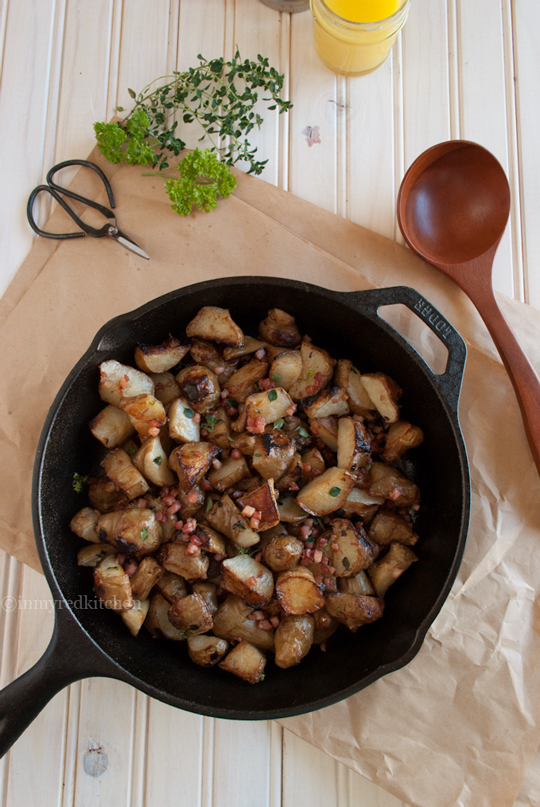 But I also read that Frieda's Inc. came up with the name 'Sunchokes'. Very clever! This delicious root vegetable has nothing to do with artichokes so 'Jerusalem Artichoke' is way too confusing. And too long 😉
When the lovely people at Frieda's sent me two pounds of sunchokes I was very pleased with that. I've had them before, I even made a creamy sunchoke soup with it! But I connect this root vegetable with winter, because I only ate sunchoke/'eart pear' soup in the winter. And since it already feels like summer in LA I wanted to do something else with the sunchokes.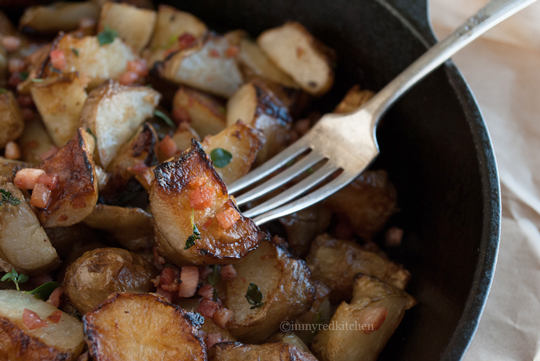 I remembered that Dutch food blogger Maaike made roasted sunchokes before and the best part was: you didn't had to peel the sunchokes!
So I went for it: washing and cutting the sunchokes, boiling them shortly in water and then roasting them in a skillet. With ghee! I like ghee, it's an Indian type of clarified butter and it's very nutty-tasting.
Which makes it perfect to go with the sunchokes, because the taste of this starchy root vegetable is nutty and slightly sweet. I also added pancetta. Pancetta or bacon is good and goes with everything.
Try it yourself!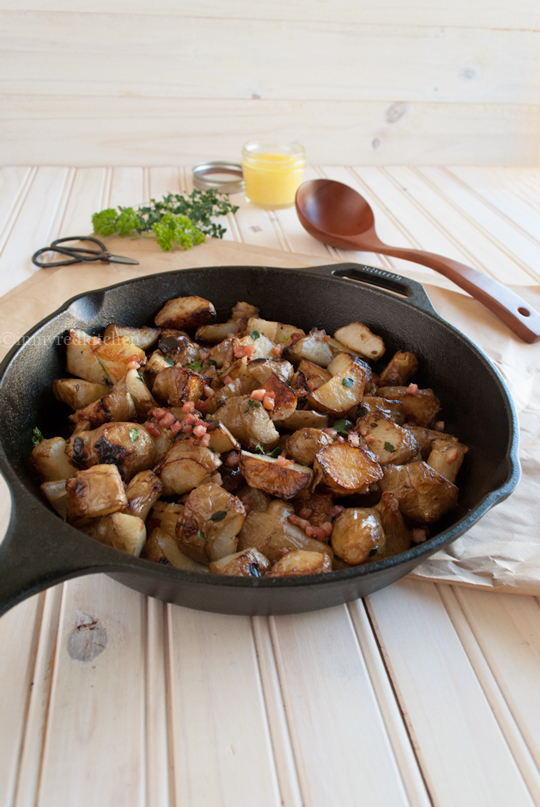 Sunchokes and pancetta roasted in ghee - it's a great side dish!
Ingredients
1 lbs sunchokes
2 Tbsp ghee
2 oz pancetta or bacon, cubed
2 sprigs parsley, chopped
1 big sprig of thyme, leaves only
Instructions
Wash the sunchokes and cut them in equal pieces of max 1 inch.
Add them to a large pan filled with water, put the pan over medium-high heat and bring to a boil. Remove from the heat once it starts boiling and drain the water.
Heat the ghee in a skillet over high heat and add the hot sunchokes. Roast them until crispy, in about 10 minutes, keep stirring.
Add the pancetta and bake another 2 -3 minutes until the pancetta is crispy. Add the parsely and thyme, give it a good stir and serve warm.
http://www.inmyredkitchen.com/ghee-roasted-sunchokes/
Copyright Ellen Bannink- in my Red Kitchen
Enjoy!
Please note: The lovely people at Frieda's provided me with the Sunchokes®. Thank you Frieda's!
You can find Frieda's products at Ralphs and Sprouts (LA Area). If you can't find what you're looking for, you can always ask your produce manager at the local store to order from Frieda's!