I had a dream.
Well, not actually a dream, it was more like a day dream. I was day dreaming of a soft steamed Chinese bun filled with tender pulled pork.
I had the dream about this delicious meal after having lunch at Take A Bao in the Century City Mall. I had a bao with hoisin pork and it was good! After my bao lunch I went to see the Jennifer Aniston movie We're the Millers, the lens of my camera was 'kaput' so I decided to take a day off. And I knew P didn't need to see that movie so if I wanted to see it I had to go alone. And I could do that during the day!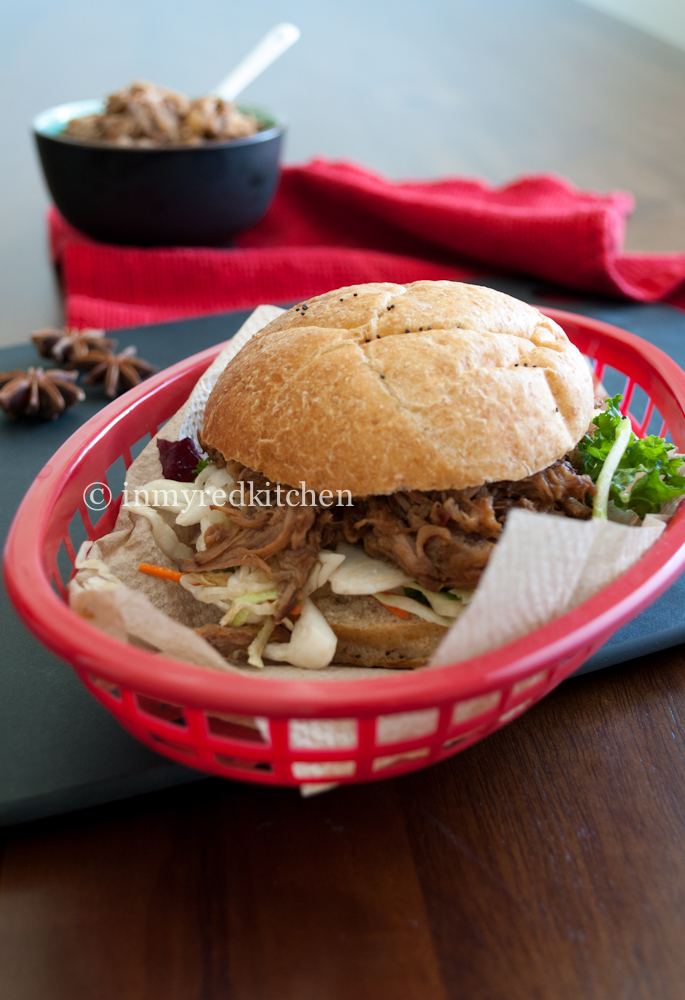 I liked the movie, I was laughing my ass off but all I could think of was baozi and Chinese pulled pork.
So you understand, I had to come up with a recipe and take my slow cooker out of the cupboard.
So I did.
I left the pork in overnight and the next morning when I woke up I smelled something delicious. My first thought was 'wow the neighbors are already cooking and it smells good!'
Only to realize half an hour later that the smell was coming from MY kitchen!
So far I did a good job!
And after pulling the pork and boiling down the sauce I can say for sure: this Chinese pulled pork is too die for!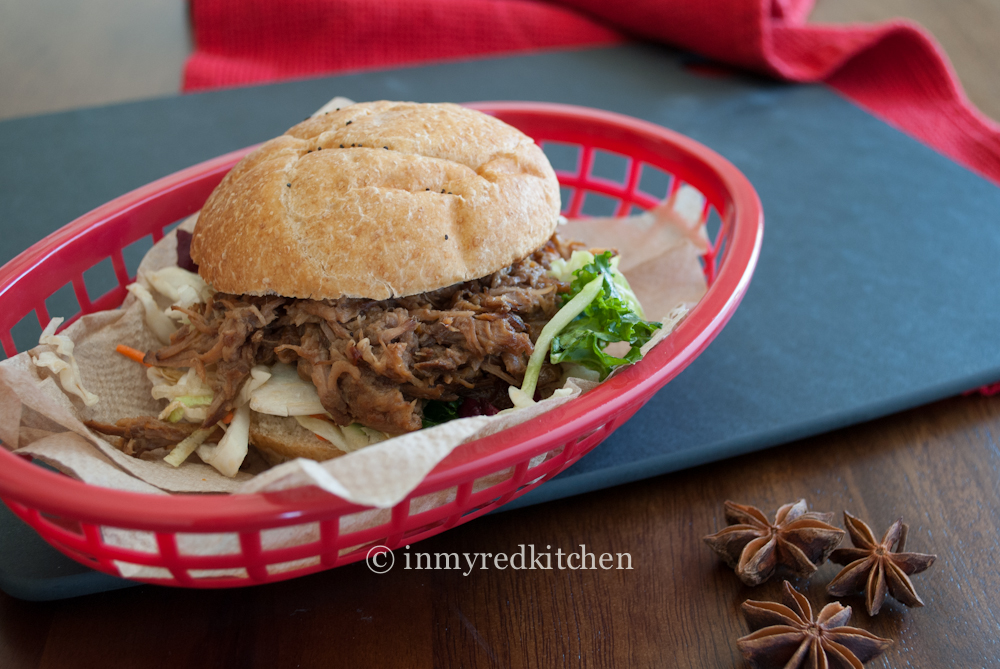 It's so tender and tasty that if pulled pork was a common dish in China everybody would make my recipe over there 😉
It goes really well in a bun with sesame cole slaw or with white rice and steamed vegetables. Luckily this recipe makes lots and lots of Chinese pulled pork, you can freeze it or you can use all of it to feed your party guests.
And the baozi with pulled pork? That recipe is coming soon!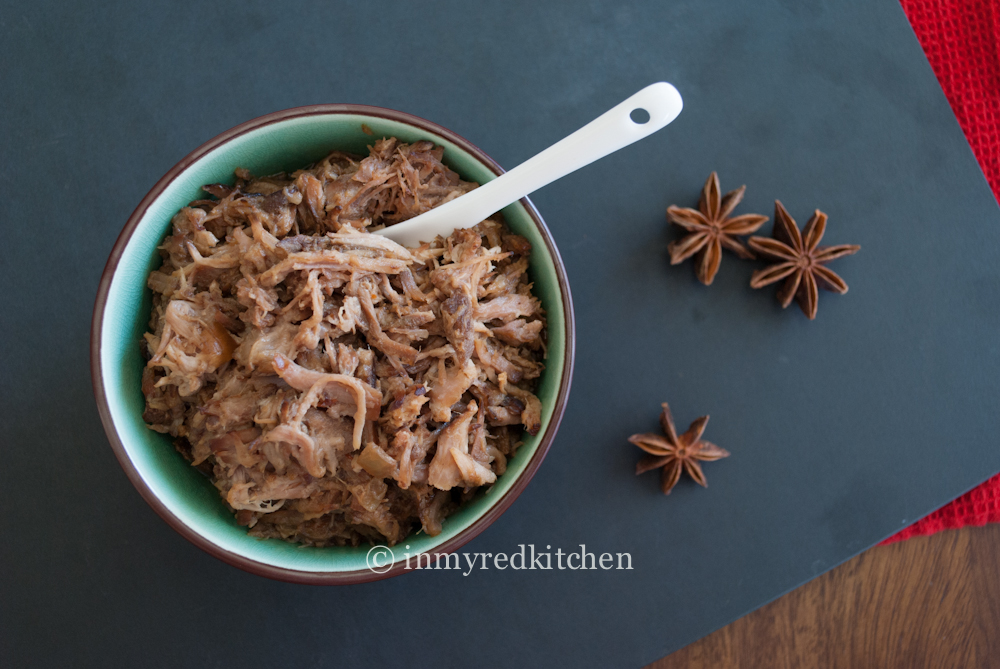 Tender and sweet Chinese Pulled Pork. Use a slowcooker to create this delicious recipe and eat it with white rice and steamed vegetables or on a (steamed) bun!
Ingredients
4lb pork butt of good quality, in 2" cubes
1 onion, diced
1 cup soy sauce
¼ cup sesame oil
2 Tbsp rice wine vinegar
¼ cup dark brown sugar
2" fresh ginger, cut in 5 pieces
2 pieces of star anise
another ¼ cup dark brown sugar
1 tsp red chili flakes
1 Tbsp corn starch
Instructions
Divide the cubes of pork butt in the slow cooker and add the coarsely chopped onion.
Add soy sauce, sesame oil and rice wine vinegar.
Add the brown sugar and divide the pieces of ginger and star anise between the meat.
Cook for 8 hours on low.
Transfer the meat to a plate and the liquids to a sauce pan. We're not wasting anything, we're making a sauce!
Add ¼ cup brown sugar and 1 tsp red chili flakes to the sauce and let the sauce boil down on high heat to 50% of the original liquids.
While the sauce is boiling down, use two forks to shred the meat.
Once the sauce is boiled down transfer 3 Tbsp to a small bowl and mix it with 1 Tbsp corn starch. Pour this mixture back to the sauce and let it simmer until thick. Discard the ginger and star anise.
Pour the sauce over the pulled pork and mix until combined.
Your Chinese Pulled Pork is ready! Use it as a filling for baozi, bao or a bun or serve it with white rice and steamed vegetables.
http://www.inmyredkitchen.com/chinese-pulled-pork/
Copyright Ellen Bannink- in my Red Kitchen
Enjoy!