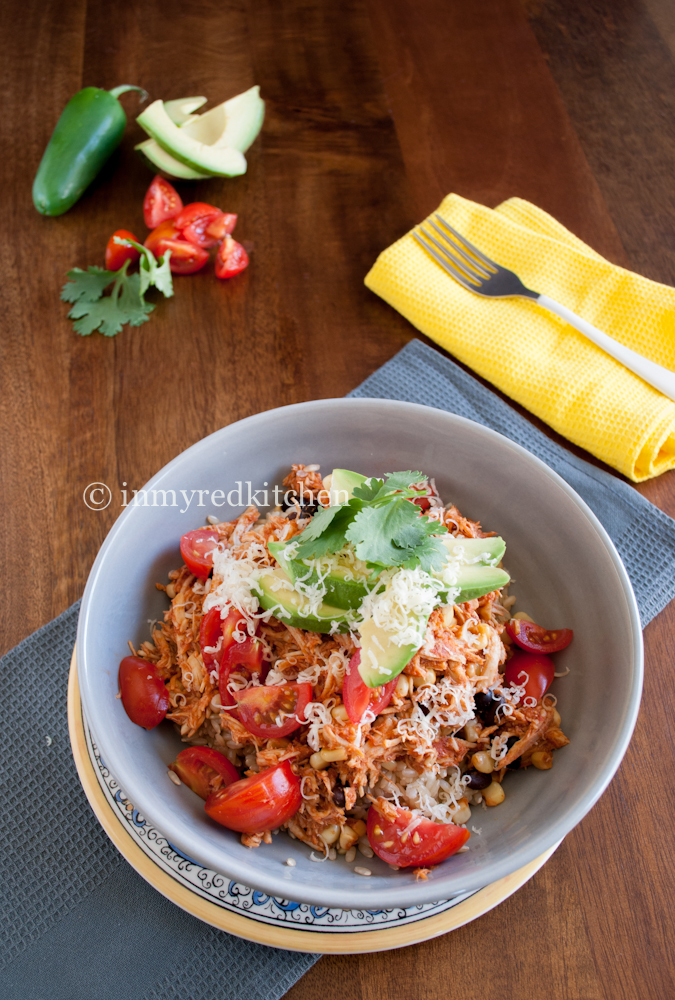 Before moving to the US I wanted to buy a slow cooker, I did a lot of research and it turned out they sell only three different kinds of Crock-Pot in the Netherlands and they are só expensive! And by expensive I mean €49 – €59 and €149 so that will be $66 – $80 and $200
But if I would do it, I would do it right so I saved up some money and went to the store to get some information about ordering them. And one day later my husband received an important email from LA what made me decide not to order the Crock-Pot.
Lucky me because we ended up moving to LA a few months later so as soon as I could I bought my first-ever Crock-Pot.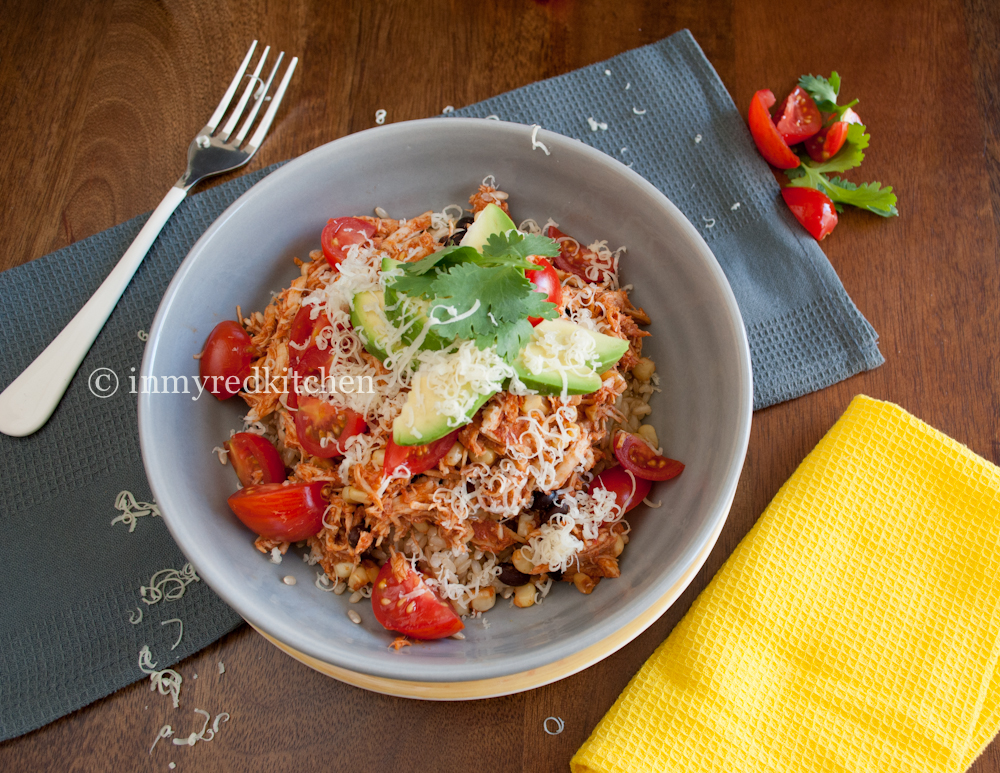 And I loooooove it! I made quite some Pulled Pork dishes already and they turned out great! Have you seen my Chinese Pulled Pork recipe yet?
After all these pork butts I wanted to try something with chicken. And although I really like chicken thighs I figured it was healthier for me to use a leaner part of the chicken, so I used chicken breasts. But feel free to use chicken thighs, I know that will be great too!
And please note: this recipe for Chicken Taco Bowls makes enough chicken for 8-12 people for dinner. I put 3 boxes in the fridge and it is also delicious served over some roasted butternut squash or as (oven baked) taquito filling.
Slow cooker Chicken Taco Bowls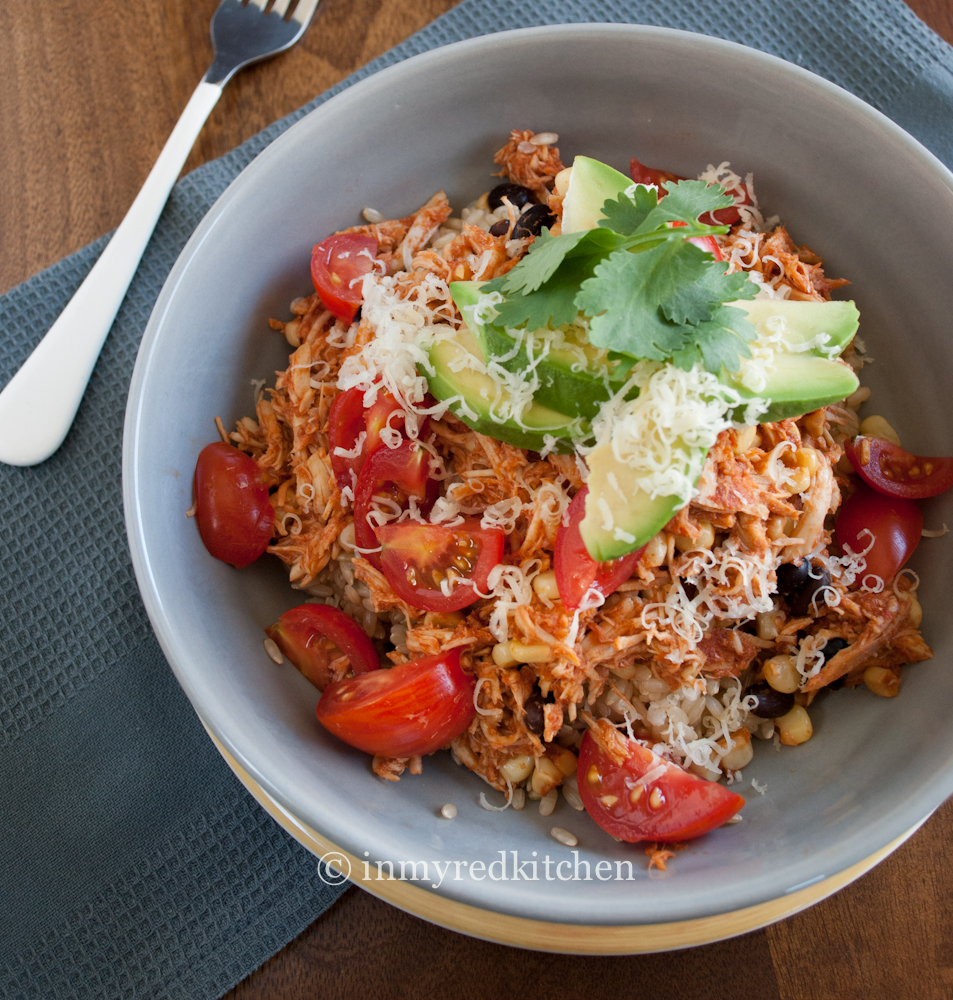 Extremely healthy and extremely easy-to-prepare Chicken Taco Bowls. Oh, and also extremely good!
Ingredients
1 12 oz can roasted bell peppers (drain weight is approx. 7-8 oz)
2 jalapenos, deseeded and coarsely chopped
1 onion, coarsely chopped
1 15 oz can tomatoes
1 Tbsp Cumin
1 Tbsp garlic powder
1 tsp chili
1 tsp unsweetened cocoa powder
4 Chicken breasts (approx. 3lb)
1 15 oz can black beans
2 cups frozen corn
salt & pepper to taste

for serving

cooked brown rice
fresh cilantro
grated cheddar
Instructions
In the bowl of a food processor or blender, combine the bell peppers with the jalapeno and onion. Pulse until smooth and transfer the pepper sauce to the slow cooker.
Add the canned tomatoes, the cumin, garlic powder, chili and cocoa powder and stir with a rubber spatula until combined.
Place the chicken breasts in the slow cooker and add the black beans and corn.
Cook for 8 hours on low.
Transfer the chicken to a plate and shred it with two forks.
Heat up a little bit of oil in a skillet over high heat and add the chicken meat. Stir for 2 minutes.
Add the tomato sauce with the beans and corn, stir until combined and add salt & pepper to taste.
Serve the spicy tomato chicken over some brown rice and garnish with cilantro and some grated cheddar.
http://www.inmyredkitchen.com/slowcooker-chicken-taco-bowls/
Copyright Ellen Bannink- in my Red Kitchen
Enjoy!
Next up: I need to try something different in my slow cooker, like soup or lentil stew. What are your favorite slow cooker meals? Give this slow cooker-newbie some recipes! 😉