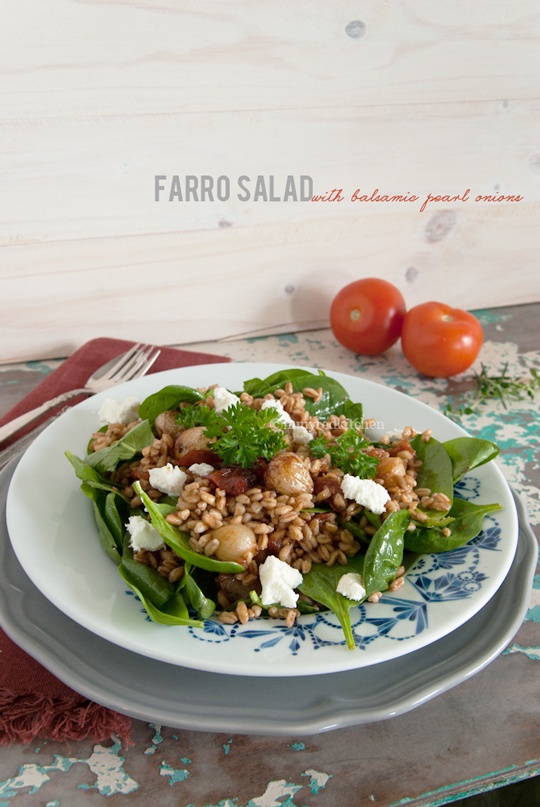 All my life I have been eating pearl onions, or 'silver onions' as we call them in the Netherlands. But this is the first time I've hold them in my hands in their own raw shape.
You see, in the Netherlands these pearl onions are pickled and sold in cans. I love anything pickled! So when the lovely people at Frieda's sent me a bag of pearl onions I wanted to pickle them, just like the ones I used to snack on in the Netherlands.
But pickling was too easy to do, it's more fun to try something else. And since I love chewy grains I immediately thought about a spelt salad with balsamic onions I made a couple of times. Spelt is great but I hate it that it has to soak for a couple of hours. So now I'm embracing the farro and barley I buy at Trader Joe's, you only have to cook it for a few minutes and then you can stuff your face in it.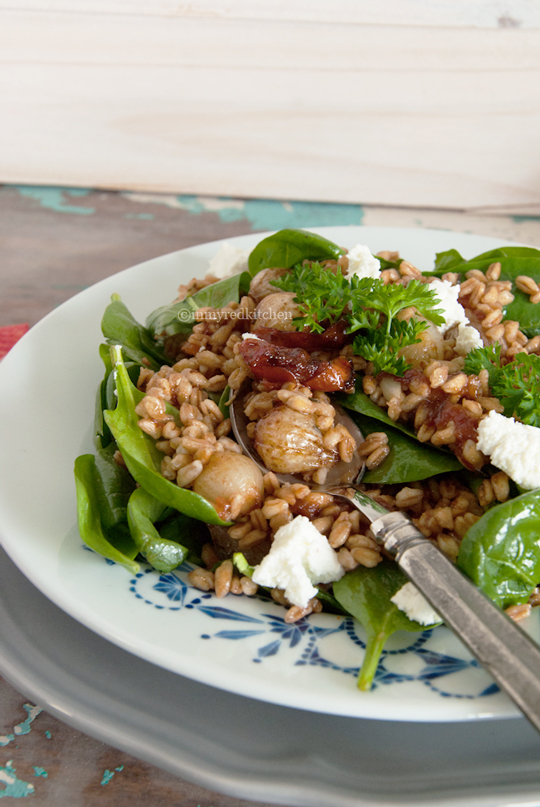 Yes, that's exactly what I do. 'Normal' people like to stuff their face into a big chocolate cake but I'm on a health kick lately so I want to stuff my face in this farro salad with balsamic pearl onions.
Well ok, I have to admit… I also eat a lot of donuts, hamburgers and tacos now my sister is visiting us. But I'm still juicing (4 juices a week) and I go hiking, three times a week now! I just make my sister to also drink juices and I bring her along on my hikes. Today we're hiking up to the Hollywood Sign, how fun!
Tomorrow we can have a donut again, but today is all about hiking and healthy food, like this farro salad with balsamic pearl onions. If you can't find pearl onions you can also use small shallots for this dish. But try to find pearl onions because they are so cute and so tasty! (scroll down for more information on Frieda's produce)
Farro salad with balsamic pearl onions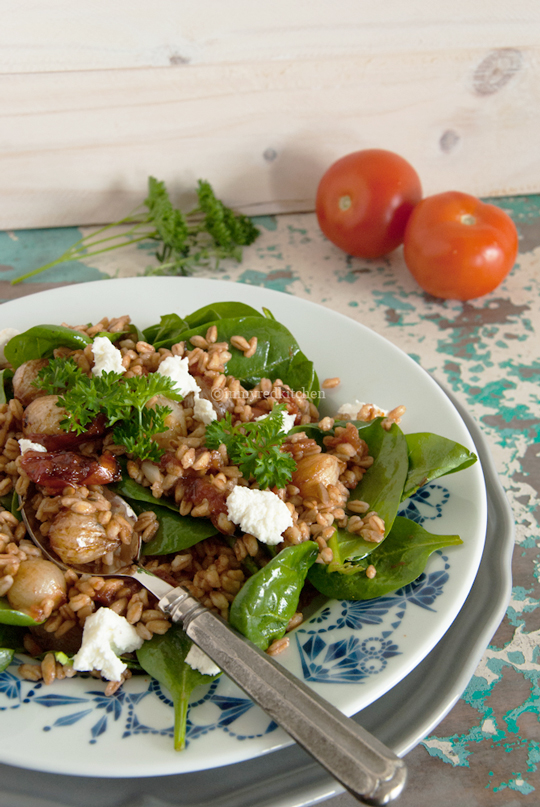 Sweet and sour caramellized pearl onions with a warm farro salad - delicious!
Ingredients
6 oz pearl onions
2 large tomatoes
2 Tbsp olive oil
2 Tbsp balsamic vinegar
1 tsp sugar
1 tsp chopped thyme and rosemary
2 garlic gloves (skin on)
1 cup farro
2 cups spinach
2 oz soft goat cheese
Instructions
Preheat the oven to 400 degrees F.
For easy peeling: bring a pot of water to a boil, add the pearl onions and turn off the fire. Let it stand for 3 minutes and drain. Run under cold water for 1 minute and slice off the root end of the pearl onions. Peel off the skins.
Cut the tomatoes in wedges and add with the pearl onions to a baking dish. Add the olive oil, balsamic vinegar, sugar and thyme and rosemary and stir until all the onions and tomatoes are covered.
Add the garlic gloves and bake in the preheated oven 45 minutes until the onions are caramellized. Stir every now and then.
In the meantime, cook the farro until tender (10 minutes for the trader joe's one) and drain the water.
Press the soft garlic out of the skins and add that to the warm farro.
Add the onions, tomatoes and the balsamic sauce. Stir until combined.
Add the spinach, stir until combined and serve with the goat cheese.
http://www.inmyredkitchen.com/farro-salad-balsamic-pearl-onions/
Copyright Ellen Bannink- in my Red Kitchen
Enjoy!
Please note: The lovely people at Frieda's provided me with the cute pearl onions. Thank you Frieda's!
You can find Frieda's products at Ralphs and Sprouts (LA Area). If you can't find what you're looking for, you can always ask your produce manager at the local store to order from Frieda's!