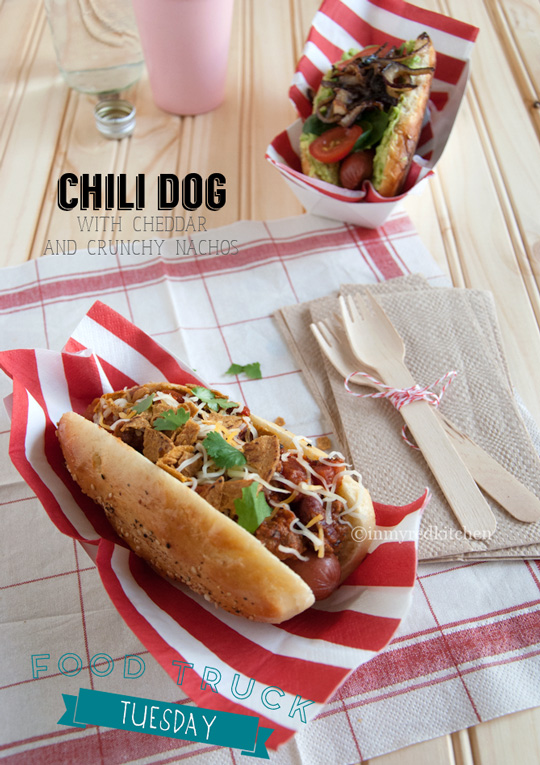 – Click here for this recipe in Dutch -> Chili hotdog –
And there it is, the second Food Truck Tuesday since I came up with this section 😉
For this second edition I wanted to focus to the first Food Truck meal we had after arriving in Los Angeles a little over 9 months ago. It was on a sunny Saturday…
Wow, that sounds like the beginning of fairy tale 😉 But instead I'll be talking about hot dogs. Chili dogs to be precise! We moved to LA on the last Sunday of April last year. We had a week off before P would start his new job but there was no time for vacation. Instead we had to arrange a lot, to the Social Security Office, to the DMV for the written test, opening a bank account and getting new contracts for our mobile phones.
So that weekend we decided we wanted to enjoy LA and the weather before P had to go to work on Monday. We went out for dimsum, celebrated P's birthday with home made American pancakes (as if I had my mind on buying presents in the middle of our immigration 😉 ), went to the Getty Museum and stopped by an art show in Beverly Hills.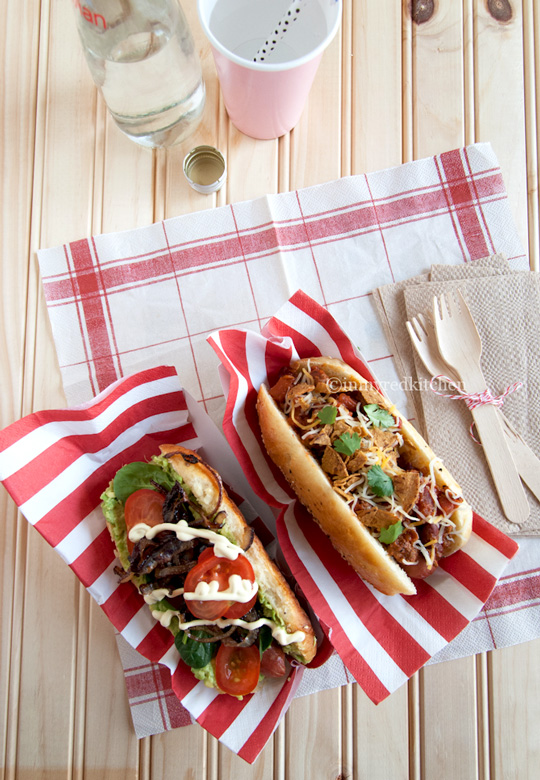 P knew one of the participating artists and it was a good way for us to explore town. The best part of the art show where the food trucks! I'd been to a Mexican food truck before and was already looking forward to LA's food truck culture.
For my first food truck meal I got a real American hot dog from Dogtown Dogs. 'Real American' to me is: 'over the top'. I thought by myself: why would you add beef chili to a hot dog? And why would you top that with cheese AND with nacho chips? That's like bad topped with extra bad and garnished with super bad! Why not just eat a hot dog in a hot dog bun. Or beef chili with nacho chips?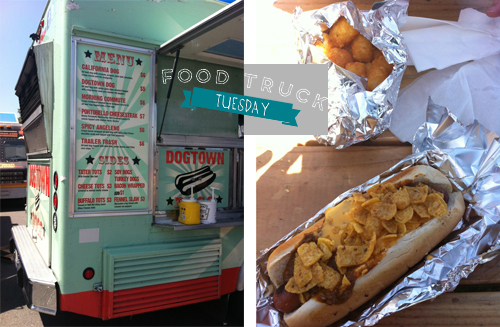 But after my first bite I totally got it! The salty hot dog goes so well with the beef chili and the creamy nacho sauce. And then those crunchy chips! Yum, I like crispy and this was the right balance between all the flavors and textures.
So I decided to make chili dogs at home. Because home made is always better than everything else! I also made the buns myself, I used the recipe for hamburger buns that's on my Dutch blog. And I used organic beef hot dogs of which I knew all ingredients on the ingredients list. You can really taste it's a good product, the hot dogs where delicious!
Food Truck Tuesday: Chili dogs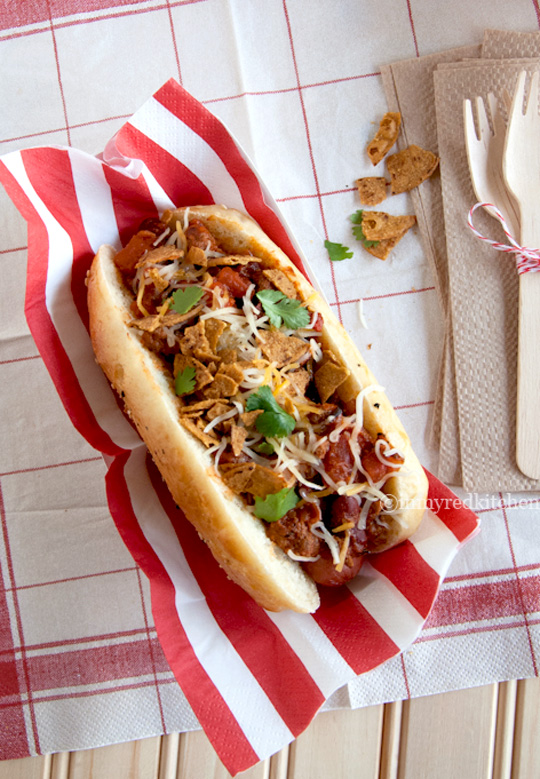 Fast food made healthier, home made Chili dogs are so delicious! A salty organic hot dog topped with chili, cheddar cheese and crunchy nacho chips. Can I have another one? 😉
Ingredients
for the chili

1 Tbsp butter
½ small onion, chopped
2 gloves garlic
1 roasted bell pepper (from a can), chopped
½ Tbsp finely chopped jalapeno
6 oz ground beef
1 Tbsp tomato paste
½ tsp chili powder
½ tsp cumin
¼ tsp cayenne
1 cup kidney beans
1 14 oz can tomatoes
Salt to taste

for the chili dogs

4 hot dogs (preferably organic)
4 hot dog buns
½ cup crushed tortilla chips
½ cup grated cheddar
cilantro for garnish
Instructions
Melt the butter over medium-high heat in a Dutch oven, cook the onions, garlic, bell pepper and jalapeno until soft, for about 3 minutes.
Add the beef and bake until brown, break up large clumbs into smaller bites.
Add the tomato paste and the spices and stir until combined.
Add the beans and tomatoes, bring to a soft boil and let simmer on low heat for 20 minutes.
Add salt to taste.
Heat up the hotdogs according to the instructions. I prefer grilling over boiling.
Lightly toast the hotdog buns before start building your chili dogs.
Put your hot dog in the bun, top with chili and then with cheese and the crushed tortilla chips. Add cilantro for garnish (or leave it out).
http://www.inmyredkitchen.com/chili-dog/
Copyright Ellen Bannink- in my Red Kitchen
Enjoy!
And stay tuned for an extra hot dog recipe! I hope you'll like them!