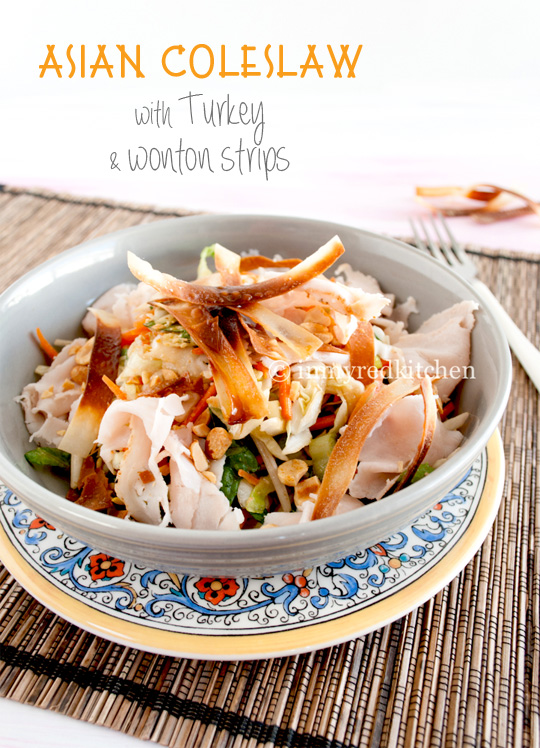 This Asian-style coleslaw salad is one of my favorites at this moment. I eat this at least once a week for lunch.
Just mix some coleswla coleslaw with romaine and add bean sprouts for an Asian touch.
But the best of this coleswla coleslaw (argh! I keep typing it wrong!) salad is the dressing. Within a few days after we'd moved to LA I bought a bottle of Kewpie Spicy sesame oil dressing. Wow! It's great, I've fallen in love with this dressing and I've bought more bottles ever since. I have even sent bottles to my friends of Kayotic Kitchen and Nombelina in the Netherlands 😉 They also loved it.
And the best thing is, Kay spotted this dressing at a Dutch supermarket (Albert Heijn) so my Dutch friends can also buy it now!
Yay for them!
So, go on, make this delicious, crunchy and healthy Asian Coleslaw salad for lunch today!
I know I will 😉
Asian Coleslaw with Turkey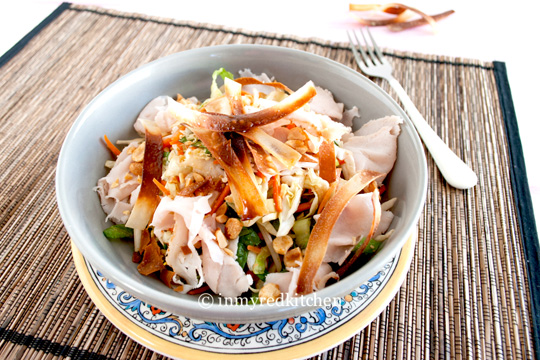 A healthy and quick Asian Coleslaw salad with Turkey and crispy wontons. Perfect to balance out all the Halloween candy 😉
Ingredients
4 wonton sheets
1 Tbsp coconut oil
4 cups of coleslaw and romaine
1 cup bean sprouts
1 cup shredded carrot
4 scallions, sliced
6 oz turkey breast, sliced
2 Tbsp chopped peanuts
Instructions
Cut the wonton sheets in 0.5" strips and heat up the coconut oil in a skillet over high heat. Fry the wonton strips until crispy and brown and set aside.
Mix the coleslaw and shredded romaine in a bowl with the bean sprouts, carrots and scallions,
Add the spicy sesame oil dressing to the coleslaw and mix until well combined.
Divide the coleslaw over two bowls, add the turkey and the peanuts and garnish with the crispy wonton strips.
Notes
Couldn't find any Kewpie Spicy sesame oil dressing? Poor you! Make a dressing of soy sauce, sesame oil and chili flakes instead!
http://www.inmyredkitchen.com/asian-coleslaw-turkey/
Copyright Ellen Bannink- in my Red Kitchen
Enjoy!