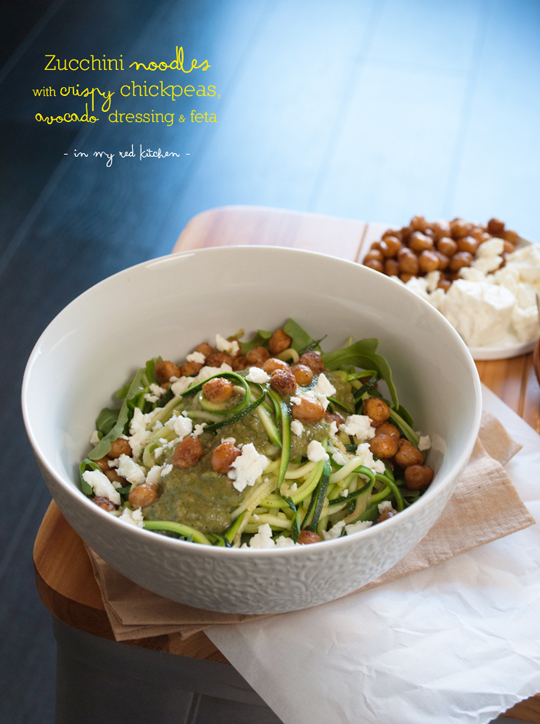 – Click here for this recipe in Dutch -> Courgette noodles met krokante kikkererwten –
Can't stop won't stop… I'm really into zoodles right now, or zucchini in noodle form. A súper healthy alternative to spaghetti or noodles, because duh, it's green and it's a vegetable! Is there anything more healthier to eat?
Well then… Just sayin'…
P is currently working super hard, the last two weeks he's came home around midnight on weekdays. They're serving dinner at work, so I just eat at home all by myself. I don't mind, time to eat things I like which he hates. Blue cheese for example, it's very tasty to melt that in a skillet and add zucchini noodles. I could eat that every day!
What is also nice of a husband who's working overtime, is the amount of trash tv that you can watch. As much as you want and as long as you want, all day every day! P really hates that so when he's home I don't even try to watch it, because if I do then he looks at me as if he's hugely disappointed in me.
But every now and then I love towatch trashy tv shows which don't need much thinking, and marvel about the religious family with 19 children who have very bizarre courtship rules. Or get annoyed by "extreme cheapskates", people who are incredibly frugal life, and to do the craziest things. A woman who uses dryer lint instead of a cotton pad to remove her makeup in the evening. Or a man who rides his bike all day long in search of coins, and who then goes to buy some groceries with the money he found (two sheep heads for $ 7.50 at the butcher… his wife didn't like that either…).
My max was reached when a married couple told about the competition that they're having each month to minimize their spendings. They kept a list in order to calculate who had flushed the toilet most, so who had to pay most of the household money. And they shared a toothbrush and floss thread (!!) after they had showered together for 2 minutes. He got the shampoo remains of her so he could wash his own hair.
Erm…. I couldn't look at it anymore. Sometimes there is indeed a max of what you can tolerate in terms of trash tv.
Well, I hope P finishes his project soon so he can come home again, I'm done with the tv 😉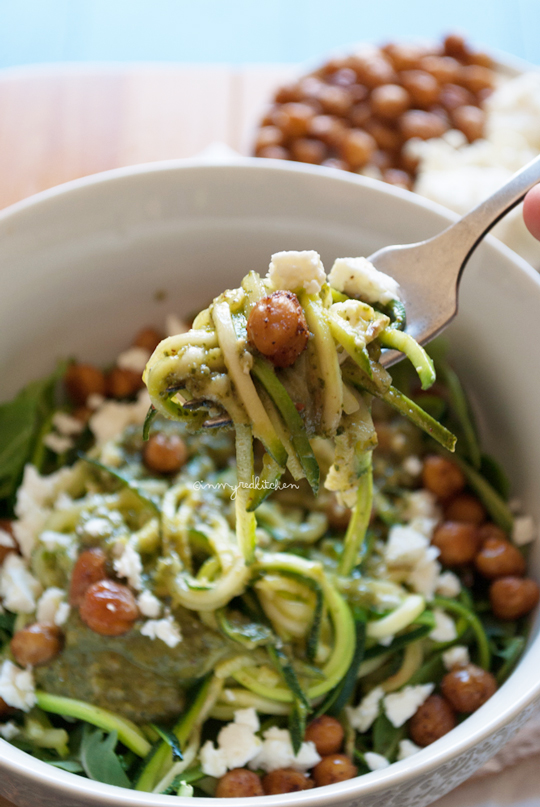 When he returns home in time for dinner again, I will make him these delicious zucchini noodles with crispy chickpeas! I recently threw some leftovers together and served it as lunch for a friend. So incredibly delicious! I made it over and over again that week, also once with goat cheese instead of feta. That was ok, but with feta it taste so much better!
So, here you are: zucchini noodles with avocado dressing, some tasty crispy baked chickpeas and served on a bed of arugula with crumbled feta on top.
Are you coming over for dinner?
Zucchini noodles with crispy chickpeas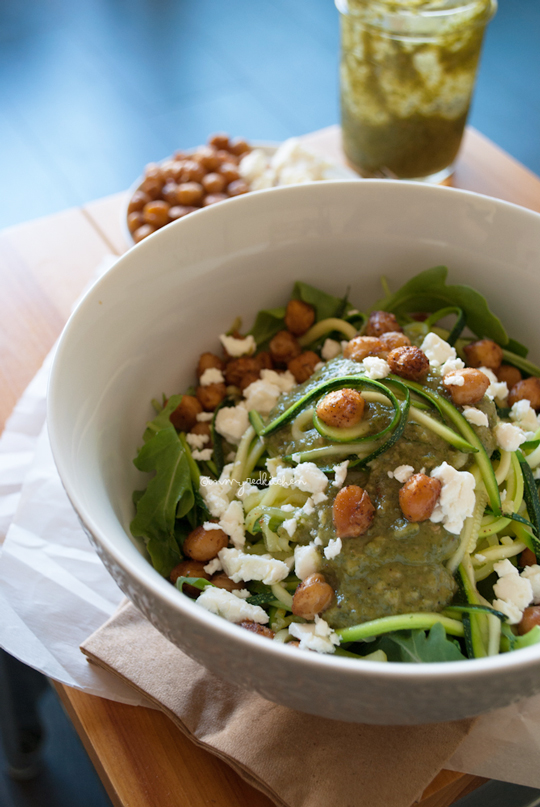 Vegetarian and low carb... Oh boy I love dinners like this!
Ingredients
1 14 oz can chickpeas
2 Tbsp olive oil (divided)
1 tsp ground cumin
½ tsp ground coriander
pinch of ground chili pepper
2 zucchinis
salt to taste
2 large handfulls of arugula
½ portion avocado salad dressing
2 oz feta
Instructions
Preheat the oven to 375 degrees F.
Drain and rinse the chickpeas, pat them dry with kitchen towels, discard loose skins and mix them with 1 tablespoon olive oil and spices.
Spread on a baking sheet and bake in the preheated oven for 15 – 20 minutes until crispy.
In the meantime, slice the zucchini with a course grater, mandoline slicer or spiral slicer.
Heat the remaining tablespoon olive in a skillet over medium-high heat and cook the zucchini noodles for 2 – 3 minutes until soft. Add salt to taste.
Grab two bowls or deep plates and divide the arugula. Place the zucchini noodles on top of the arugula and divide the avocado salad dressing over it. Crumble with feta and finish with the crispy chickpeas.
http://www.inmyredkitchen.com/zucchini-noodles-crispy-chickpeas/
Copyright Ellen Bannink- in my Red Kitchen
Enjoy!
I use my OXO Good Grips V-Blade Mandoline Slicer
to make zucchini noodles, but a Paderno Spiral Vegetable Slicer
is still on my list!