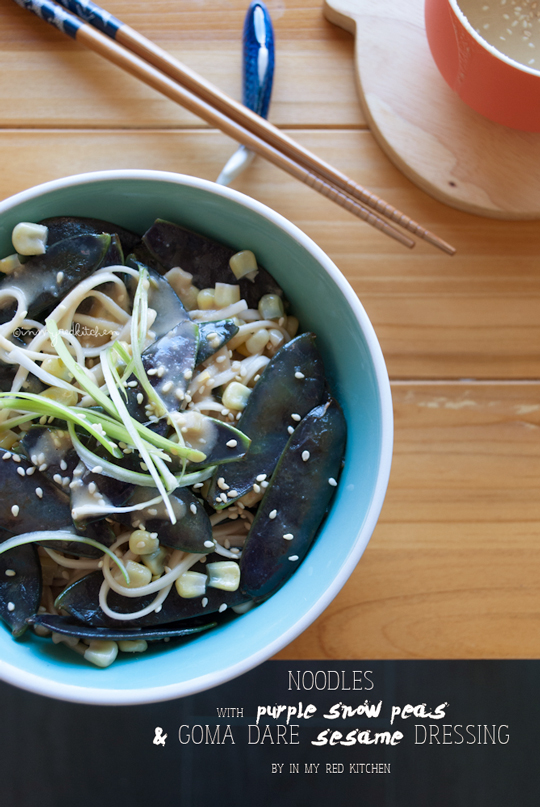 – Click here for this recipe in Dutch -> Noodles met peultjes en goma dare dressing –
If I want to do my husband a favor than I have to serve him snow peas. And preferably raw. I try to eat them raw myself sometimes, but alas… I really wish I like them, so I can snack raw snow peas instead of potato chips or chocolate 😉
But however, I like them stir-fried! Fortunately, because there were beautiful purple snow peas in the box I received from Frieda's this month. I had to be quick because once P would see that there were snow peas in the fridge, I would lose them, and then he had eaten two packs of raw purple snow peas.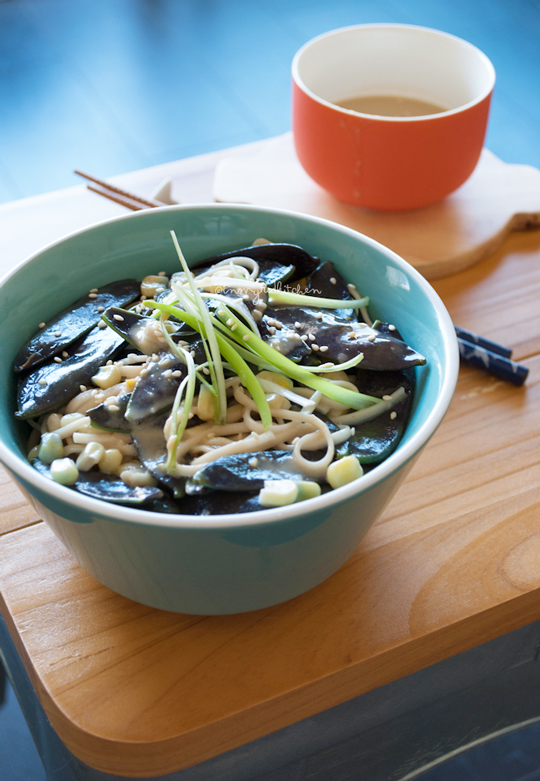 But first I had to think of what I would do with it. It has been a while since I cooked ​​something Asian and the Chinese supermarket is so far away. Well, it's only a half hour drive but… but still! The Japanese supermarket was closer, especially now that I've discovered that there's also quite a big Japanese supermarket on Sawtelle (a street full of Asian eateries in our neighborhood). And at the same time that I realized that the Japanese store was closer by, I also thought of a note that I had in my phone. One of the many notes by the way… but this is what it said: 'Goma dare, Japanese sesame dressing'.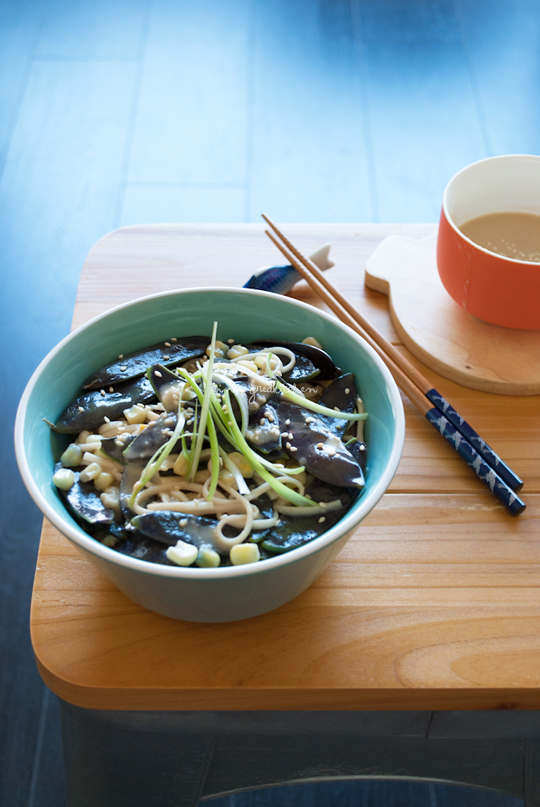 PJ from Nombelina asked me one time if I had heard about goma dare. That's already been a year ago and I'm actually a little surprised that I haven't had it in the meantime. Goma dare is indeed a sesame sauce that is served with shabu-shabu, and we eat a lot of Japenese food here in LA. Or bellies are so round because of all that Japanese ramen, sushi and okonomiyaki (Japanese pancakes). But shabu-shabu? I must need look up a place where I can eat that. There is still so much to discover in LA!
With shabu-shabu you hold a thin slice of beef briefly in a pot of boiling water and then dip it in ponzu sauce or goma dare. Sounds tasty! But I found a quick recipe to make goma dare at home and I used it as a dressing for some cooked udon noodles with snow peas an corn.
Really nice! From now on, I make sure I always have a bottle goma dare dressing at home, it's a nice dressing that gives any salad an Asian touch!
Noodles with snow peas and goma dare dressing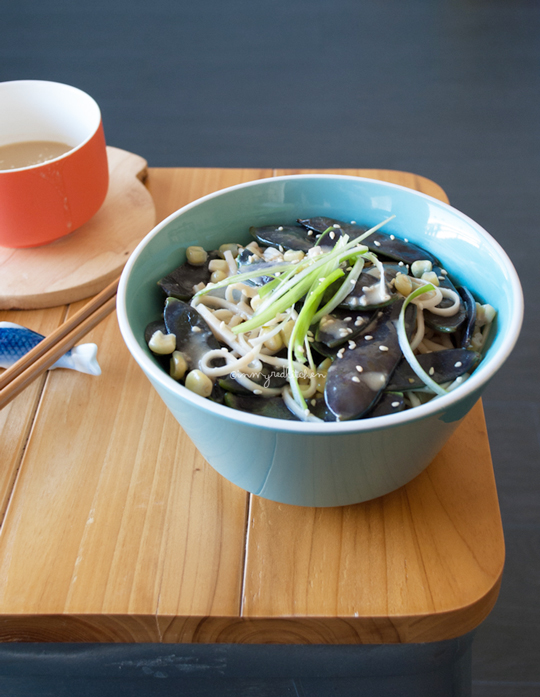 A delicious sesame dressing that gives the noodles and snow peas an Asian touch!
Ingredients
For the sesame dressing:

2 Tbsp sake
2 Tbsp nerigoma (or tahini sauce)
1 Tbsp ponzu
1 Tbsp white miso
1 Tbsp sesame oil
1 tsp mirin
1 tsp rice vinegar
½ tsp sugar

For the noodles:

3 oz udon noodles
½ Tbsp oil
6 oz (purple) snow peas
5 oz corn
2 cloves garlic, finely chopped
2 green onions, thinly sliced
1 tbsp sesame seeds
Instructions
Make the goma dare sesame dressing by mixing all the ingredients together. Set aside.
Cook the noodles according to the instructions on the package. Drain and set aside in a large bowl.
Heat the oil in a wok over high heat. Add the snow peas and the corn and stir-fry for a 2 minutes. Add the garlic and stir-fry for a few seconds until done.
Add the snow peas and the corn to the noodles and toss. Drizzle with half of the goma dare sesame dressing, toss again and serve with the sliced green onions and sesame seeds and the remaining goma mare sesame dressing on the side.
http://www.inmyredkitchen.com/noodles-with-snow-peas-goma-dare-dressing/
Copyright Ellen Bannink- in my Red Kitchen
Enjoy!
Please note: The lovely people at Frieda's provided me with the purple snow peas. Thank you Frieda's!
You can find Frieda's products at Ralphs and Sprouts (LA Area). If you can't find what you're looking for, you can always ask your produce manager at the local store to order from Frieda's!