I have a crush. A crush on fennel.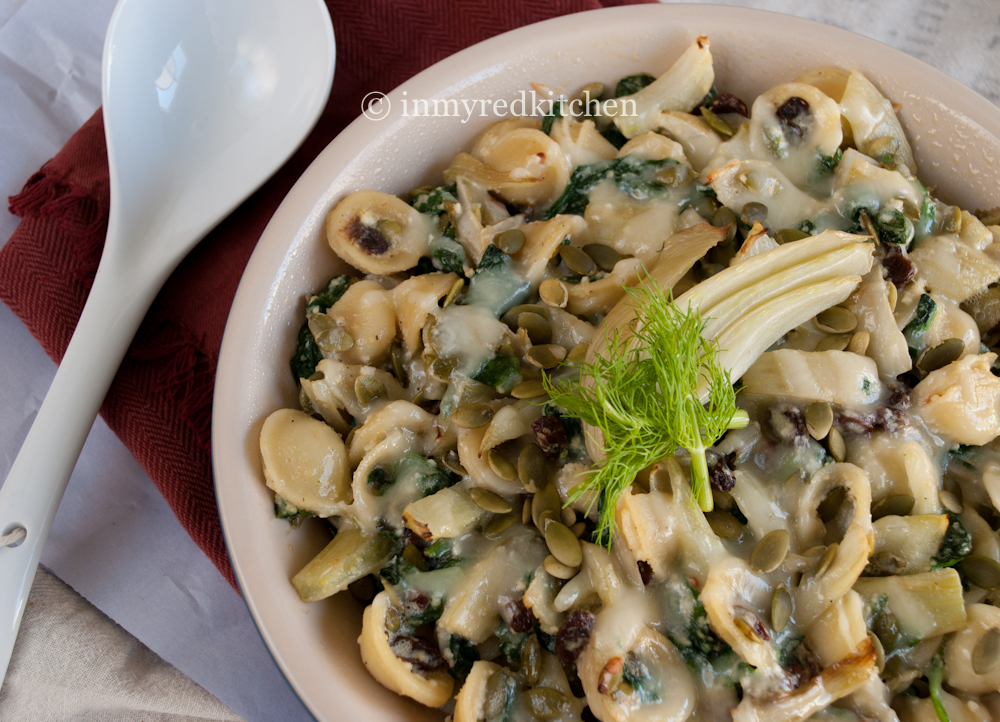 I totally love this vegetable with its funny shape and its slightly sweet anise taste. Before I got to know P I would always roast the fennel with goat cheese and honey on top. But P doesn't like goat cheese. Or blue cheese. And that sucks! I used to often substitute meat for goat cheese or blue cheese in my meals so I was more a flexitarian than I am now.
Last week, after three days of unknowingly cooking vegetarian dinners, P suggested we could heat the grill the next day. To grill the sausages that he had bought which he had been hiding in the fridge.
It's clear I married a carnivore…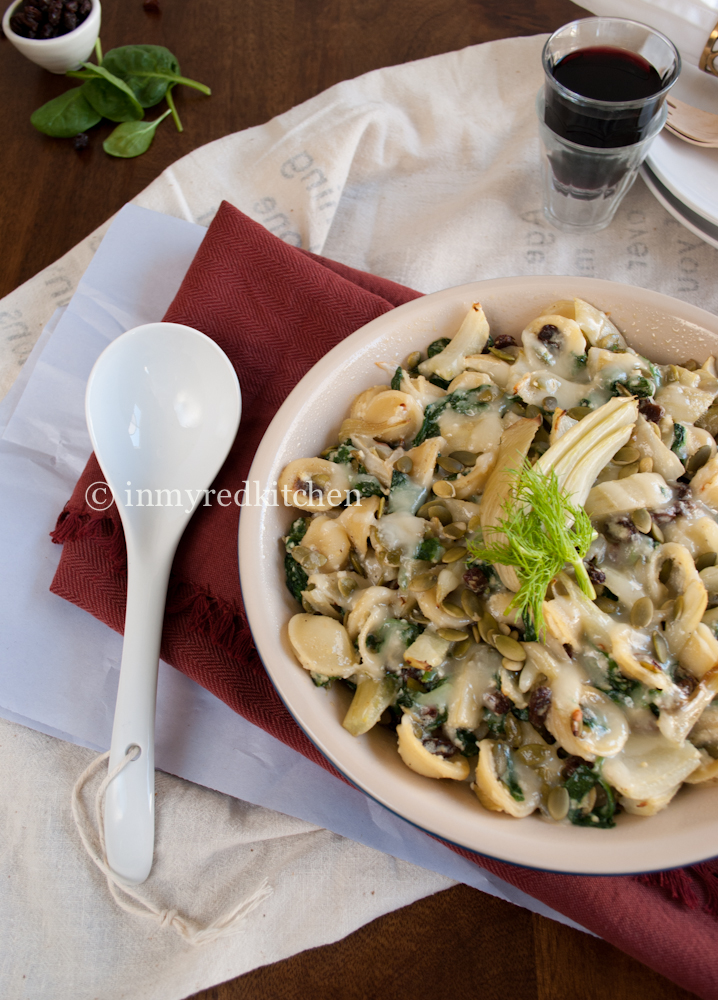 But luckily he is ok with eating vegetarian meals several times a week. Only not three days in a row 😉
This year I've rediscovered fennel again and I'm always looking for new recipe ideas now I can't roast it with goat cheese anymore. For a recent Dutch foodblogswap I made a Fennel Tarte Tatin, it's one of my favorites now! Three bulbs of fennel cooked in pineapple juice and baked under a blanket of puff pastry. Yum!
But I'm always in for something new and suddenly I remembered my favorite takeaway meal I used to buy at a Wholefoods kinda store in Amsterdam. It was a pasta roll (a rotolo) with ricotta and spinach and some grilled fennel on the side. Damn that tasted good!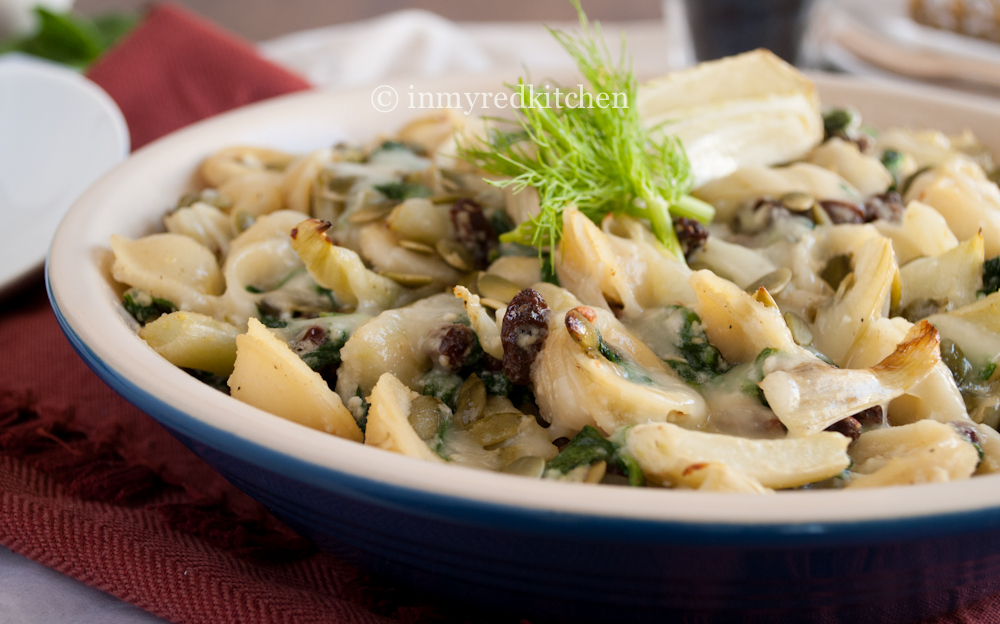 So I made my own version. Not with a pasta roll, that's too much fuss 😉 No a oven pasta with fennel and spinach, which is not more than just some grilled fennel, wilted spinach, pasta and ricotta in a oven dish.
Wow, this is a perfect dinner for fall.
Which is a good thing because you know fall has arrived as soon as fennel pops up at the grocerie stores.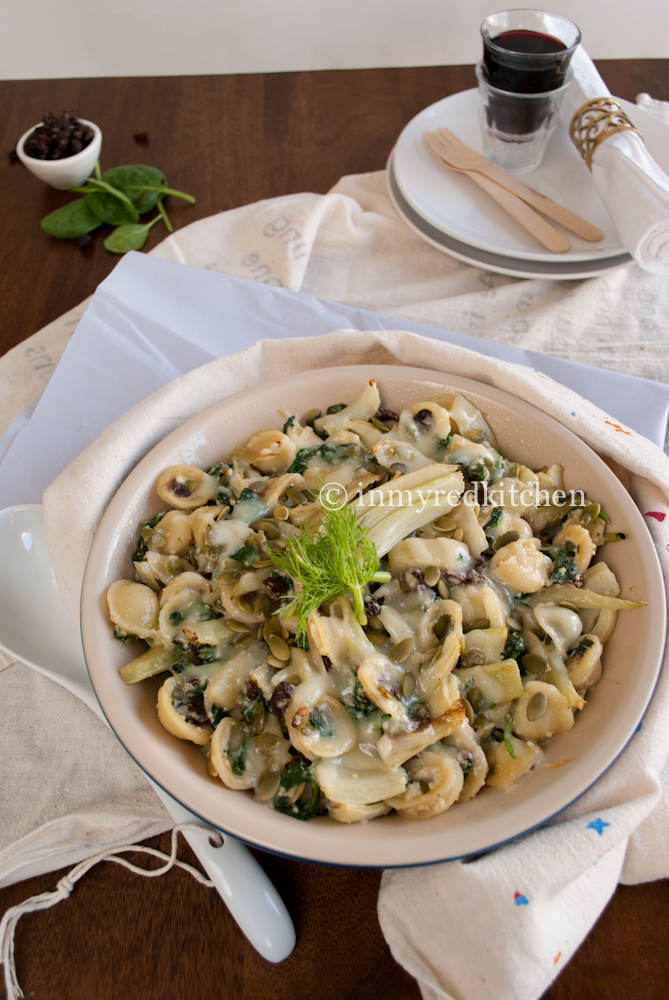 Well ok, nowadays you can buy fennel all year round but please don't do that. Fennel is at its best during its natural season from fall through early spring. You might not believe me but fennel turns bitter in warmer weather. Don't say I didn't told you so…
But for now: roast some fennel and make this dish!
Oven pasta with fennel and spinach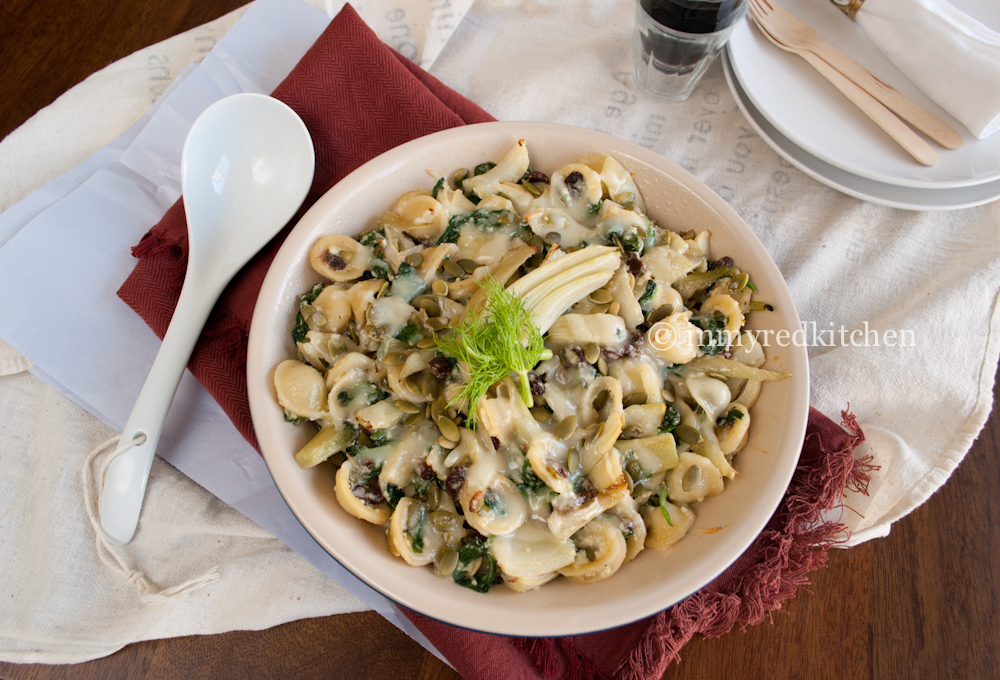 A perfect dish for fall: oven pasta with fennel and spinach will make everybody happy. And it's vegetarian too!
Ingredients
1 big bulb of fennel
4-5 oz of uncooked pasta
1/3 cup raisins
6 oz baby spinach
1 egg
5 oz ricotta
1/3 cup raw pepitas
salt & pepper to taste
1/3 cup grated mozzarella
Instructions
Preheat the oven to 375°F.
Cut about 1 inch above the fennel bulb to remove the stalks and remove and discard any wilted outer layers of the bulb. Cut a thin slice off the root end of the fennel bulb and discard the root. Slice the fennel in half and remove the tough core. Slice the bulb lengthwise into 0.5" strips.
Place the fennel in a baking dish, sprinkle them with olive oil and roast them 20 minutes in the oven.
In the meantime: cook the pasta al dente and soak the raisins in warm water.
Heat a wok over high heat and wilt the spinach. Don't use oil but some water if needed.
In a bowl, beat the egg and add the ricotta. Mix until well combined.
Stir in the spinach, the cooked pasta, the raisins (discard the water first!) and the pepitas.
Slice the roasted fennel in bite-size pieces and also stir those in.
Add salt and pepper to taste.
Transfer the pasta mixture to a greased oven dish en sprinkle the mozzarella on top.
Bake the pasta for 15 minutes in the oven, until the mozzarella is melted.
http://www.inmyredkitchen.com/oven-pasta-fennel-spinach/
Copyright Ellen Bannink- in my Red Kitchen
Enjoy!