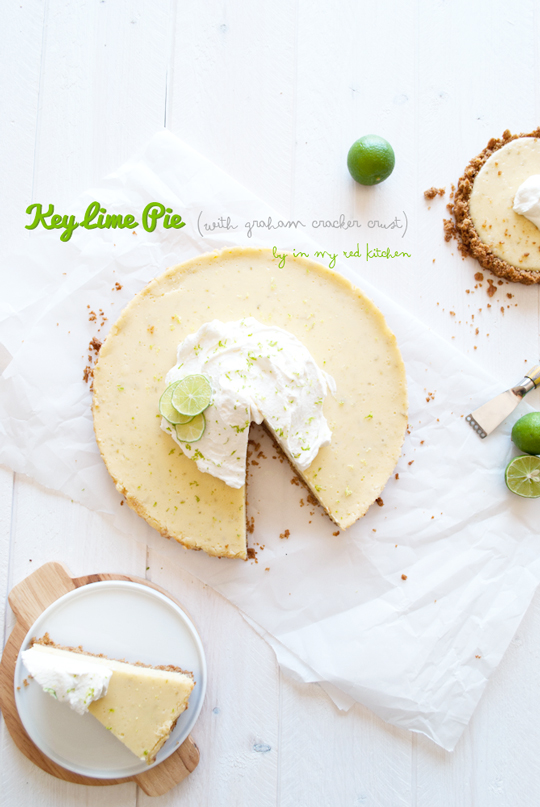 – Click here for this recipe in Dutch -> Key lime pie –
I usually like to post recipes that are unique, because why would I give you a recipe for a key lime pie while there are thousands of recipes for key lime pies to be found on the internet? That would be a waste of my time, isn't it?
Haha, well let me tell you. I post this recipe because sometimes I get a little upset. I get upset by all those key lime pie recipes out there that don't use real key limes.
How can you make a key lime pie without using key limes? If you're making a key lime pie without key limes than it's just a lime pie in my opinion. So that's why I'm posting a key lime pie. To tell you all about key limes and key lime pies.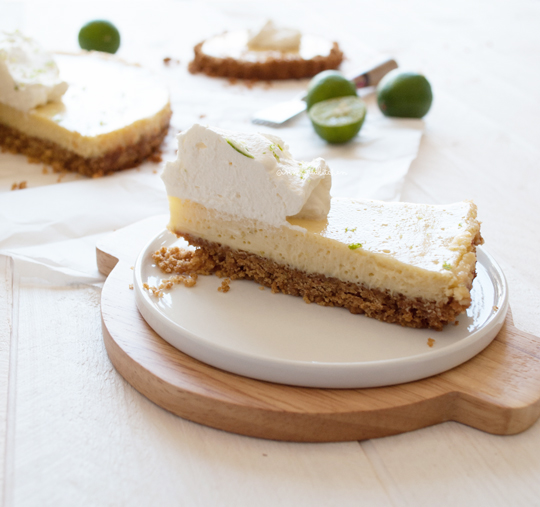 All my knowledge comes from Wikipedia and Google. Wow how I love the internet 😉
Key lime pie is being made from "key limes", which are special limes from Florida. Even in the rest of America they are difficult to find, I had to go to four (!) different stores to buy a bag of key limes. Key limes are much smaller than regular limes, they are about the size of a cherry tomato. The taste is different, of course it's still a lime but they also taste more sweet and candy-like.
My heart breaks a little bit when I see a recipe for key lime pie which not even uses key lime juice and doesn't mention anything about the origin of a key lime pie.
And then I'm not even talking about recipes on food blogs, but also on bigger recipe sites like Food Network.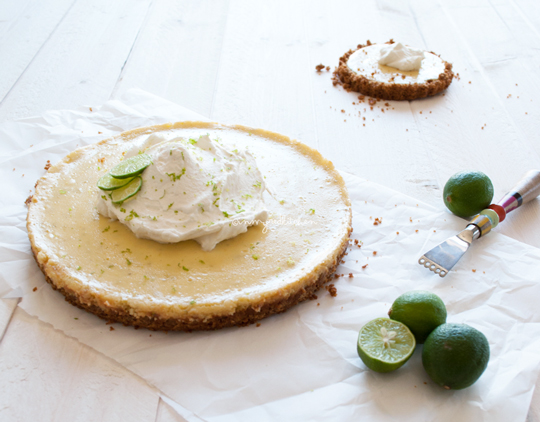 This is what I read on Wikipedia: In 1965, Florida State Representative Bernie Papy, Jr., introduced legislation calling for a $100 fine to be levied against anyone advertising Key lime pie not made with Key limes. The bill did not pass.
Unfortunately, because that would have been fun! Can you imagine, they had to expand this bill to food blogs nowadays 😉
It was also through Wikipedia that I found this recipe for the 'real' key lime pie.
The story behind the cake is that there were a bunch of fishermen from Florida who went to sea and had to prepare their food without fire. They took cans of condensed milk with them (because of course they had no refrigerator and couldn't bring real milk) and used that to make key lime pie. Nowadays the cake is baked in the oven for a few minutes just to set the yolks and distroy salmonella.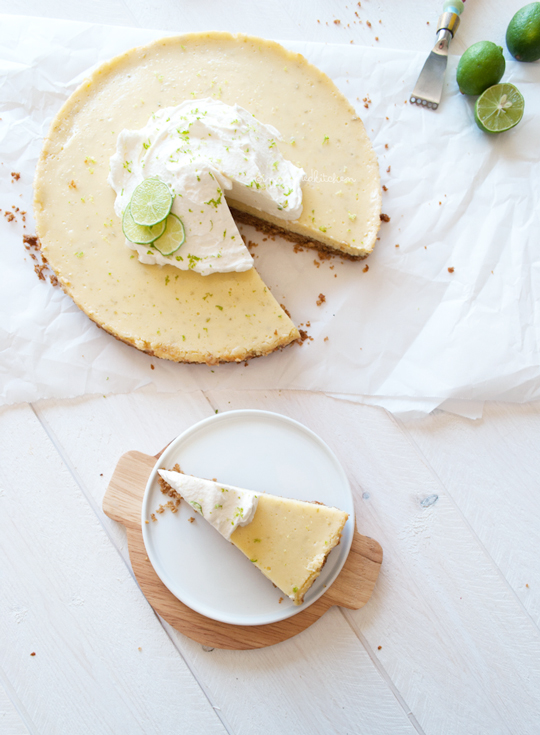 I also made the cake with a classic American graham cracker crust, it was my first time buying and using graham crackers! They don't exist in the Netherlands but I think they are the same as 'digestive' cookies.
I you want to use regular limes to make this cake then you'll need probably 4 limes. Did I tell how small key limes actually are? Phew… it took a while before I had enough juice squeezed out 😉
And if you use regular limes… please don't call this a key lime pie but name it a 'lime pie' instead 😉 Thank you!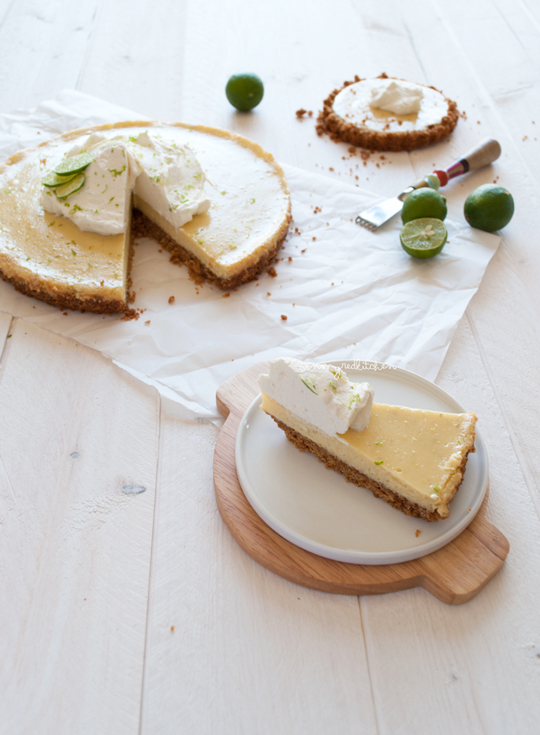 For a key lime pie you'll need actual key limes. If you find them, make this pie because it's so delicious!
Ingredients
9 oz graham crackers
1 stick butter
4 egg yolks
1 14 oz can condensed milk

14 - 16 key limes for:

½ cup key lime juice
2 tsp key lime zest
Instructions
Crush the graham crackers in a foodprocessor until fine.
Melt de butter in a saucepan over low heat. Add the crushed graham crackers as soon as the butter is melted (make sure to not let it boil!) and stir until combined.
Divide the mixture over the cake pan and press it down with the back of a spoon. Put in the fridge to set.
Preheat the oven to 350 degrees F.
Beat the egg yolks until thick and creamy, make sure not to overmix. Add the condensed milk and turn on the mixer on low speed. Add half of the key lime juice and once combined, add the other half of the key lime juice and the key lime zest. Keep mixing until combined.
Take the cake pan out of the fridge and pour the key lime cream on top of the crust.
Bake the key lime pie for 12 minutes in the preheated oven for the yolks to set. Let the pie cool off for 10 minutes before transferring to the fridge.
Serve with whipped cream and lime zest.
http://www.inmyredkitchen.com/key-lime-pie/
Copyright Ellen Bannink- in my Red Kitchen
Enjoy!