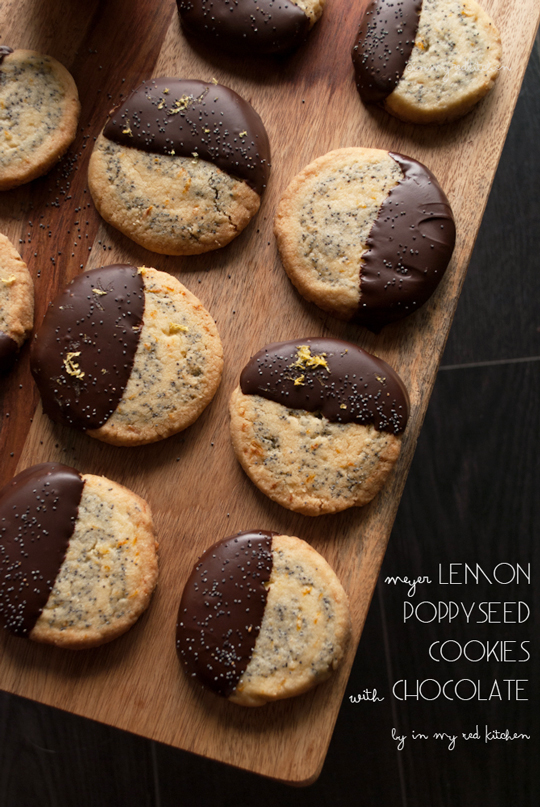 – Click here for this recipe in Dutch -> Citroenkoekjes met maanzaad en chocola –
There she is again, with another sweet recipe. Yeah I'm sorry… Frieda's sent me another box of great products and there were three beautiful Meyer lemons in it. Meyer lemons aren't just normal lemons, they are a special kind of lemons. Just like key limes are a different kind of limes as you could read in my post about key lime pie. Meyer lemons are sweeter and less acidic than regular lemons, they actually have some similarities with oranges.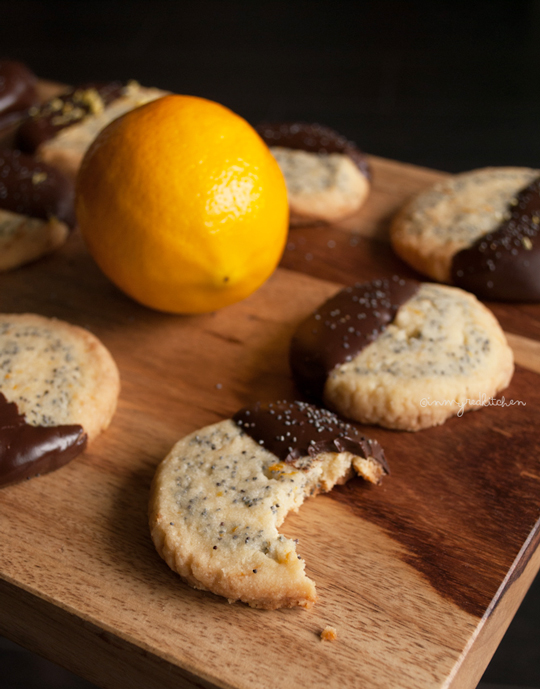 When creating a recipe for those three beautiful Meyer lemons I suddenly remembered those delicious lemon cookies with chocolate that I occasionally bought in Amsterdam and of which I could eat the whole box all at once. I wanted to make those! But then without eating them all at once of course, because it's about time I get a bikini body! 😛
But before I started baking cookies I found this amazing lemon poppy seed cake in one of my recipe folders. Suddenly I was craving that… so… what should I do?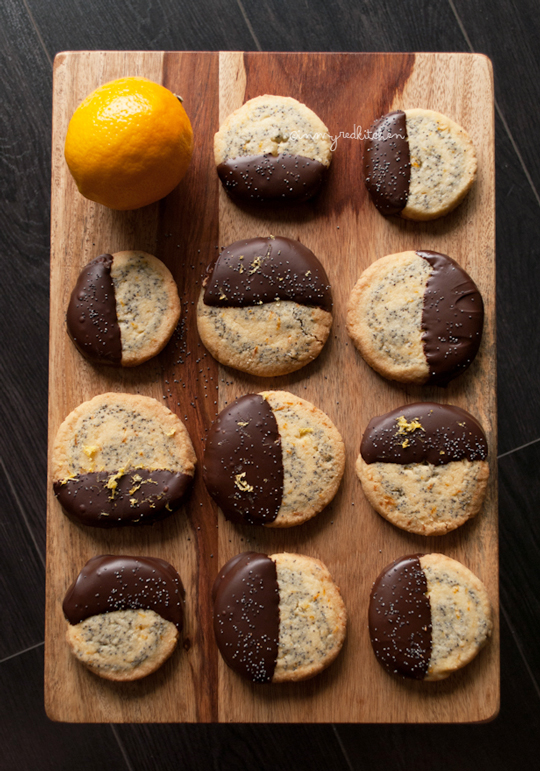 Well, just as do the math and make Meyer lemon poppy seed cookies with chocolate! Why not? Uhm… maybe because it takes so much time!? No I'm kidding. Yeah, well actually it takes a lot of time, but that's mostly because you're waiting, until the cookies are cooled off and you can dip them in melted chocolate. And then you have to wait again until the chocolate has hardened. Or not, but then your whole face will be covered in chocolate. Not too bad right?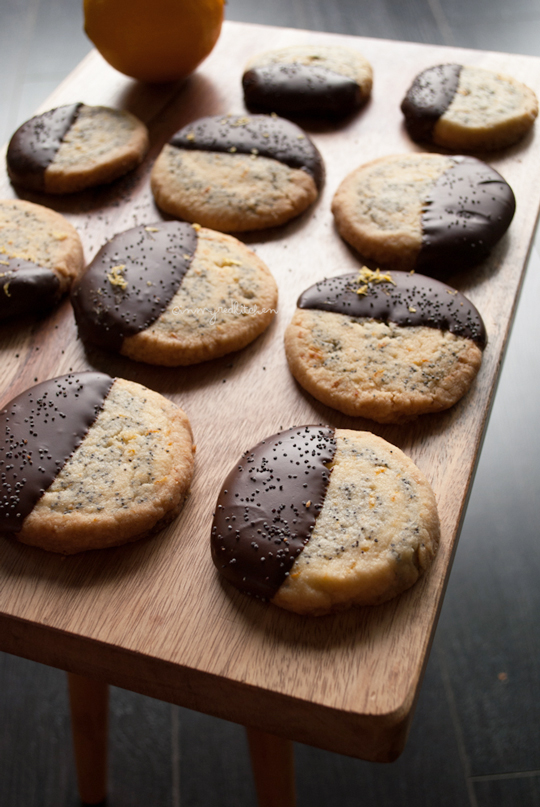 So stuff your face in it! These cookies are everything I expected. And actually even more! A delightfully fresh lemony butter cookie with that delicate poppy seed flavor. What do you say? 'Lemony' isn't a word? Well, from now it is! And poppy seeds: yum! I love it and I don't really know how to describe the taste. But I dó know that I always used to chose the poppy seed buns when my mother had bought a bag of various buns.
Microplane Zester/Grater
Meyer lemon poppy seed cookies with chocolate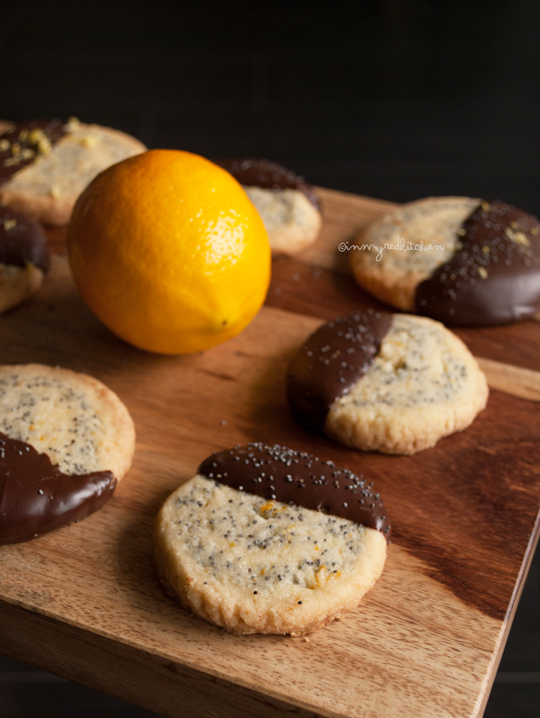 Buttery and lemony cookies with poppyseed and chocolate. Be careful not the eat the whole batch 😉
Ingredients
2 sticks + 2 Tbsp cold butter (250 grams)
2 ½ cup flour
¾ cup sugar
zest of 2 Meyer lemons (about 2 Tbsp)*
3 Tbsp poppyseeds
1 cup dark chocolate
Instructions
Put the cold butter, flour, sugar and Meyer lemon zest in a large bowl and mix with cold hands to combine.
Divide the dough in two equal parts, using a scale. Transfer one part to another bowl and add the poppyseeds. Use your hands again to combine.
Wrap both dough balls in plastic wrap and place in the fridge for 30 minutes.
Preheat the oven to 360 degrees F.
Sprinkle flour on the counter and roll out both dough parts until equal rectangles and 0.2 inch thick. Place the poppyseed part on top of the yellow part and roll them up thightly, starting with the long end.
Use a sharp knife to slice the dough roll in 0.2 inch slices and place them on a lined baking sheet.
Bake the cookies in the oven for 20 minutes or until light golden brown. Let them cool on a wire rack.
Once the cookies are completely cooled off, you start melting 2/3 of the chocolate in a double boiler*. Keep stirring and transfer the pan to the counter once the chocolate is melted. Add the remaining chocolate and stir again till all chocolate is melted.
Dip the (cooled!) cookies in the chocolate and place them on parchment paper until the chocolate sets. This will take at least 30 minutes.
Notes
* I love my Microplane Zester/Grater for this. I only bought one last month and I already regret it that I didn't buy that sooner!
http://www.inmyredkitchen.com/lemon-poppy-seed-cookies-with-chocolate/
Copyright Ellen Bannink- in my Red Kitchen
Enjoy!
Please note: The lovely people at Frieda's provided me with the Meyer lemons. Thank you Frieda's!
You can find Frieda's products at Ralphs and Sprouts (LA Area). If you can't find what you're looking for, you can always ask your produce manager at the local store to order from Frieda's!